Can you still make money claiming from crytpo faucets? This experiment will try to answer that question, here is my 16th week of data analysis for my crypto faucet experiment. I started this because of typical FOMO,(if only I had started this, 6 months ago, a year ago it could be worth X). This is not your typical faucet post with "check out this faucet" (affiliate link). While these are my affiliate links, you will also see my transparency in reporting.
TL/DR: Lifetime Value: $27.55 (Up $7.96 from Week 15)--- Over 6,300+ claims $19.36. 95.5% of earnings are from my actions, 4.5% are from referral claims.
Week 15 - Over 375+ claims for a total of $1.93. 89% of earnings (308 claims) are from my actions, 11% (67+) are from referral claims.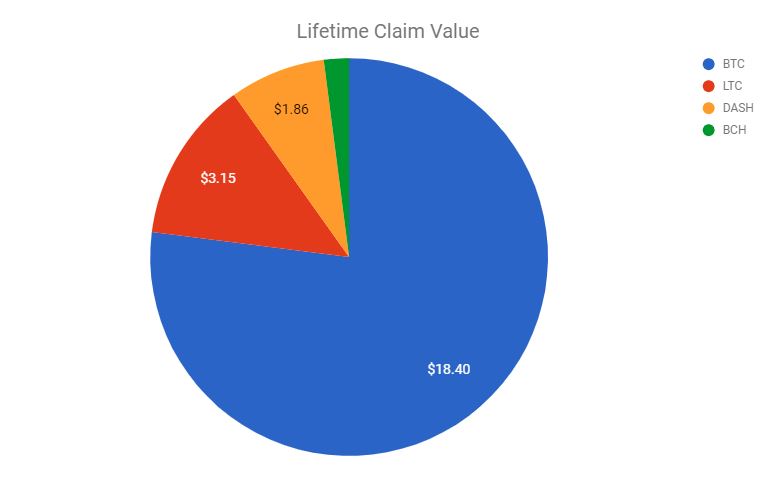 Week 16 Breakdown
Personal Actions
Value
Referrals
Value
Faucet claims:
$1.93
Referrals claims: 67
$0.21
Daily Bonus: 7
$0.06
Offers Completed: 0
$0.00
CoinPot Mining
$0
Its been a bumpy ride, some days are great for claiming, while others I hardly have time to get in 1 or 2 a day to keep my loyalty bonus climbing. Here is what my weekly claim activity looks like.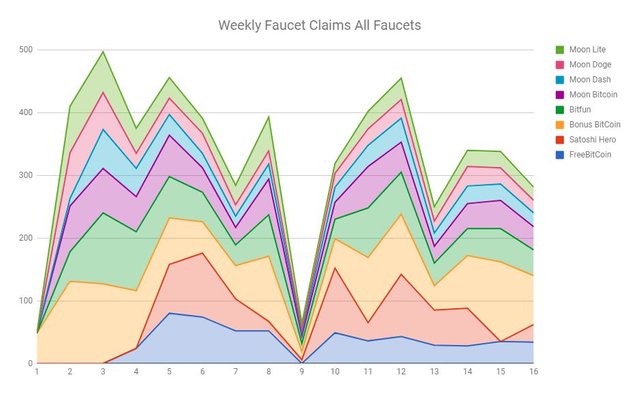 And there is the 2 week intra week for week 16. I have wild swings from day to day. You can see that huge spike is driven by the BTC crash and my hyper focus on Bonus Bitcoin faucet. I got as much as I could that day.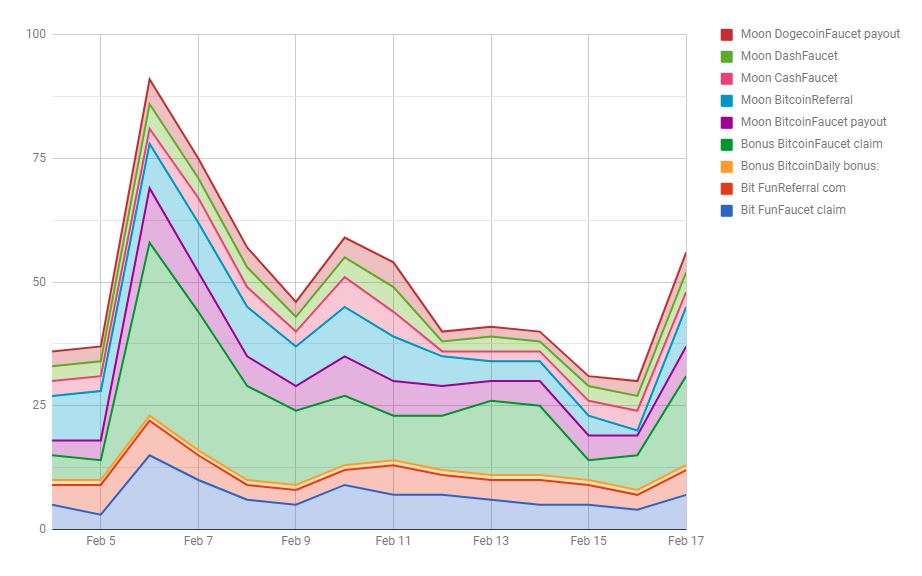 Here is a quick breakdown by coins and value for the month.
| Coin | Amt Claimed | Value |
| --- | --- | --- |
| BTC | .00032885 | $1.08 |
| BCH | .00012189 | $0.09 |
| Dash | .00067383 | $0.14 |
| Doge | 67.63 | $0.14 |
| LTC | .00281541 | $0.15 |
There are 9 faucets I am using for this experiment, I only plan on adding more if CoinPot does. Honestly at this point it is hard to keep up with them all to maximize returns. Plus I start traveling for work, and I doubt airports and plane rides are conductive to reCaptcha.
MoonBitCoin
MoonDash
MoonLiteCoin
MoonDogeCoin
Bonus Bit Coin
BitFun
Freebitco.in
Satoshihero
PrimeDice
Lifetime Claim Data *(slight varaince to total holdings due to missing claims in coinpot data)
Currency
Faucet Claims
Total Currency
BTC
Bonus Bitcoin Faucet Claim
.00046138
BTC
Bonus Bitcoin Daily Bonus
.00006048
BTC
FreeBitco.in.
00011456
BTC
BitFun Faucet
.00028713
BTC
MoonBitCoin Faucet
.00032164
LTC
MoonLitecoin Faucet
.0374000
Dash
Moon Dash
.00253924
Doge
Moon Dogecoin
516.67
BCH
Moon BCH
.00032268
Offers
BTC
MoonBitCoin
.00007660
BTC
Bonus Bitcoin
.00000080
BTC
BitFun
.00001190
Referrals
BTC
FreeBitco.in Referral
.00002500
BTC
BitFun
.00003877
BTC
Moon Bitcoin
.00004512
Mining
BCH
CoinPot Mining
.00002656
LTC
CoinPot Mining
.00005574
DASH
CoinPot Mning
.00019045
Is it too late? Removing price volitility.
The graph below tries to remove the price volatility from my faucet claims results by using a static prices based on the price of the first day I started to claim from that faucet. That dip reset me to almost even, but it has climbed back to profit from the growing coin values. I love those dips to really crank up the facuet claims. They can be almost double on the dips.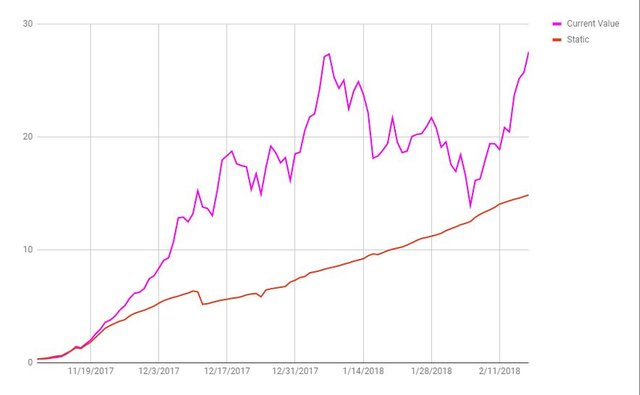 Upcoming
I plan to move the remaining BTC balance out of Coinpot. I am going to keep the remaning coins in coinport until the reach a value of at least $5. Then I will either convert them to one currency, or move them to Coinbase as is. After the pump in Doge and LTC, I don't have a good feeling either way in the short term.
I will keep building out my reporting spreadsheets to automate as much as I can, should allow more frequent and timely reporting.
Please ask me some questions!!