Can you still make money claiming from crytpo faucets? This experiment will try to answer that question, here is my 15th week of data analysis for my crypto faucet experiment. I started this because of typical FOMO,(if only I had started this, 6 months ago, a year ago it could be worth X). This is not your typical faucet post with "check out this faucet" (affiliate link). While these are my affiliate links, you will also see my transparency in reporting.
TL/DR: Lifetime Value: $19.36 (Down $0.17 from Week 14)--- Over 4002 claims $19.36. 97% of earnings are from my actions, 3% are from referral claims.
Week 15 - Over 462+ claims for a total of $2.21. 87% of earnings (365 claims) are from my actions, 13% (97) are from referral claims.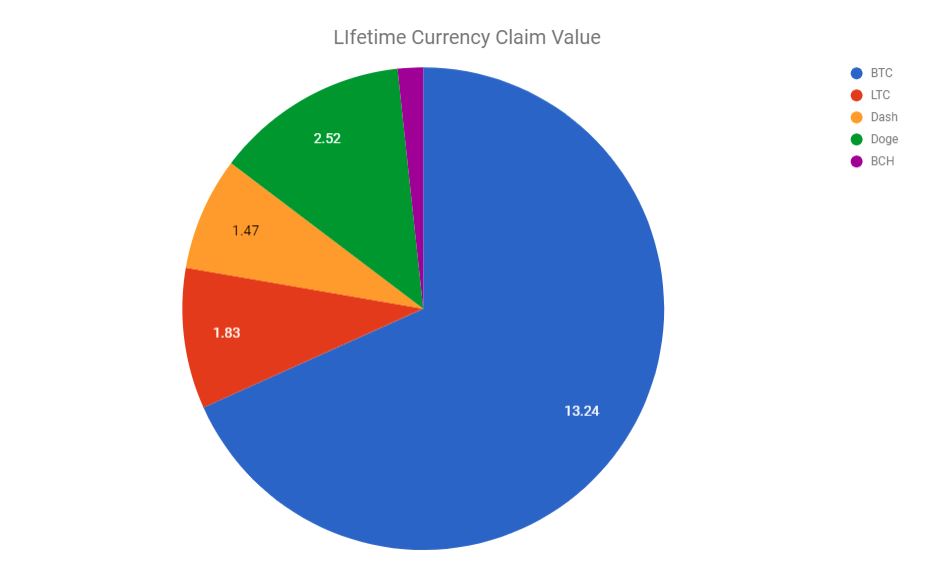 Week 15 Breakdown
Personal Actions
Value
Referrals
Value
Faucet claims
$2.09
Referrals claims: 97
$0.24
Daily Bonus: 7
$0.07
Offers Completed: 0
$0.00
CoinPot Mining
$0
Its been a bumpy ride, some days are great for claiming, while others I hardly have time to get in 1 or 2 a day to keep my loyalty bonus climbing. Here is what my weekly claim activity looks like.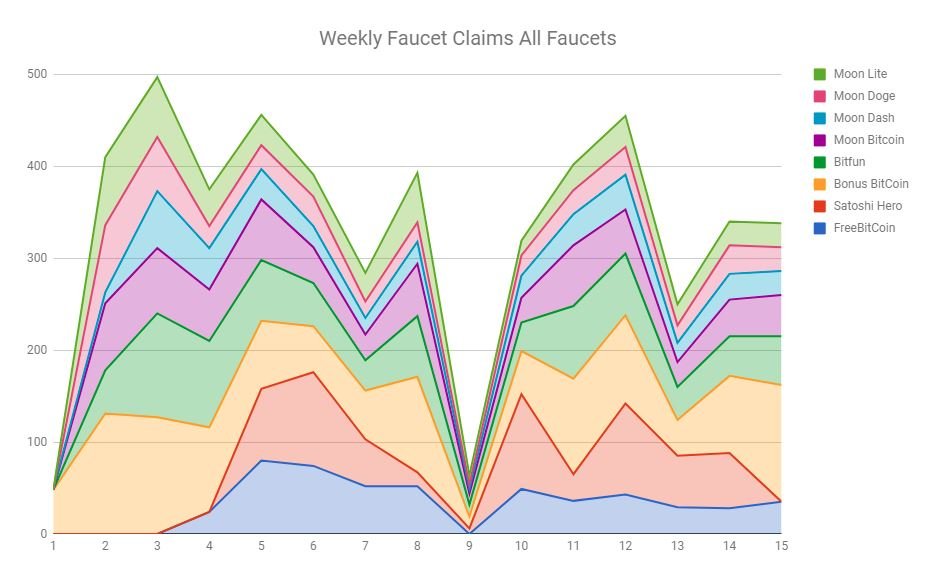 Here is a quick breakdown by coins and value for the month.
| Coin | Amt Claimed | Value |
| --- | --- | --- |
| BTC | .00032885 | $1.44 |
| BCH | .00012189 | $0.12 |
| Dash | .00067383 | $0.17 |
| Doge | 67.63 | $0.19 |
| LTC | .00281541 | $0.16 |
There are 9 faucets I am using for this experiment, I only plan on adding more if CoinPot does. Honestly at this point it is hard to keep up with them all to maximize returns. Plus I start traveling for work, and I doubt airports and plane rides are conductive to reCaptcha.
MoonBitCoin
MoonDash
MoonLiteCoin
MoonDogeCoin
Bonus Bit Coin
BitFun
Freebitco.in
Satoshihero
PrimeDice
Lifetime Claim Data
Currency
Faucet Claims
Total Currency
BTC
Bonus Bitcoin Faucet Claim
.00043364
BTC
Bonus Bitcoin Daily Bonus
.00005525
BTC
FreeBitco.in
.00023952
BTC
BitFun Faucet
.00026657
BTC
MoonBitCoin Faucet
.00029535
LTC
MoonLitecoin Faucet
.01381038
Dash
Moon Dash
.00213284
Doge
Moon Dogecoin
504.67
BCH
Moon BCH
.000026098
Offers
BTC
MoonBitCoin
.00007660
BTC
Bonus Bitcoin
.00000080
BTC
BitFun
.00001190
Referrals
BTC
FreeBitco.in Referral
.00002360
BTC
BitFun
.00002985
BTC
Moon Bitcoin
.00003650
Mining
BCH
CoinPot Mining
.00002656
LTC
CoinPot Mining
.00005574
DASH
CoinPot Mning
.00019045
Getting your coins!
None of this is worth doing, when if it comes time to collect your built up balances, only to find out you are unable to transfer. I chose to transfer 50k Satoshi to Coinbase since to avoid a transfer fee, and hold until I determin my long term goals. I am not sure if I want to keep each base coin I collect, or convert all into one coin for ease. In the coming weeks I will work though my options, but for now here is proof my transfer worked.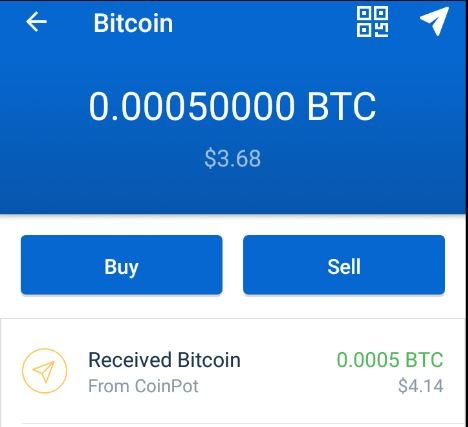 Is it too late? Removing price volitility.
The graph below tries to remove the price volatility from my faucet claims results by using a static prices based on the price of the first day I started to claim from that faucet. That dip reset me to almost even, but it has climbed back to profit from the growing coin values.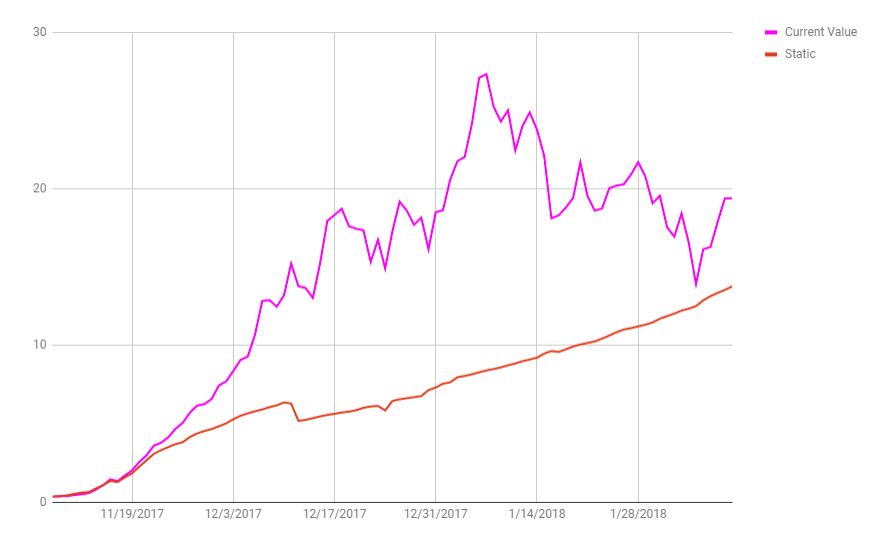 Upcoming
I keep building out my reporting spreadsheets to automate as much as I can, should allow more frequent and timely reporting. It takes me way to long to pull all of this together for a post.
Please ask me some questions!!