Anyone that pays attention to multiple markets will have noticed that since that volatile US election night markets have not been function per the usual.  To start since about July or so, short term rates have been edging up, in addition over the last year and a half the major markets such as S&P and DOW stocks have been experiencing huge outflows.  These items have not greatly affected prices and were more or less small annoyances for some people at the time. 

Fast forward to the end of November 2016 and it is glaringly obvious that things are changing in the market. 

Before the US presidential elections the market was convinced that a Trump win would bring the world's financial markets to it's knees and it did for a few hours, since then indices have made new highs and the value of the US dollar has been rising at breakneck speed.  The biggest winners in this last run up have been financial and insurance stocks as well as yields.  The main theme here being that Trump will bring inflation through new spending policies and job creation, rather than trying to stimulate the economy through lower interest rates.

Not only was Trump elected for US president, but republicans will also be the majority in congress.  This complete regime change has disjointed market correlations that have been alive and well for quite sometime.
 
Money managers have noted that in bull markets when indicies are making new highs day after day, that usually you will have stocks from all sectors accumulating large gains, but that has not been happening of late.  Stocks that were having some issues making new highs such as bank stock, due to low interest rates are doing well and some of the so called can't loose stocks such as the FANGs are not doing so well in this new environment.

Because many of these big name, big volume stocks are going in such different directions the JCJ or the, CBOE S&P 500 Implied Correlation Index, has hit new all-time lows. 

Quote
The relationship between growth and value stocks in the benchmark equity measure has also decoupled, with the rolling correlation between the two groups sliding since voting day, FactSet data show.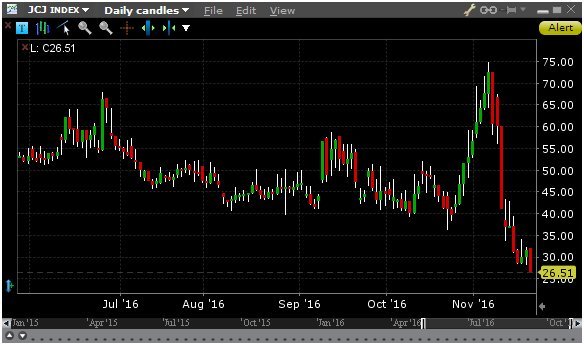 In addition options market volumes have exploded, in some names options trading is up as much as 66%.

Then there is the FOMC, the market is currently pricing in about a 100% chance (depending on the day) of a 50-75 basis point rate hike.  The meeting minutes that came out today, while they did point to a raise in rates, there was still some amount of doubt, which I suppose they can't just come out and say, yes we are definitely hiking rates x amount Dec 14.  Either way, normally this type of signal from the Fed is bearish for stocks.

The question here is can we really call this a bull market where much of it appears to be bearish as well.  It is possible that this will all sort itself out, as we come to learn the policies Trump and his team actually intend to enact.  But as always these are things to keep an eye on as we move forward toward the next FOMC meeting and then on into the new year.

All the best!

Further Reading: "Sectors Go Wild: S&P 500 Correlations Crumble"

Original post at TradersCommunity.com
Check out OOTTNews.com for the latest oil market news and data.

:)