Nexo - Instant Crypto-backed Loans (Review)
INTRODUCTION
As cryptocurrency investors, there are times where there are urgent need for liquid cash. One can run into trouble, discover new investment opportunities outside of crypto, or just need money for day- to - day bills settlement. As a wise investor, it is a bad idea to sell off your crypto assets for fiat currency when the time is not yet right because, the market might move upward, resulting into you losing in term of profitability.
In order to protect investors from selling off their digital assets when in need of urgent cash, Nexo the most advanced and trusted instant crypto lending provider has come to the rescue. Nexo is currently ranked number 7 on the Finance category on State of DApps ranking.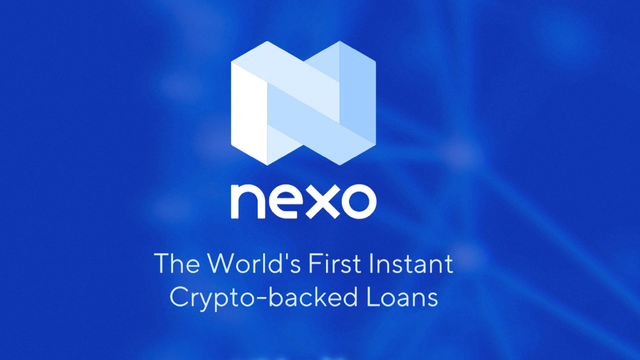 [Source: Nexo whitepaper, page 1]
OVERVIEW OF NEXO
Nexo is a platform built on the Etherium blockchain that provides loan to investors while using cryptocurrencies as collateral. Nexo is currently based in Switzerland but makes loan available to anyone who holds cryptocurrency worldwide, servicing 40+ currencies across more than 200 jurisdictions. Nexo is similar to SALT and ETHlend, it closest competitors. But what I like about Nexo is that, any loan taken can be easily repaid back using cryptocurrency, fiat currency or the Nexo token, unlike SALT and ETHlend whom takes repayment only in USD and ETH respectively.
NEXO ORACLE
Since cryptocurrency is still at its infant stage, the cryptocurrency market is very volatile. The votality of crypto market can cause an up or down swing of 10% to 100% within a short period of time. Stable coins such as USDT and TrueUSD have learned to deal with crypto votality, but sometimes gets hit by it.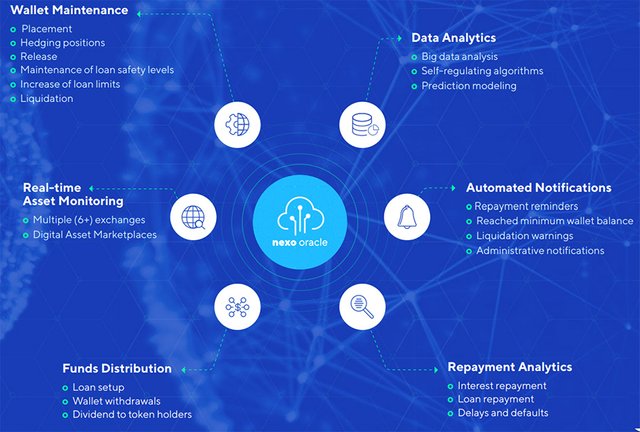 [Source: Nexo whitepaper, page 36]
For this reason, Nexo integrated a big data analyzer, self regulating algorithm and prediction modeling called the Nexo Oracle. Due to cryptocurrency votality, Nexo Oracle helps to determine the loan to value ratio (LTV) and the value of the client's crypto asset across multiple exchanges in order to minimize risk for both parties.
NEXO BUSINESS MODEL
The business model of Nexo is to provide instant loan to anyone holding cryptocurrency while maintaining 100% ownership of their crypto assets (collateral) while having immediate access to cash. The process is quite simple and can be broken down into 4 simple steps as illustrated in the image below.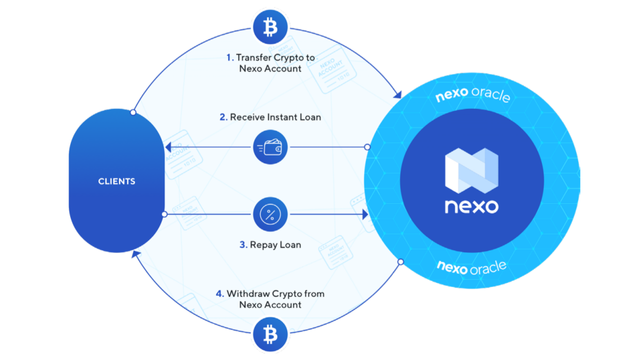 [Source: Nexo whitepaper, page 20]
STEP 1 : A cryptocurrency holder who is interested in taking a loan transfers their crypto assets to their Nexo account. Once the crypto asset is received, the Nexo Oracle automatically calculates the loan limits and then sets up the loan. The loan limit is based on the current value of the crypto asset deposited in the Nexo account.

STEP 2: The client then chooses the method through which they would like to receive the loan. The available options are through a direct bank transfer or through Nexo card. The client also chooses the currency in which they would like to receive the loan. Once done, the loan will be transferred to the client.

STEP 3: When it's time for payback, Nexo allows her clients to make loan refund via fiat currency, cryptocurrency or partial sales of their crypto assets in their Nexo account. In addition to that, Nexo also gives discount to her clients when they make loan repayments using the Nexo token.

STEP 4: When all loan refund has been made, Nexo Oracle records all transactions on the blockchain and updates the limit. Client can then withdraw all their crypto assets instantly or whenever they like.
NEXO TOKEN
Nexo token is the world's first security token that is in compliant with the US Security and Exchange Commission Regulation rules. The Nexo token is also backed by the underlying assets of Nexo's loan portfolio. Holders of Nexo token will receive a 30% passive income in form of Nexo token monthly, from profits made by the company. In addition to that, holders of Nexo token are given loans at a discounted rate when they make Nexo instant crypto-backed loans. Nexon token is also accepted as collateral on the Nexo platform.
CONCLUSION
The fact that Nexo platform allows cryptocurrency holders to unlock tens of millions of dollars as loan without losing ownership to their digital assets is a huge deal in this crypto space. Nexo platform also gives crypto holders access to cash without having to cut profits made by paying tax. To make Nexo more adopted, they should develop mobile app for Android and iOS devices. Overall, I give Nexo a 4/5 star rating.
---
---
---
Links
Nexo's Official Site | Nexo's Twitter | Nexo's Telegram | State of the Dapps Ranking
Disclaimer:
The content of this article does not intend to serve as financial advice, kindly do your own personal research.