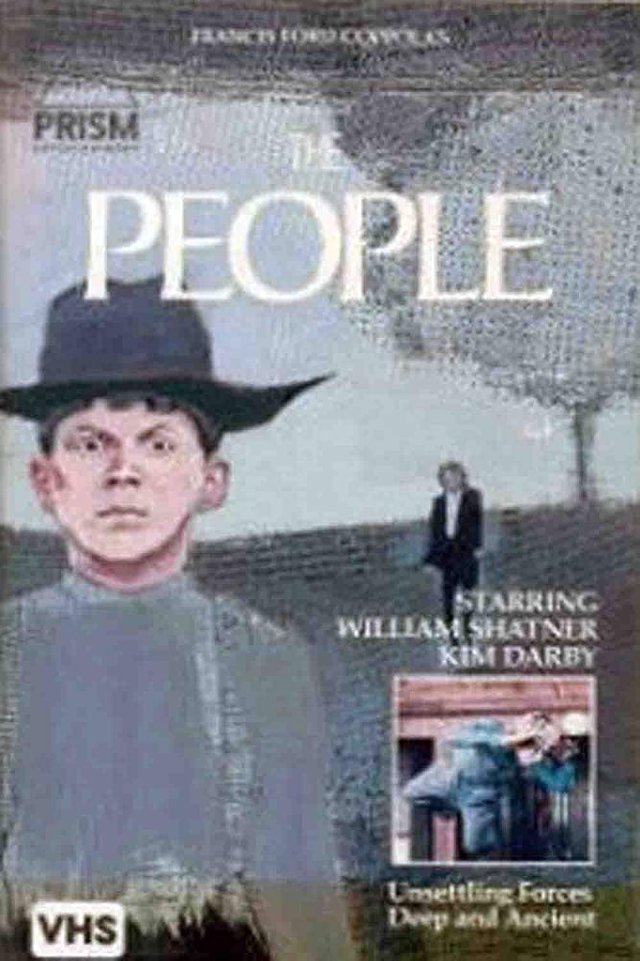 Kim Darby and William Shatner co-star in The People, an early 70s television film with an eerie atmosphere.
The People (1972), a made-for-television movie directed by John Korty (The Autobiography of Miss Jane Pittman); starring Kim Darby, William Shatner, Diane Varsi, Dan O'Herlihy, and Laurie Walters.
This is one of the famous TV network "movies of the week" that saw their heyday in the 70s and which are fondly remembered by people who watched them as wide-eyed children, like me. Many of these made-for-television films covered subjects that were hard to find elsewhere, especially if you were a kid: sci-fi, supernatural thrillers, stalker films (Spielberg's Duel -- 1971 was the most famous of this genre), devil-worshippers, and the like.
The People was produced by the legendary director Francis Ford Coppola and filmed in various parts of coastal Northern California. Sadly, there's never been a restoration and the only DVDs available are terrible bootleg VHS transfers. It looks like there was also a VHS release at some point, so a used VHS might be found on Ebay or another auction site. A blurry VHS rip is posted on the YouTube channel TVTerrorland; it's better than nothing. Possibly FFC may get around to releasing an official version on DVD, if he still has the master and still owns the rights.
Based on a series of stories by sci-fi writer Zenna Henderson, the film starts out with Kim Darby as a schoolteacher, Melodye Amerson, traveling by bus to take a new job in a tiny, isolated rural town called Bendo. She's picked up by a young woman dressed like a Mennonite, named Karen (Laurie Walters). Once in town, she meets Karen's family and the other villagers.
The viewer gets a real Children of the Corn vibe about Bendo, as all of the townspeople wear 19th Century clothes and don't believe in singing, dancing, or even picking up their feet when they walk. (I'm fairly sure Stephen King watched this film when it came out; he would have been in his early 20s.) They're secretive and give off an unfriendly manner. What's more, they've hired other teachers previously for Melodye's job, but none lasted for more than a month.
As a film, The People has all the earmarks of an old, well-worn horror trope: the outsider moving to a small, remote town and encountering a creepy religious cult with dark secrets. That, however, is not what's going on here. The villagers aren't cultists and they have a good reason for their strange, antediluvian ways. Eventually, Melodye earns their trust and is told about their secret, aided by a local doctor (William Shatner), who's been studying "The People" because of their unusual immunity to common illnesses.
Kim Darby was a pretty famous actress in the 60s and 70s; her most famous role was as Mattie Ross in the original, John Wayne version of True Grit (1969). She's also known for starring in one of the scariest and most famous "movies of the week," Don't Be Afraid of the Dark (1973), remade by Guillermo del Toro in 2010 as a big-screen feature starring Katie Holmes (I didn't like the remake). In her heyday, Darby had a unique, Plain Jane wholesomeness that was a stark contrast to the glamorous actresses of her age, like Faye Dunaway or Jane Fonda. That quality serves her well in The People. Shatner turns in a low-key, fairly non-hammy performance as the doctor and Diane Varsi is good as Valancy, a Bendo villager who's a kind of healer/priestess.
Side note: Darby and Shatner previously acted together in the original Star Trek episode, Miri, one of the better episodes in the series.
There is a superb atmosphere to The People and some very creepy scenes. It has some flaws, but it's worth watching, if you don't mind looking at a blurry VHS recording.