The Massive Growth of The Online Gaming Industry
  Online gaming is witnessing a massive growth. As per Statista, "The global media and entertainment market has consistently been on the rise. The entire worldwide market is projected to grow from an estimated 1.72 trillion U.S. dollars in 2015 to 2.2 trillion U.S. dollars by 2021."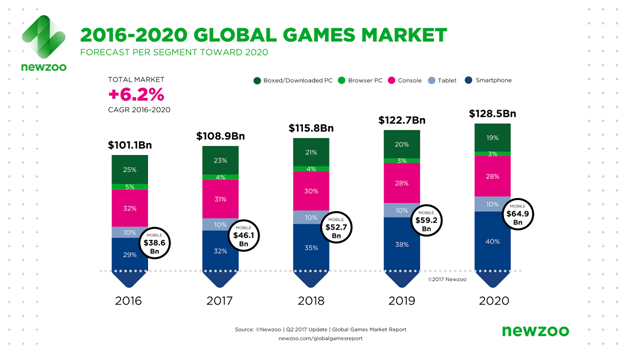 The online gaming industry is also known by the name if "iGaming" which can be seen as the marriage of gaming and technology. The gaming companies are cashing in massively on the growth of the smartphones across the developing countries with Asia becoming a major market for online gaming.   
 Game are increasingly popular among the youths. The core audience are those in the age between 18-24. But, slowly, this age is increasing and people until the age of 35 are actively engaging in playing esports. 
  The gaming industry is one such industry that remains almost untouched from the effects of recession or slow economy. As per the history of online gaming, the growth is certain and huge.  
  Most Popular Online Games  
  As per a survey done by reviews.com, the most popular online games based on the last 5 years of Google search data are as follows:  
● FIFA  
● Minecraft 
● Call of Duty
● DOTA 2 
● Overwatch 
● Counter-Strike 
● Starcraft 2 
● Fallout 4 
● Heroes of the Storm 
● Diablo
  Apart from the above list, there were 2 clear winners that battled for US dominance since 2013. These were the "League of Legends" and the "World of Warcraft".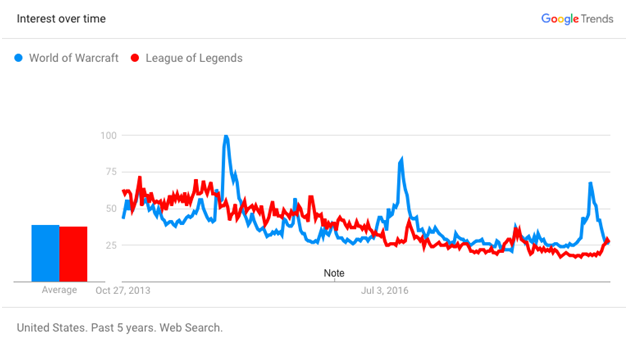 Moreover, games like Blackjack that lets you win real money on your iphone or iPad have seen a massive growth in the last few years. The online casino gaming industry has already surpassed $40 billion in the year 2017 and is expected to reach new heights by 2020.   
  Sports Betting Expected To Drive Gaming Growth in 2018 and Ahead  
  With the supreme court's decision to allow sports gambling across the US, the gaming revenues from sports betting will reach a massive high. Nevada has already recorded sports betting wins for casinos at around $329.1 million.   
  In the recent years, mobile betting will become a reality where gaming companies will engage the customers by allowing them to bet online using their smartphones after logging in to their accounts. This will give them a chance to play at any time during the day without having to visit a real casino.  
 Final Thoughts 
  Online gaming industry is certainly poised for a massive growth in the recent years. Recent technologies like CR and cryptocurrencies will make online gaming more fun, drive maximum engagement and make it easier for the players to play online.