STORIES WE TELL: A PLAY
SCENE ONE
At the dining room. A woman and a man sits eating.
Woman (aside): I am asleep yet awake. My body is there eating spoon after spoon of rice and fish and he watches me like I am a child caught in a prank. Is this the man I married? This brooding mountain, aloof, obscure, taciturn? He feels dead to me. He feels... dead to me.
Husband: Pass the rice bowl.
Wife (aside): Is this why I married? To pass rice bowls, wash boxer shorts, pick up tossed ties and smelly socks? Is this the whole reason of my existence? To be an ornament brought down for oohs and aahs then hung back to gather dust and cobwebs? Is this all there is to my womanhood?
Husband: you seem quiet, my dear. Is something the matter?
Wife (smiling): I am fine darling. Is the stew okay? Do you need more fish?
Husband: I am going out. Do not wait up.
Wife (mutters): Hung back to gather dust and cobwebs.*
Husband: Did you say something?
Wife: Oh no. I am just calculating how to go about making moimoi for breakfast tomorrow.
The husband gets up, picks his car keys and his phone from the table and walks to the door.
Husband: I won't be back until tomorrow. Don't stress yourself on my behalf.*
Wife (aside): I have been cast aside like an old bed sheet, soiled with old semen and stale sweat. I have been wrung out and left to dry in the sun. I am here, fighting for the vows that I made to a man that has died. I am married to myself.
---
SCENE TWO
Two women sitting in a plush sitting room sipping juice.
Friend: That is how it happened o. I told him that I have slaved for him for 15 years. There was no way he was going to toss me unto the rubbish heap without compensation for the use I faced with him. There was no day, we didn't have sex. No day. Now I say I am tired and it's a divorce.
Wife (aside): Are we machines, toys, whose value is based on how often we are used? Is my utility the only reason why I am here? Used as a sex object, a pillow, a cook, a washing machine... (sighs) she mutters of neglect and abuse? What if I complain of use and abuse?
Friend: are you even listening to me, my friend?
Wife: I have been listening since you came, my dear. You have barely paused to ask me how I am.
Friend (chuckles): I am sorry, my love. That man makes me so mad I can barely think. How are you? Did you put on weight again? Are you pregnant?
Wife: What! I am not pregnant. I am...
Friend: I met this man last week. You need to see him. He is tall and handsome. His skin shines and his teeth is white not like my husband's rotting molars. He is a gentleman and he buys me things. We spent the night together last night.
Wife: You are barely out of one marriage, you are already sleeping around?
Friend: What is that supposed to mean? Should I sit at home and moulder like you? Should I become petrified and mummified just because I am now a divorcee? Do you know what people say about you when they see your husband with his little toyboys?
Wife: You know I don't like gossips. Please stop.
Friend: Gossip? Look at this overfed fool! I have seen your husband several times with young boys, young enough to be your son, if you ever stopped eating enough to have one.
Wife: what is the meaning of this? You come into my home and insult me because I am a quiet person?
Friend: You'll still die in your quietness. You should fix your own so called home before daring to point fingers. (hiss) nonsense.
Friend gets up, picks her bag, finishes her glass of wine and takes her leave.
---
SCENE THREE
Woman sits alone in the darkness. She has a bottle of wine and a half full glass on a stool by her side. An empty plate filled with chicken bones and a fork sits besides the wine bottle on the stool. She is crying.
Wife: boys! Little boys! That is what he leaves me alone for? While my body crumbles from lack of nourishment, he gorges himself on little boys! I am a fool. I should have listened to my instincts and left him when I found him in the toilet masturbating to porn. That is where all these rubbish is coming from. I am a fool.
A key turns, a door opens bringing the light of the moon into the room. The man stands at the threshold, a bouquet of flowers in his hands.
Wife (wiping her eyes): You are home.
Husband: I brought you flowers. We need to talk.
Wife (pointing her finger): We need to talk? Where were you when I needed to talk? I have hungered for a very long time but you were nowhere to be found. I hungered to talk to you when I had the first miscarriage. I hungered to talk when my little brother died. I hungered to talk when I had the second miscarriage, then the third. I hungered, my husband of cold nights, to talk when the doctor told me that I could no longer give birth. I hungered to talk when you stopped sleeping with me. I hungered to talk, my husband of sacred vows, when you turned your eyes away from me anytime I stood naked before you. I hungered but you took my food and gave it to little boys.
Husband (stepping back): I am sorry I have not been paying attention but there's a reason. What little boys?
Wife (picking the fork on the plate): I want to see the colour of your blood. I want to see if you feel pain as much as I do. I want to know that you are human! He asks me what little boys. Your story is all over town, you big for nothing!
Husband: wait wait. I don't know what you heard but let me show you something. Please.
The man brings a paper from his pocket and hands it to the woman. The woman eyes the paper then she gives it back to him.
Wife: read it to me.
Husband: It is simple actually. I had an erectile dysfunction caused by an STD. It is that one we treated when we were still dating. The doctor said it was not properly treated.
Wife: you are lying to me.
Husband: you can call our doctor and confirm. It is why I have not been reaching out to you. At first I was ashamed then I was angry but now I have been treating it and I am fine. I don't know what you heard but you have always been and still remains my one and only. I have not been having sex with anyone. I don't know if we would ever be able to have great sex again but I still do love you despite what you think.
Wife: and the little boys?
Husband: Who ever told you that is a wicked person. I have not been to a club in years not to talk of hanging out with little boys. I swear on my father's grave.
Wife (aside): Here I go believing the story and falling again. Will I ever learn? Can I be taught a lesson? Hung out to dry, an ornament gathering dust and cobwebs. Maybe now I will be used and abused and my cold bones will know heat again. Maybe.
She drops the fork and walks into the man's arms. The moon lights them up then fades away.
Chorus: Love is pain
Eaten sweet like ice-cream cones
On a hot summer day.
love is tears kissing lips
like tongues on mons veneris
On winter mornings before work.
There's suspicion and fear.
There's a hunger to be heard,
a need to be fed,
There's a feeling to be held,
Hugged close until the tears stop
and the kisses begin and then...
The stories we tell.
---
CURTAIN FALL
---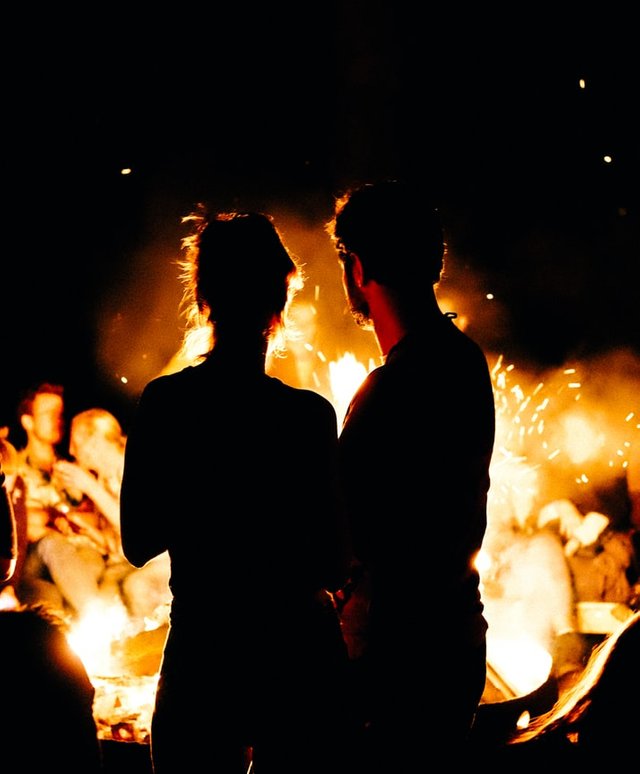 Unsplash: Wesley Balten
---
NEW WORDS:
moimoi- beans pudding.
---
©warpedpoetic, 2019.