Family Reunions (Art Prompt Writing Contest)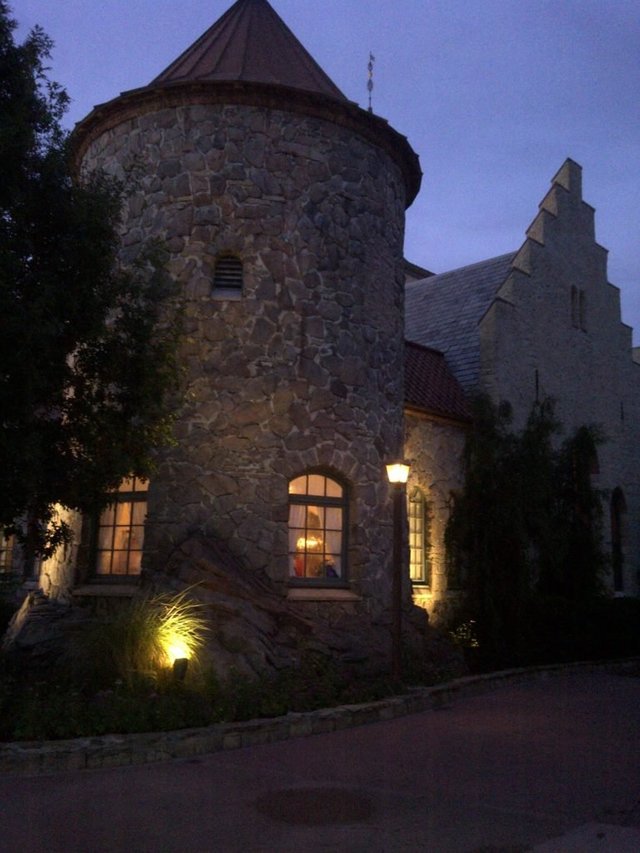 Time is an odd thing. Supposed to move along with the regularity of a ticking clock. Without a sense on occasion, nor effected by sentiment. Yet it stretches when we're stuck at boring jobs and – of course - "flies when we're having fun". Perhaps its strangest property of all is its occasional sticky nature, suspending people in it leaving them unable to move forward. Sometimes people, and sometimes even places.
Chris had been sulking in the back of the car for almost two hours now. His girlfriend, Tamsin, and their two young children, Thomas and Chloe, had been mocking him for pretty much the entire time. He always got grumpy when they had to visit his Mum's house. The kids loved it, their Nan would bake them these mini pastries, topped with berries she'd pick from her garden. And Tamsin got on with Chris's Mum, Mandy, better than she did her own. They were always great little family weekends away, unless you were Chris.
He had spent his entire childhood in that house, and although it was a mostly unremarkable one, every story has dark corners. Places we prefer not to shine a light on. Places we'd rather forget.
It was just before midday when they arrived and the kids leapt from the car before it had even fully stopped. Chloe literally bounced onto the floor, rolled a bit, bounced back up and ran at her Nan like nothing had happened.
"Watch yourself little one," the elderly lady standing laughing in the doorway called out, "you break a leg out here, will take a few hours to get you anywhere. You'll be sipping on my gin to quell the pain!"
"She most certainly will not," Tamsin chuckled as she walked over to hug her Mother-In-Law.
The two embraced to a second or two, already muttering to each other so Chris couldn't hear, and then went inside.
Chris waved at his Mum and followed them in slowly. Much as he loved his Mum, he hated this house. He could feel himself physically change as he walked through the door. Such a beautiful house, filled with his loved ones on a sunny summer's day, but he couldn't enjoy it. The evitable fact that light always fades to dark never left his mind, not for a second.
After hours of playing in the garden, drinking wine and eating far too much, everyone was already tired by about six o'clock. This was always the way on these trips. Even the kids were flagging a little bit, fighting to stay active, but you could see that soon as their heads hit the pillow they'd be out cold.
Everyone began to settle in the lounge and the screens came out. The kids with their tablets, tapping away frantically, and shouting; throwing themselves around as they battled each other. Chris got his phone out for "work", sitting quietly in his Dad's old chair. Tamsin had poured her and Mandy the end of their second bottle of red and had her phone switched off in her pocket.
"You know I don't mind dear," Mandy smiled and slyly pointed to her pocket, "I've even left mine on."
"What happened to 'no screens'?", Tamsin quipped back smiling.
"I'm moving with the times?!"
The two laughed and sat drinking while Mandy showed Tamsin her new smart phone.
After a few more hours of chilling and chatting in the lounge, a slightly tipsy Tamsin had declared that since "her favorite Mother-In-Law" had made lunch, that it was time to order pizza.
"It'll arrive quicker than Chloe's bloody ambulance would've!" Mandy had observed.
Sure enough the overpriced, over-cheesed monstrosities the kids insisted on ordering arrived in just under an hour, just as darkness fell, and the family sat munching and chatting. Having the time of their lives. Except Chris, he had excused himself saying he was going to bed with a headache. Tamsin had pointed out as she did last time that he always "gets a headache" when they visited his Mum, but Mandy had calmly put a hand on her shoulder in a polite effort to ask her to leave it. She knew where he was going.
Chris unlocked the cellar door and walked down the old stone stairs in complete darkness. He didn't need the light, he had spent so much of his childhood playing down here he knew it inch by inch even to this day. He slowly shuffled over to the old, wonky, wooden chair in the corner of the room and sat down with a sigh.
"You never will get used to this will you?" a voice he recognized so well from his childhood came from the darkness.
"No."
"Well, it's always a pleasure to see you all the same boy. How are the little ones?"
Chris sat, tears quietly streaming down his face.
"It's fine. Your Mother tells me all about them. Says you're doing well too. You certainly look it."
"Yes... yes I'm ....I'm doing well," he wiped the tears from his face and composed himself a little, "and yourself?"
They both laughed, Chris had not laughed that hard in ages. He always dreaded coming down here, it was so painful, but how could he not. His mother handled it better, but she was as strong as they came.
She had once suggested that after the accident they had both gone mad. Experiencing some sort of joint hallucination as a coping mechanism. Chris told her that was ridiculous, but only because he feared it to be true.
A snapshot of time, that is what he had told her. Something that - although he could not explain - most definitely did exist. It had to.
But not to Mandy. As she had said to him countless times. Whether shared delusion, welcome apparition, or temporal pinprick in the universe. To her it didn't matter.

My entry to #twbwritingcontest based on the fantastic photograph by @nubellorona