The Fall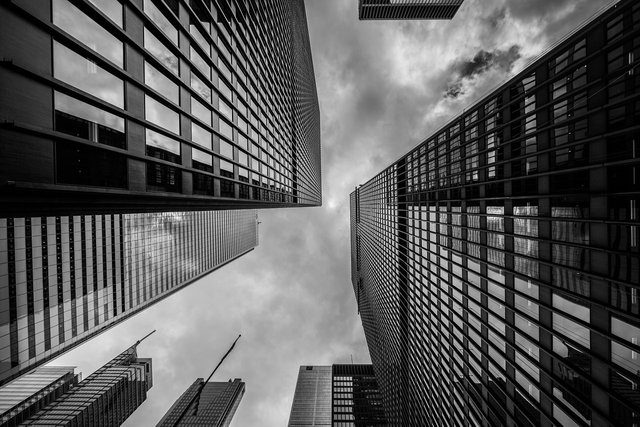 Image source
Chapter One - "Freeze"
Part IV
Ten seconds passed with nothing at all occurring. Only silence. Nathan opened his defeated eyes and began to question if he was drifting into insanity. As he reached out to grab his drink, three loud thumps fell upon the door behind him.
Whipping his head over his shoulder to investigate, he caught sight of a young gang member on the far side of the room, standing outside of the disabled bathroom with his arm resting against the door.
"Hour's up." The lad shouted, before pressing a distrusting ear to the door.
It wasn't difficult to discern what was going on in that bathroom, and Nathan couldn't help but chuckle to himself. Was this the divine plan offered to him through the magic of threes - to stop being a miserable bastard and go get himself laid? He turned around smiling, taking a sip of his final drink of the night and accepting that the triple knock on the door was more likely another coincidence than an answer from above.
Nathan was not the least bit surprised to learn of the scumbag gang leader's involvement in the trafficking of sex. But it was even less of a shock for him to observe the punter who stepped out of the bathroom amidst a loud creak, adjusting his belt and wiping a patch of sweat from his wrinkled forehead. It was the foul- breathed fat man who had sat at the opposite end of the bar from him two nights ago. For far too much of the night, he had spouted nonsense through a set of rotten teeth, and plagued the room with an infernal laugh that was never once warranted. Nathan could distinctly remember thinking that this man will never have sex without paying for it, and with evidence now suggesting he was correct, he found himself smiling again.
The joy of self-satisfaction was short lived. A malodorous cocktail of sweat and cheap tobacco wiped the smile from Nathan's face as the fat old man slumped onto the adjacent bar stool.
"What were you doing in there, Gary?" The bartender asked, not looking too pleased.
Gary looked at Nathan with an exaggerated expression, mockingly implying he'd been caught red handed. "Nothing illegal.." He teased, returning his eyes back to the barkeep. "Then again. " He continued. "Nothing is illegal anymore, is it?
His words were followed by a familiar and wretched laugh, and the barkeepers disapproval. "This ain't a brothel, Gary." He warned. "Do that shit somewhere else."
"Sorry." Once again, the sweaty old man looked at Nathan, this time with raised eyebrows. "It's not me he has tell that to though, is it?" He nodded his head in the direction of the pool table.
The reprobate was correct. The bar tender should have been directing his warning elsewhere, but his quick decision to turn around and walk away without responding suggested to Nathan he was too afraid. Looking back over his shoulder, mostly to escape Gary's breath, he studied the gang's leader. He was at most six feet tall, and skinnier than most. The barkeep was of about the same height but far more robust. If it were one on one, Nathan's money would be on the bartender. But of course, the acolytes would get involved too, and the bartender probably understood this.
About to turn back around, Nathan's attention was captured by the creaking door to the disabled toilets opening once again. A slim girl with long dark hair and an expressionless face limped her way through the door and towards the pool table. Heavily adorned with make up, and sporting lengthy fake eye lashes, she looked to be about seventeen at first glance. But her pointed chin and rounded cheeks told another story. It had been almost eight years since Nathan had felt pity for another human being. Yet as he stared into the girl's eyes - eyes that seemed to be looking at nothing, and through everything - pity is exactly what he felt.
Nathan was thrust back into his memory. A drop of blood fell from the blade of a dagger and splatted on a marble floor. Eldridge's obnoxious laugh bellowed throughout his mind, prompting him to turn back around and down the rest of his drink. It was time to leave. He stood abruptly, still afflicted by the sound of his father's laughter, and pulled out his phone to pay the barkeep a tip.
"That's ten." A soft, hopeful voice dispelled all thought from Nathan's haunted mind. "Am I three now?"
Three? He froze, paying close attention to the familiar laugh behind him that was quickly accompanied by many others.
"None of you told her?" The gang leader's irritating voice was followed by a louder, degrading laugh. "Your deadbeat dad lost another bet - a big one this time." His voice quietened. "Twenty more. Then you'll be three, my girl."




Final part of the chapter coming soon.