Forward: 
With the help of @Rhondak and the fine editors at the MSP Fiction Workshop, I managed to rescue and refurbish some stories from my google drive (AKA the story death-pit) for the steemit community. This post will be the first of four standalone stories called the Element Archives.
Each story represents a classical element. For this story, I chose wind. 
I hope you enjoy it.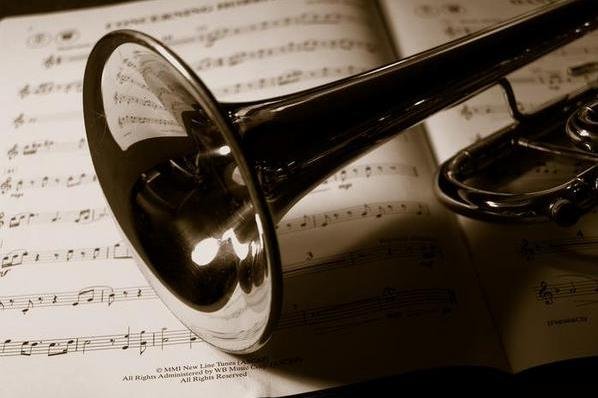 The Seventh Song 
Lee Myner wondered if tonight was the night that Sour-Pants Lenny would finally kill him. He stood stage side and peered deep into a black sea of hairnets, hats and high-heels, searching for a fat man in a soiled white tux.
There was no sign of Sour-Pants yet, but Lee knew he'd show. He always did.  
Lee walked to the centre stage where his cherry-red standup bass was waiting for him. The crowd cheered and he waved, putting on his best showtime smile.
It was Saturday night at Elmore's Speakeasy, and the Kansas City crowd was looking mighty winsome. They had come from all around the state to hear some quality jazz and by Jove, they were going to get it. Lee looked back to Freddy Balsam on the drums, and gave him the go. Freddy clapped his sticks. 
Three...two...one...
The Peach Trio opened with a swanky New Orleans classic. Something to get people moving. Lee didn't know the title, but he knew that after the fourth bar he bends A on the fifth, and by the same habit Freddy Balsam knew to fill the eighth with a roll on the toms.
The twenties had come and gone, and it had been a wonderful time. But the progressions that were once hot and electric were starting to go cold. Americans knew jazz better than they knew their sweet old grandmothers. 
During the third number -- some good-timey Chicago shuffle -- Lee caught a whiff of something that could gag a maggot. He looked down to see Sour-Pants Lenny right below him, looking up. His face looked dazed and drawn, like a catfish dangling from a hook.
Lenny was heavy, and he wore the same white tuxedo every day. The crotch of his pants smelled like old buttermilk, and the armpits of his tux had brown blotches that sprawled out like coffee stains on a map.
Freddy Balsam said he had a buddy that knew Lenny from St. Louis. He said the greasy bastard worked for the American Temperance Society, but they fired him for god-knows-what. Lee pictured Sour's mooney face smiling on the cover of some newspaper as he poured barrels of bathtub gin down the sewer.
However, Danny Karl Jr. — the trio's clarinetist — told Lee something else. One of his cousins knew Lenny from way-back in Georgia. He said he was a minister, and that he used to sing gospel before the offering money dried up.
They really didn't know who he was, or where he stayed, or what he did, but they knew that he followed them up and down the country like a curse, from Louisiana to Illinois.
People joked that S.P. Lenny was going to kill Lee first, and Lee didn't think it was all that funny. Sour-Pants would stare with those dark, Frankenstein eyes. He looked like the kind of guy that'd chop you like liver and think nothing of it.
During the sixth song — some big-time New York anthem — Lenny ripped the belt from his trousers. Lee saw an outline of something rugged and metal poking from underneath those blotchy tuxedo pants. Something like a tommy gun.
He waved the song to a stop. 
In that split moment, Lee thought about his dying father, and how he used the last of the  house money to buy him a cherry-red bass. Even now, he could still hear his father's voice, the words he said just moments before they draped the white cover over his face.
You're gonna be the next prophet, kid. 
Lee decided that if he was going to die tonight, he was going die with a verse to call his own.

He put his hands on the strings and tapped out an ascending A melodic minor. He took that bassline for a walk, twisting the rhythm on the fifths and sixths. Freddy Balsam didn't know what was going on, but he unhooked the chain from his snare and pounded a tribal throb on the toms. Danny Karl Jr. set it straight with a brooding clarinet melody.
That's when Sour-Pants Lenny pulled a shining gold trumpet from his tuxedo trousers and belted a shrieking horn solo. The crowd erupted, as if everyone had rehearsed this moment in a dream. People jumped, swung, and flipped like acrobats. 
As each member of The Peach Quartet took turns at improv solos, ladies dirtied their dresses on the dance floor and bartenders rattled their shakers in double time. Some gangster took an axe to one of the barrels of Gin and the wallflowers took turns drinking from underneath it.
After what could have been hours, Freddy Balsam brought the beat down, and the quartet played into a melodic groove. Lee took a good look at the room. This new sound  wasn't just a hit song, it was something bigger -- a resurrection. It was the second coming, Jazz born anew.
After Kansas City, and after Sour-Pants Lenny agreed to a fresh tuxedo, The Peach Quartet toured the country, spreading word of this new movement. It was a movement that would go on to define America for generations.
A movement they called bebop.   
Img Sources 
https://c1.staticflickr.com/5/4082/4867822712_fd32ecca62_b.jpg
https://upload.wikimedia.org/wikipedia/commons/9/9e/A_melodic_minor_scale_ascending_and_descending.png
Afterword: Please note that this story is purely a fantasy, based in a ridiculous world where people forge genres of music through solos played on instruments that were hidden in people's rotten tuxedo pants. 
It is not meant to represent the true hard work, passion, and artistry that forged bebop. 
Thanks for reading.