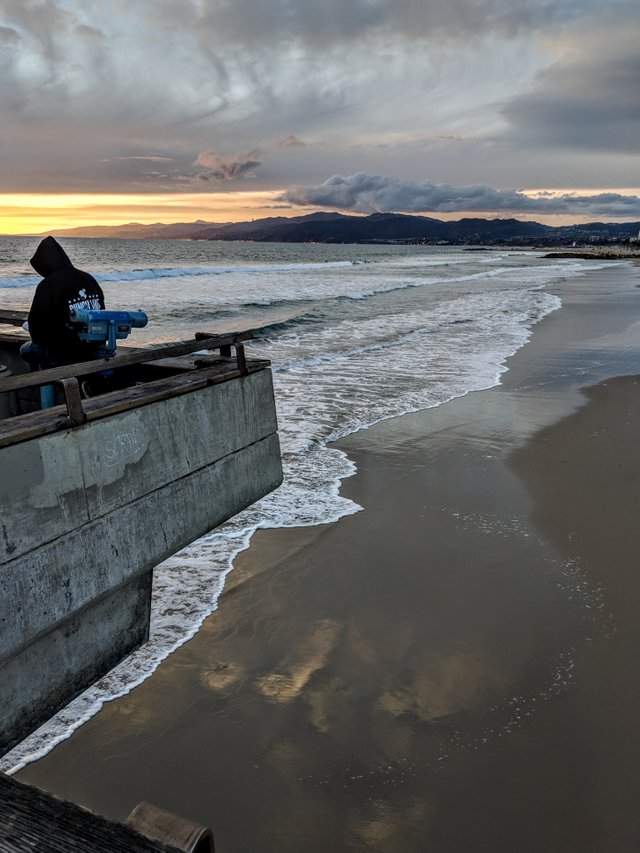 ART OF DYING by George Harrison continues playing.
 SAN CLICHE . SONY . COLUMBIA PICTURES presents

BLACK
Blinking blue Ruby Pi letters scroll across the screen,
 BITCOLLECT or The Death of a Bum 

Opening Credits over montage of crypto twitter, youtube, instagram, & steems.
    ART OF DYING
There'll come a time when all of us
must leave here.  Then nothing
sister Mary can do, Will keep me
here with you. As nothing in this
life that I've been trying,
Could equal or surpass 
the art of dying. Do you believe me?

Hip Buzzy smiles into camera and asks how goes it. Stillettos &Heels makes an important proof of stake point in a bright technicolor post effects. Shillmeister welcomes his guestmeister. A Lady G is happy to see everything happening with Dash. Proud family farmer livestreams the birth of a goat from his barn. Jamaican Joe eats chips in front a drone that rises above him & a bounce house on the Haitian coastline. Sunglasses on a motorcycle slams a shot of burbon then chugs on a liter of Sauza. Chart guys greenscreen thier faces on charts and memes.
TWITTER feeds from names like CryptoPenguin, BitcoinBro, flamboyant CEOS wild claims and trash talk.
INSTAGRAM feeds of Porsche, Yachts, Beaches, Ski Resorts, Glamour. Smiling Tattoos, Charts.
MEME Feed of Classic Movies with Coin Logos poorly FX'd in post. Greenscreen effect is in effect on YOUTUBE.
The VIKING swoons in a handmade Bitcoin Christmas Shirt, playing guitar in front of his green screen. The green screen pops him on a yacht. He beckons us to join him on his yacht.
The yacht is sailing to the moon.
    ART OF DYING cont
There'll come a time when all your
hopes are fading.  When things that 
seemed so very plain.  Become
an awful pain.  Searching for 
the truth among the lying.  And
answered when you've learned the
art of dying.

Whales driving Lambos jump over the moon. Lightning. The passengers
aboard the Viking's flying yacht grow horns and claws.
The Viking swings his Battle Hammer and clobbers them overboard like Babe Ruth.
The moon is covered in Bears trampled by Bulls on their way to slaughter through chained blocks. The blood shimmers. Piggy Lizard Martians in Seville Rows crack cable whips atop shimmering gold pyramids on pikes. The moon is a burning hell.
    ART OF DYING cont
But you're still with me.  But if you
want it.  Then you must find it.
But when you have it. There'll be
no need for it. 

On the shores of NEW ZEALAND a canoe is paddled to shore. SYDNEY Harbor wakes. TOKYO commuters crush the streets. HONG KONG's tower window's flicker with the living. DUBAI's robes flow below a glistening wall of red & blue numbers. BERLIN, BRUSSELS, LONDON, NEW YORK men in suits and bibs wheeling tablets & badges. WALL STREET tears down Old Glory and raises the Blue & Orange.
    ART OF DYING cont
There'll come a time when most of
us return here.  Brought back by 
our desire to be a perfect entity.
Living through a million years of
crying. Until you've realized the
Art of Dying. Do you believe me?

Giant blood red moon descends upon a sprawling suburban road with perfect little homes. Above the opening to a gated communities, the moon gets closer to the a golf course.
Glorious modern homes and apartments with windows open just enough to see people staring like cattle at TV's and Computers. Fancy front door to a Colonial Home. Fancy front door to an expensive condo. A church. A school, grocery store-
HOSPITAL ROOM - Smiling Momma, with a nurse nearby, holds her Newborn Baby. Baby's tiny hand with a hospital band around the wrist. A bandage atop it's tiny hand starts to blink.
    NURSE  
Congratulations, your account
is verified and online.

The father standing by is so proud.
A room full of babies with blinking blue bandaged hands behind a window of proud mommas and poppas.
Baby faces.
SUBURBS - Humble front porches. Humble apartment doors.
Lightning.
A little red, white, & blue TENT shivers in the woods.
The same tent in the middle of the street of the sprawling suburb.
The tent on the golf course.
The tent outside the church.
The tent surrounded by others in downtown LA.
The tents burn.
BLACKOUT
DEAR PRUDENCE by The Beatles begins.
EXT. FRONT PORCH - DAY
The Baby wakes. Even though closed, her eyes squint at the light. Her eyes slowly open.
BLACK . Prudence continues
EXT. VENICE - DAY
The sun washes over the colorful crowds between the trees bending into the ocean breeze. Pockets of grass and palm shine green between the morning bustle.
Artists begin unpacking their works. Children eat ice cream, stand on wheely toys. Couples kiss and take photos in front of their drone phones. Athletes jog through the crowd. The homeless outnumber them all. Some blending in more than others. Others on neon wheels that move slowly no where.
Standing on a patch overlooking the flow, grooving along with the trees in the breeze, Johny Shorts smiles into the sky…
BLACK . Prudence continues - cont…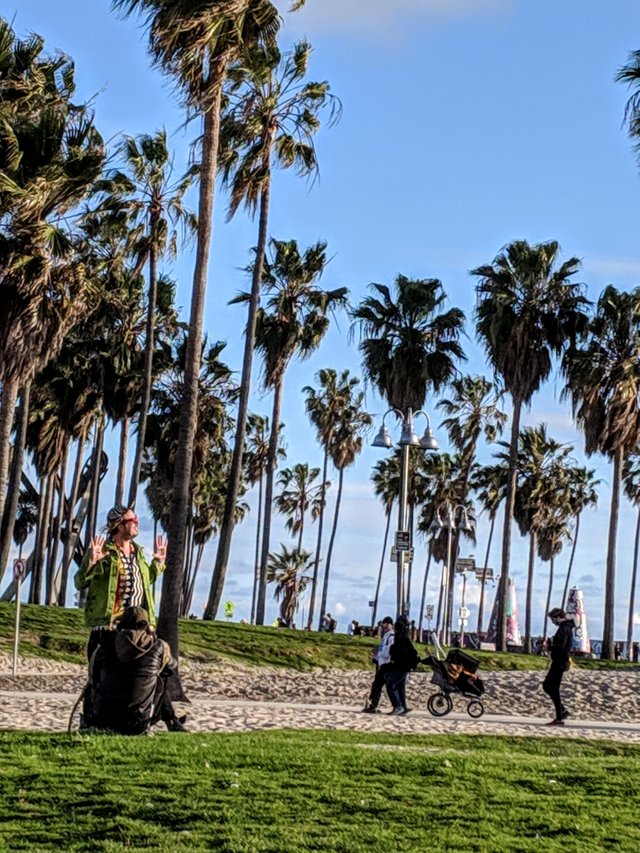 ---
disclaimer: what the hell's a disclaimer? anyway, any resemblance to anyone living, dead, real, fake, or hiding behind a fake name is coincidence. 30% of author rewards from this post go to steemfestdreams. sending $666 for kicks cause they help people and hail Satan. But was gonna send 50% but doesn't look sustainable and me dumb with math. Columbia & Sony cause dreamin closer to the beach. Is my janky RoughDraft Copy on Steem copyright via blockchain? asking for a friend? still gotta register with wga? I dunno, will look into it, meanwhile UpVote Follows, @jacobts Appreciates!
---