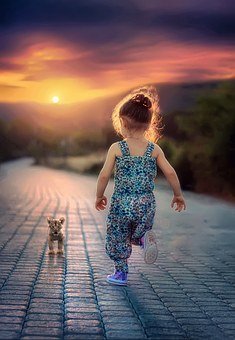 It was a smooth ride. John dropped of Hannah at school and he left for work. His colleagues congratulated him on his newfound status.  It was hard to concentrate on his work, and he was constantly worried about Hannah  during the day. He felt better once Sylvia picked her up from school and they were on their way home. He felt even better when he finally closed his office door and met the driver downstairs.  He had left his car for Sylvia and he had the driver pick him up at home. 
Hannah already had her bath when he got home and Sylvia made sure she had dinner. All that was left for him to do was to read her a story and put her to bed. This was going to work out perfectly.
After he put Hannah to bed he phoned Debby and she told him that she was proud of him. It had been a great day and he hoped that it would all work out like this every day. 
Three weeks later the school phoned while he was in the middle of a meeting. Hannah had a fever and he phoned Sylvia to fetch her immediately. He told her he'd meet her at the doctor's office. 
When he arrived at the doctor's office, Hannah was sleeping on Sylvia's lap and when he took a seat next to her Hannah woke up. When Hannah saw him she started crying and climbed onto his lap. She clung on to him as if her life depended on it and he felt a little stir in his heart.  He held her close and when it was their turn to go in he carried her. 
The usual doctor was not in, and there was a locum in his place. Doctor Stevens was the most attractive woman that John had ever seen. There was an instant connection between them and John quickly told her the whole story.  She smiled and took Hannah from him. She did a thorough examination and could find nothing wrong with Hannah except for a little throat infection. She gave John a prescription for antibiotics and handed him her number. Please call me any time day or night, if her condition changes. 
John couldn't take his eyes of her.  Paula Stevens had long dark hair that accentuated her dark brown eyes, and she had perfect lips that looked so utterly inviting. He could feel the attraction from her side too, and he smiled when she handed him the number. 
Paula was just as impressed by what she saw. John was one of the most handsome men she had ever met. She was sure that he did not realize how extremely handsome and charming he was. She didn't usually give out her number but for this one....she would give anything. 
Their eyes met for a minute before he left her office and it was as if they were begging him to call her. Sylvia was worried but he assured her that Hannah would be okay.  She asked if she could stay overnight to make sure that Hannah was fine, and he agreed.  They ordered Chinese food and watched a movie.  Sylvia suggested that she stay with Hannah the next morning so he could go to work. John agreed, and helped to put Hannah to bed.  She was fast asleep from the medication. Sylvia was going to sleep with Hannah, and John took a quick shower before climbing in bed. 
He was glad Hannah was fine, but he just couldn't get his mind of Paula. He hadn't had a date in nearly 8 weeks, and decided to take a chance. It was not even ten o clock and he hoped that Paula would still be awake. 
He felt awkward to call at this hour, so he texted her and asked her out the following evening. She replied immediately. Paula also lay in bed and all she could think of was John, if he did not ask her out, she was definitely going to ask him out herself. It was like they were destined to meet and she had a very peculiar feeling that this was the one she couldn't let go. 
Hannah slept straight through the night and in the morning Paula texted to hear if Hannah was okay.  John assured her that she was, and told her that he was looking forward to their date. 
He asked Sylvia if she could stay over for another night, and she agreed. He was seriously considering selling the apartment to buy a bigger place so he could have a separate room for Sylvia.  He left his car at home, and waited for the driver to pick him up.  
It was a busy day at work, but somewhere in between he asked his secretary to phone an estate agent. He was looking for a bigger house with a cottage so he could have some space for Sylvia. He phoned just after five and Sylvia assured him that everything was fine.  He told her about his date, and she assured him that he didn't have to worry.  
It was just after six when the driver parked in front of Paula's apartment building. He bought some flowers on the way there, and she looked amazing when she opened the door. He has never had such an attraction to anyone, not even with Jessica.  He loved Jessica but the feeling he had with Paula was just different. It was like their souls connected instantly and they were destined to meet. 
They had an absolute gorgeous evening and by the end of the evening it felt like they had known each other for years. John did not want to mess this up and he dropped her off at her apartment building just after eleven. She invited him in for a night cap but John knew where that would lead and he took a rain check. It took all his willpower to decline her offer, but he knew that this one was special and he had to take his time with her. 
When he arrived home, both Sylvia and Hannah were fast asleep in front of the television. He quietly woke up Sylvia and then picked up Hannah to carry her upstairs.  
Once they were settled he went to his own room and lay there thinking about the evening. Paula Stevens made an impression on him, and he felt like a schoolboy with his first crush. He picked up his phone to send her a text and saw that there was already one from Paula. 
"I had a great evening. We need to do this again soon."
He texted back. "Is tomorrow night too soon?"
She send him a smiley face and a short text. "I can't wait."
-To be continued-