Every day @mydivathings invites you to write a short story based on the image she chooses. Today's image (below) is a Photo by Jakub Kriz on Unsplash
Find out more about the challenge (you can join anytime!) here https://steemit.com/365daysofwriting/@mydivathings/day-41-365-days-of-writing-challenge
This is part five of a new story (told in instalments, written exclusively for Steemit):
Haunted
You can read it as a stand alone piece if you wish, or you can read
part one here: https://steemit.com/f/@felt.buzz/haunted-part-one-an-original-work-of-fiction-for-the-365daysofwriting-challenge, or
part two here: https://steemit.com/fiction/@felt.buzz/haunted-part-two-an-original-work-of-fiction-for-the-365daysofwriting-challenge, or
part three: https://steemit.com/fiction/@felt.buzz/haunted-part-three-an-original-work-of-fiction-for-the-365daysofwriting-challenge, or
part four: https://steemit.com/fiction/@felt.buzz/haunted-part-four-an-original-work-of-fiction-for-365daysofwriting-challenge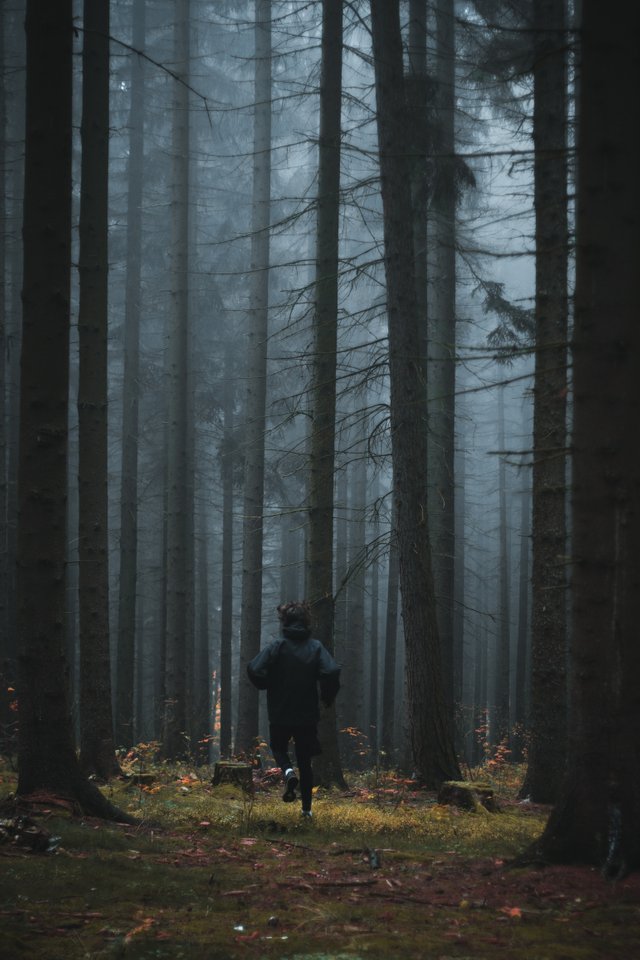 Katie was dreaming.
She knew she was dreaming because normally flamingos don't sing, nor do they dance with mice on the kitchen table. Katie giggled as one of the flamingos flapped its wings so hard two mice flew across the table and onto the floor.
"Something, isn't right," Kevin said.
The dog was in her arms, like he always was. And even if he was just a toy, he often talked to Katie.
Not just her dreams. In real life too.
"What do you mean, Kevin?" Katie asked.
Then the lights went out.
It took a few moments for Katie's eyes to adjust. She had eaten all her carrots up at tea time, like a good girl, so her eyes worked just fine in the dark, thank-you-very-much.
Kevin squirmed in her arms.
"Something's coming!" he said. "Something bad!"
Katie was in the woods at the bottom of the garden. The trees seemed taller, darker, somehow.
It was cold.
Katie shivered. She was only in her pyjamas. No one should ever go outside in their pyjamas. She looked down.
And she wasn't even wearing slippers!
There was a cold white mist falling from the trees. It looked just like a big blanket. But it was not a comfy blanket like the blanket on her bed. No, although this blanket was thick, it wasn't warm. It felt cold. Very cold. It wasn't comfy. Not at all.
Katie didn't like it.
"They are coming!" Kevin said, again.
And now, Katie saw it.
A man was running towards her, his feet must have been pounding onto the ground but the thick moss and mist sucked all sound away. It was like watching the TV with the sound down.
Kevin was squirming. He wanted to get down. But he was a toy dog, and he couldn't run. Not like Silky. Katie held on tight. She couldn't lose him.
The man was closer now. She could see his face.
"It's okay, silly!" Katie said, to Kevin. "It's Daddy!"
She called out, but Daddy couldn't hear her, and as she looked she realised there was something chasing him.
And she didn't like that something.
"Daddy!" she shouted, but the mist sucked the sound right out of her throat. It felt a bit like sucking milkshake through a straw.
Daddy was almost level with her now, surely he could see her! He was sweating and he looked so scared. Katie hadn't seen Daddy look that scared in a long while.
Not since he got out from the place where sad people go to get better.
The thing that followed him was dark and the shape was not right and it was going to get Daddy. Maybe it was going to get her too.
She felt a tug on her pyjama sleeve.
"Come with me!"
Michael, the strange boy who lived by the waterfall - the boy that Mummy said was her new imaginary friend, but he wasn't imaginary, and she didn't know if he was her friend, because they had only just met, and she hadn't really decided if she liked him, anyway - stood next to her.
"The Bad Things are coming. We need to go. Now!"
Daddy ran past her, he looked like he was screaming but no sound came out. The mist stole that too. The shapeless something - somethings? - was almost here and Katie realised she had been seen.
Michael grabbed her hand and they ran. She couldn't see where they were going, so she had to trust the boy not to lead her straight into a tree. She looked behind her and it seemed that the somethings had stopped chasing Daddy.
They were after her now.
They ran for what seemed like miles. Katie was breathless and her legs hurt and she felt like she had pine needles sticking in her feet, she wanted to lie down and go back to sleep, and dream of singing flamingos and mice dancing on tables.
She wanted her bed.
"In here," Michael said, pulling her through a bush.
They were back in the clearing with the waterfall and the strange house that was not a house. Katie collapsed onto the ground and wondered how long it would be before the somethings caught them.
"We are safe, here," Michael said, smiling his sad smile. "Mummy made it so the Bad Things can't hurt us, here."
Katie suddenly realised she was not holding Kevin anymore.
"I dropped Kevin," she said, looking round her. "We have to go back! I need to get Kevin!"
"You can't go back," Michael said, shaking his head. "Besides, the Bad Things have Kevin now."
Katie screamed.
Something grabbed her from the darkness. It pulled her close and she screamed again.
"It's okay, Katie. It's okay. It's just a bad dream," her mother held her, rocking her, kissing her hair.
"Mummy, the Bad Things have Kevin!" she said, looking into her mothers eyes.
"It's okay, honey." Mummy picked something from Katie's hair, and stared at it with a funny look on her face. It looked like a leaf. "Daddy will find Kevin. He will have just fallen onto the floor somewhere."
Daddy was there too.
His hair looked kind of funny, like he had just woken up. It was all sticky-upy. He looked worried, and sweaty, too. Just as if he had also had a bad dream. Katie watched Daddy search around the bed, and the floor. Finally he got down on his knees to look under the bed.
She noticed Daddy's feet were all stained green. They were muddy, too.
Almost as if he had been running in the woods.
...