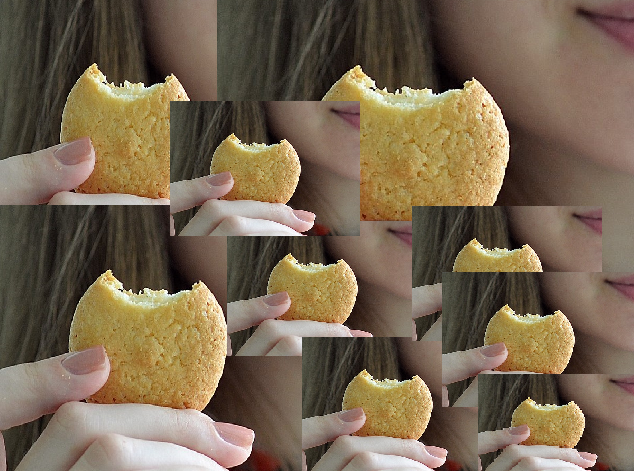 This is Part 2 (the last installment) of a short work of fiction. If you have not yet read Part 1, please do so first. You'll find it on my blog.
On the next school day, Kelsey's mathematics teacher came to talk to her during class.
"You can have your snack now," suggested the teacher.
Kelsey rummaged in her backpack and found the granola bar her father had packed. Fortunately, it was the chewy kind. She hoped that she would not make much noise eating it.
But opening the wrapper made a crinkling sound. Other students looked at her, which was more interesting than multiplying fractions. Kelsey smiled and took a big bite of her sweet, cinnamon-raisin granola bar.
"Mrs. Reyes, Kelsey is eating in class!" shouted an annoying boy nearby.
"With my permission," said the teacher. "Her doctor asked that we let her have a snack. Please go back to your work, Ian."
A few days later, when Catherine picked up her daughter from school, another mom asked her about Kelsey's condition. Was she doing alright after that doctor visit?
"She seems fine now. Getting stronger again. The doctor suggested she eat a snack mid-morning to keep her blood sugar a little higher. Kelsey says it gives her more energy and helps her focus better."
"Hmmm..."
said the other mother. "My daughter mentioned that she gets lightheaded in the morning sometimes, too. What doctor do you use again?"
Soon, there were two other students eating in class at the same time as Kelsey. A month later, there were so many of them needing snacks that the school added a short recess period in the mid-morning, announcing that students should use recess time for any snacks they needed, not classroom time.
A few months later,
Catherine tried to make a doctor's appointment for Kelsey's regular 'well child' visit. She learned that Dr. Banerjee was fully booked for the next two months. The young doctor was quickly making his reputation in the community and his fame was spreading to nearby school districts as well.
Just before their next doctor's appointment, Catherine turned on the TV one evening to watch the news. Kelsey was reading a book. Suddenly, they both saw a familiar face. There, being interviewed by the TV news anchors about children's health, was none other than their pediatrician, Dr. Banerjee.
The news anchors were asking him about whether school children are well nourished. He quoted some statistics and they went back and forth. Then they asked for his professional advice on kids having snacks. "In my opinion," said Dr. Banerjee, "well-timed and healthy snacks are very useful in helping children to focus on their studies."
The school districts must love this guy, thought Catherine. He was making their work more difficult, especially the scheduling part. But if snacks helped the kids, then she was all for it. Apparently, she wasn't the only parent who agreed.
The news segment ended. Kelsey started clapping.
"Thank you, Snack Doc," she said.
The End
This was Part 2 of this short work of fiction.