Happy Friday Folks!
Fesschain is about to launch it's first Product FessPay in the month of August and as a gesture of love, we are doing a Special Promotional Airdrop Round for our participants. It's an easy contest comprising a handful of tasks though limited in nature to only first 2,500 participants. So, this 'First Come First Serve' basis airdrop round is exclusive and will be available before the product launch.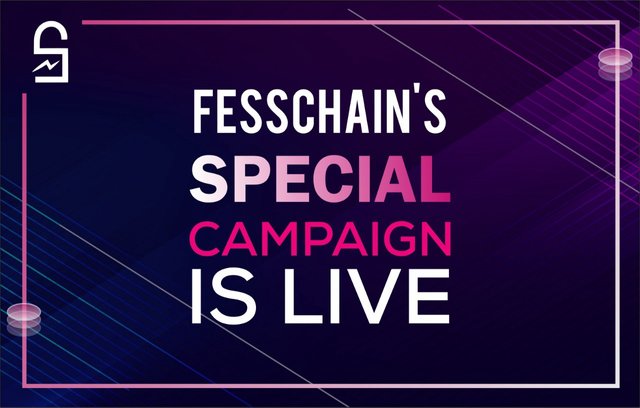 Terms and Conditions of Contest
This Special Airdrop requires 5 Simple steps to earn up to 40 FESS tokens. You can earn 5 tokens extra fir referrals too. To successfully claim the token in this contest, a participant is required to visit this link–
Task 1-Selfie Rewards (Only for India)
1- Write #WaitingForFessPay on a paper
2- Take a Selfie holding the paper in hands
3- After that, the participant is required to Share this Selfie on at least two Social media accounts including Twitter, Instagram, Facebook, and LinkedIn. Sharing on Instagram is Must.
Along with the image put this caption writing-
"I am eagerly WaitingForFessPay as I don't want to pay high premium & tip for crypto Transactions. Time to keep Calm because #FessPayHaiNa"
Task 2- Twitter Rewards — 10 Tokens
Copy the text within brackets and Post from your Twitter account
(Hey People! @fesschain is rising like a shiny Sun so hopes are already very High. My best wishes to their upcoming product FessPay. #WaitingforFessPay)
Task 3- Signature Rewards — 10 tokens
Kindly change your name and add 'Fesschain.live' after your name on Telegram or Twitter.
You must be active on these channels with fesschain.live added in your name by the end of the IEO to get the tokens
Task 4- Profile Picture Rewards — 5 tokens
Kindly Change your Profile Picture on Telegram or Twitter and put Fesschain Image there.
You must be active on these channels with fesschain.live added in your name by the end of the IEO to get the tokens
Task 5- Enter ERC20 Compatible Wallet Address (MEW/Trust)- MUST****
Note- Token distribution will take place post IEO completion.
for any doubts kindly reach us at our Official Telegram Channel