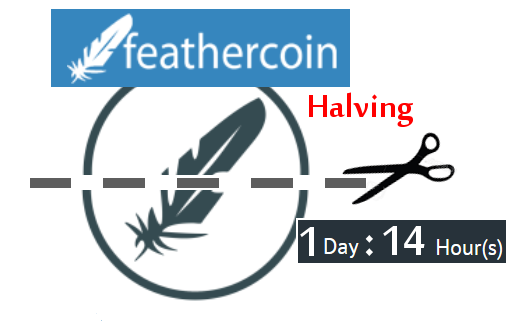 FeatherCoin Halving happens early Monday.
To my understanding, halving means that mining rewards are cut in half once half of the coins in a cryptocurrency have been created into existence. Then there's another halving for half of the second half, and so on.
If you want a more comprehensive explanation on halving, using Bitcoin and Litecoin as examples, check out this video (under 4 minutes) on Youtube by Franklyn, here:
Feathercoin has a long history, going way back to 2014. I only got into cryptocurrencies a couple of months ago, but Feathercoin (from my recollection) was one of the original favorites along with Bitcoin, Litecoin and Dogecoin.
And according to the Feathercoin website (at feathercoin.com)...
"Feathercoin is a powerful open source digital currency with monetary properties linked to Bitcoin, Litecoin and a myriad of countless alt coins, but under the hood is something very different."
I like the fact that the Circulating Supply of Feathercoin is "only" about 168 Million and currently valued at about 8 cents. For a period of time in 2014, Feathercoin was valued over 20 cents, with a peak or spike above ONE DOLLAR.
As a comparison, Litecoin is currently valued at about $50 with a Circulating Supply of nearly 52 Million. So Litecoin is valued at about 625 times more than Feathercoin, and Feathercoin only has a little over 3 times the Circulating Supply of Litecoin, currently.
I think of Feathercoin as a "lightweight" version of Litecoin. First of all, they both have gray or silver-looking logos, and then there's the connection of that old phrase, "Light as a Feather" (litecoin / feathercoin).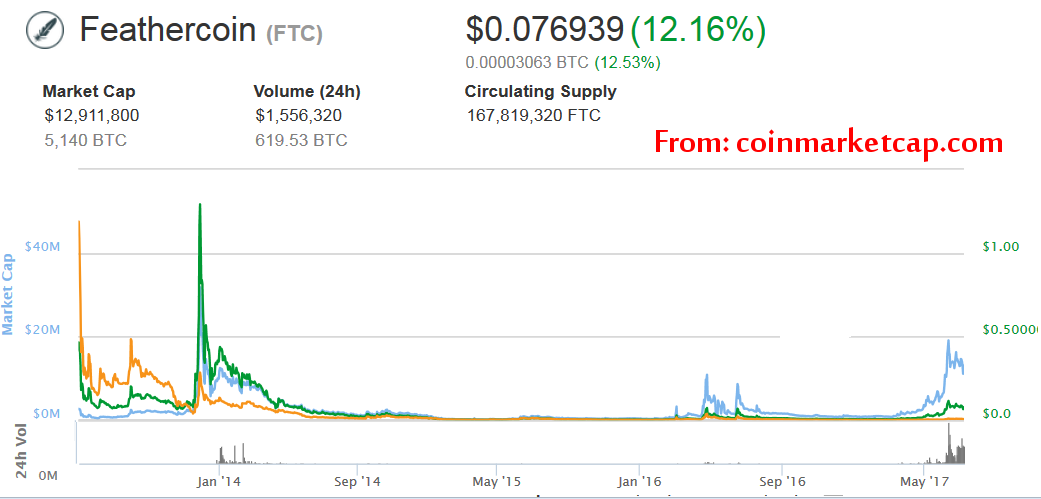 Disclaimer: This is not investment or financial advice, but are only my own opinions. I think Feathercoin has a lot of potential to go up, which is why I've got a bunch that I plan to hold on to for a long time.