Two weeks ago I showed them some clothes, mainly dresses, that I keep in the like section of my twitter. Today I am going to show you some clothes from my We Heart it collection, as I don't want to be repetitive, I will try to put the source of the images, and I want you to know that they all come from We Heart It. I hope you like it, this is a presentation of clothes and my opinions about it.
This combination is basically a white flannel, a pale gray pleated pleated skirt and a jacket like pink suede fabric. The star here is undoubtedly the jacket, at first glance it is a success, but I can not help mentioning how in reality the star for me is the combination of tones. It is so nice, soft and tender, it is a casual dress for a walk or maybe something else. I would like to see a little more of the bottom, make sure it is a skirt or pants
In this image everything is about the blouse. It's sleek, professional, gorgeous fabric, and the shoulder design looks best with long sleeves. I would go with this blouse to my work, perhaps, or a date if it is not very formal. Once again we have little detail on the bottom of this outfit, but they do not believe that the old peach color is a great combination with the style and white color of the shirt. I say yes!
This set could say youthful clearly. It depends on what type of youth you wear, this would be my type of dress that I would love to wear when I was 22 years old, but it is true that I live in a very hot environment and climate, with very few rainy days. Maybe you have a little more luck. I do not want to be limiting, maybe you like this suit regardless of your age. Two highlights that I definitely love: Pantyhose with this check skirt, even if you don't like the sweater the bottom could match any other top.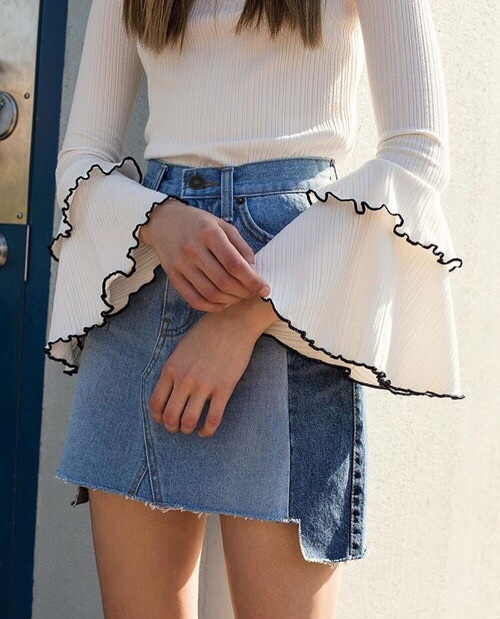 Finally the last garment to show you today. A shirt, again white, but with long sleeves with a flying end and black embroidery. Also it is not made with a smooth fabric, but something with texture, I do not know how to say this since I am not an expert: Do you see the texture stripes as lines? That's what I'm talking about. I like the way it is fitted to the body, I think it is fresh although it is long sleeved, it is youthful and with this high waist skirt it looks great.
And that's all for today. The first collection that I showed them were all dressed, and now I think they were pure shirts; Maybe the next one is shoes or accessories. Who knows? We'll see.
I hope you like it, I am not a professional or fashion designer, I just like doing this in real life and on the internet. So here I am.