The Llanten (Plantago major) of European origin, is one of the most abundant and accessible medicinal plants. It is well known for its extensive health benefits, both its leaves and seeds are used to prepare natural remedies. Its leaves can be included in salads, soups, stews, purees, etc. It is the also known as llanten mayor, llanten grande, llantai or yantin.
Its use is justified by the presence of several beneficial substances, among which are:
The mucilage It justifies its interesting use against respiratory conditions.
The tannins, which give it its astringent qualities.
Oleic and linoleic acids. (Fatty acids of type Omega 9 and Omega 6).
Important presence of caffeic acid. This implies that it is a very high natural source of antioxidants.
It also contains alkaloids of the type Plantagonine and indicain, flavonoids and vitamin C.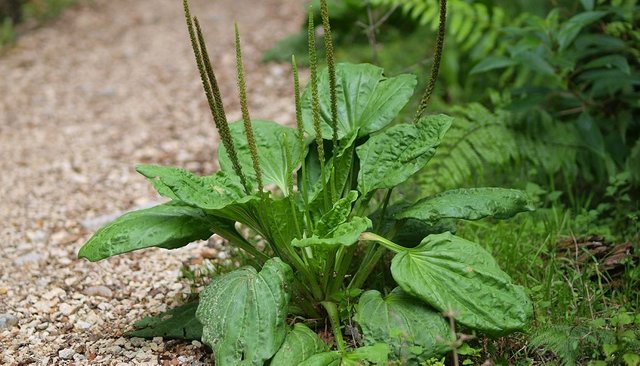 Fuente
Benefits.
It has antiseptic, antibiotic, healing, anti-inflammatory, calming, depurative, diuretic, satiating, and antihemorrhagic action.
It improves and strengthens our immune system.
It is antioxidant.
It is used in cases of cystitis.
Improves the functioning of the respiratory.
Relieves sore throat, cough and aphonia (gargle).
Purify the blood.
It reduces fever.
Regulates high blood sugar levels.
It is recommended for dieters.
It improves the health of our liver.
Relieves insect bites.
Very useful in case of rhinitis.
Relieves urinary infections and various bladder problems.
Stops diarrhea.
Its seeds are useful for constipation.
Excellent for relieving tired, reddened (conjunctivitis) or inflamed eyes.
It improves the health of the gums and heals the sores.
Among other.
Uses of the llanten.
Compresses: Boil its leaves and when hot you place them as patches on the affected part. Ideal for treating burns and ulcers.

Syrup: Crush its leaves, strain and then add sugar. You can take it per tablespoon, three times a day. Ideal expectant with which you can fight colds, bronchitis and asthma.

Eye drops: Boil the water, in a bowl add 2 or 3 leaves and the hot water, let it stand, strain and with that water wipe the eyes or moisten a towel and place it for several minutes in the eyes.

Infusion or tea: Boil a cup of water, once boiled turn off the heat and add a tablespoon of dried leaves, cover and let stand for about 3 or 4 minutes. Have a cup repeatedly a day.

Seed water: Wash the seeds and add them in a jar. Add plenty of water and drink daily. Ideal for people suffering from constipation.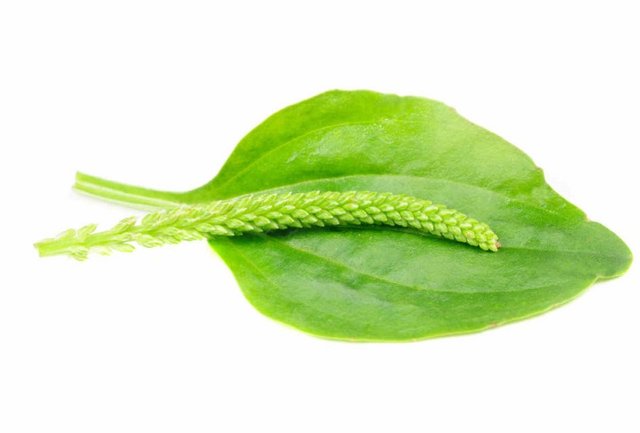 Fuente
Llanten cultivation.
These plants can reproduce through seeds or by separating individuals.

This crop prefers places that have light and shade during the day.

It is necessary to have a large space for cultivation.

Sowing can be done throughout the year, but it is recommended to sow in late winter or early spring.

It can be grown both in the garden and in a pot or directly in the soil.

These plants do not have many requirements regarding the type of soil, it grows very well in fertile soils with abundant organic matter.

It develops best on loose soils with good drainage.

Watering should be done periodically to avoid drought in the soil. Avoid excessive soil moisture, as this could cause the roots to rot.

In the case of fertilizing these plants, use organic fertilizer.

The Llanten must be harvested in the middle of summer, after the plant has reached its fullness. On the other hand, the seeds of the plant are collected once the flower has dried.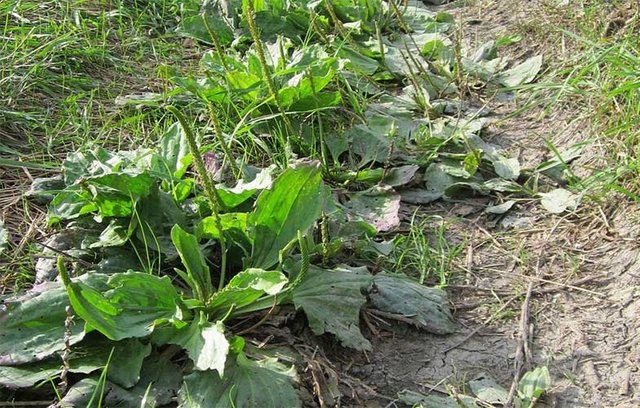 Fuente
Recommendations.
Consult the doctor before leaving for natural medicine.
Pregnant women should not consume it for any reason.
People under anticoagulant treatment should not consume it.
If you presume an allergic reaction, discontinue use immediately.
Do not abuse your consumption. Remember that everything is good until it reaches excess.
It is evident that this ancient plant is very useful and necessary in our naturist kit.