World's strangest animals (birds): The African Jabiru
The African Jabiru (Latin: Ephippiorhynchus senegalensis) is a very large bird of the stork family that lives in the marshy regions of Africa.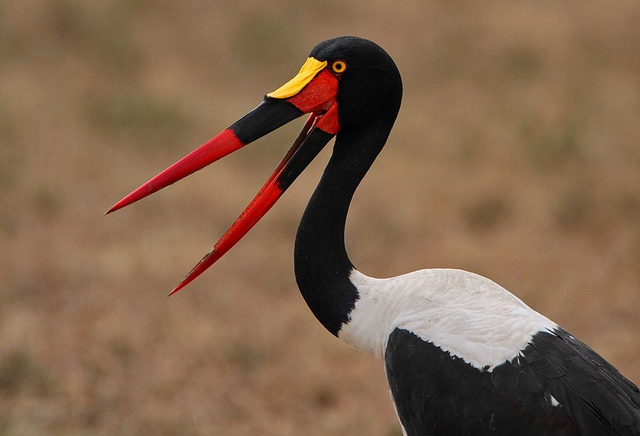 Source
The size of the African Jabiru is very impressive: its size is similar to the white stork. Its height is up to 1.3 m. The total length of the body is up to 1.5 m. the wingspan is up to 2.5 m. and the weight is from 4 to 7 kg. This allows them to carry the proud status of the largest species in the stork order. Even the royal herons, which ornithologists jokingly call modern pterosaurs, are somewhat inferior in size. The females of yabiru are much smaller, otherwise there are no external differences between the sexes.
The contrast of black and white is also quite remarkable. The head, neck, wings and tail are painted black with a pronounced bronze tint, which dramatically changes its shadow depending on the angle of vision. The rest of the feathers are snow white, their cleaning should be quite careful, but the result is worth it.
The peak is the main pride of the Jabirú. From afar you can see an elegant bright red beak with a dark transverse fringe in the center and a fiery yellow spot on the bridge of the nose. Its length can exceed 35 cm, which makes it an indispensable tool to catch slippery fish, agile amphibians and snakes.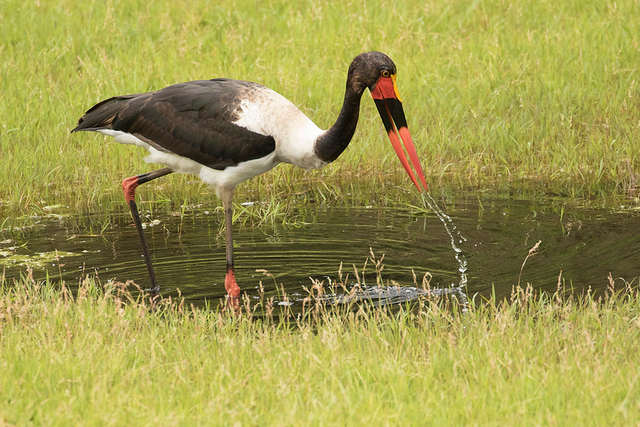 Source
Lifestyle and reproduction
The temperament of the African Jabiru is calm and calm. Its presence in a given area is given only by its own contrast color: without additional sounds. Most of the time birds spend looking for food wait in a frozen position. For the day, the Jabirú eats about 1 kg of food.
With the beginning of the mating season, the behavior of the males changes beyond recognition, they begin to explode out loud with their beaks, organizing a kind of vocal competition. The female, as a rule, chooses the noisiest couple, so the representatives of the stronger sex try so hard.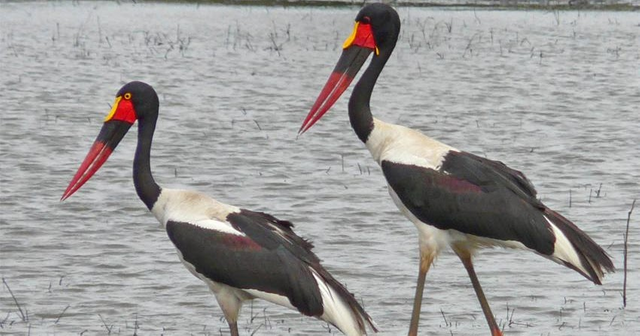 Source
A couple is created once and for all, and in general it resembles the family in the usual sense of the word: they build a nest together, incubate eggs alternately, feed the chicks together.
Breeding
Generally they lay 2-3 eggs and the parents are the ones that incubate for about a month. The chicks are born completely defenseless and require care for a long time.
REFERENCE: