Hey everyone! Thought it was time to write about these things since a lot of newcomers seem confused about them and constantly wondering how they work and what they do.
Curation Trails. Why and how.
Anyone can set up a curation trail. When the website Streemian.com was created by @xeroc, I went ahead and created an account there and activated my curation trail. As many of you newcomers here I felt like my SteemPower was very limited and the influence it had on posts was not much. Since I wasn't able at the time to personally change that, I instead set up a curation trail and announced it on the site.
The idea to set up the trail came to me as I was a very active curator and commentator and after reading one of @dan's posts about inactive accounts basically "wasting" their voting power when they remained inactive. I started out with a few followers and got the support from @ausbitbank early on and now I have over 45 voters following my votes. This means that whenever I vote on a post, their accounts will vote on it shortly after.
Since I saw a lot of unfairness around at the time (voters only voting on a few different authors, many newcomers not seeing any visibility or rewards on their posts) I wanted to change that. Having been a newbie myself I felt like I would be perfect for curation trails as I would focus mainly on newcomers and introduction posts along with the @projectnewbie account I had running back then. Since we also had a decline in user activity with the price it made it possible for me to vote on a wide variety of topics and authors. Then after a while I only started following active accounts while focusing mostly on newcomers. Now with all the increase in users and activity I might have to start focusing on a more smaller user-base but at the same time its great to see more curators vote like I do.
There is also some extra curation rewards for curators that run a trail. Since my vote comes in first it means that the accounts following it will increase it because of the reward curve we currently have. Even though I had a lot of accounts following my votes it only netted me around 500 SP from curation rewards in 6-8 months from tens of thousands of votes. You can see my curation history in this chart and the spike that followed there after is because of Delegated SteemPower. *read more about delegation later in the post.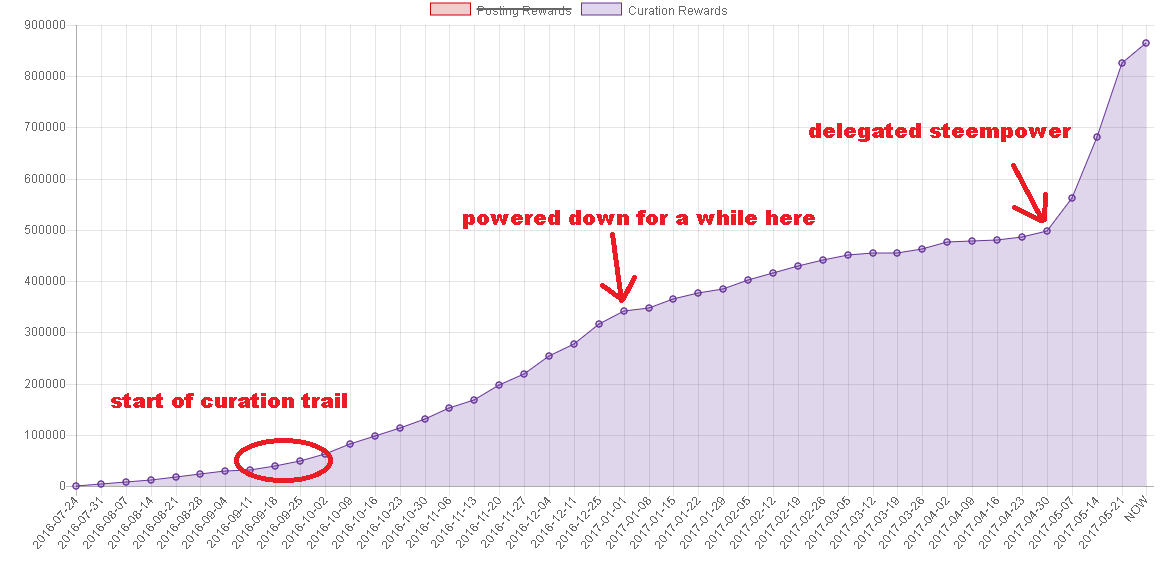 As you can see I didn't make much curation rewards in the beginning and for a long time after that. When the price went under 10 cents it felt even less considering I had made around 50 $ in that long from curating, but like many other Steemians we knew that it was just a matter of time til the price saw a correction. :)
Just like you might think right now "there is no point in my starting my own curation trail, my SP is so low" I just want you to give it a second thought and not consider the rewards so much as of now and focus on building, building and building.
Every project needs work and improvement over time and a lot of companies and investments don't see much profits in the beginning.
A user asked me the other day to name 5-10 active curators and I found it weird how hard it was to find active, manual curators. It feels like many more focus on authoring posts and maybe only use their voting power for their own interactions with users.
I personally want to incentivize more users to start curating and even start their own curation trails! Each and every trail can be focused on something different and unique and with the rise in activity and upcoming communities this will be even more important to have community curators who reward users fairly and distribute the votes more actively. Now I will write a little bit about SP delegation, so if you have made it this far in reading - there is a special bonus after that.
SP Delegation.
After the recent hardfork Steemit now allows SP delegation.
Before this there was only curation trails, even if there were inactive investors and accounts that wanted to share their Steem Power with other users so they could curate more effectively and earn curation rewards they couldn't do that without transferring the actualy Steem as Steempower to the curating account. On a decentralized network with many accounts its hard to know who you can trust and if your SP support will be abused/misused. So to remove the trust-issued while allowing curators to make more curation rewards and increase their influence they made SP delegation possible.
What it is, is another account delegates (as in borrows) Steem Power to yours. You can not transfer or withdraw this SteemPower, but it will count as if its yours when you curate and when you receive curation rewards from it. Bear in mind that the users delegating you Steem Power can take it back at any time.
So without further ado and to keep this post somewhat short, I want to ask the readers if they are up for curating and maybe even starting their own curation trails!
If you are interested please let me know in the comments and what kind of posts/tags your curation will focus on, and over the course of a couple weeks I will keep an eye on your curating and then delegate an amount of Steem Power to your account to increase your influence and curation rewards if you are doing well at it!
Thanks for reading!