The Power of Social Media in seeking Justice
Last week, My younger was brutalized by soldiers (A military school) for not wearing a complete uniform, which I made a post about.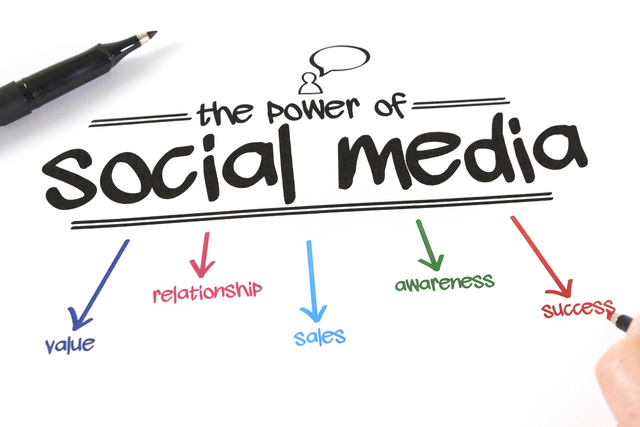 Source
Honestly, when he came back home and I saw his body torn apart , I never thought anything could be done about it. Over here, our soldiers are considered untouchable or above the law. I remember when I was still in high school, A man came to complain about how bad his son was beaten up, only for the soldiers to tell the elderly man to do frog jump and he did it.
When my dad and elder brother got to the school to lay complains about how terrible my younger brother was beaten up for a stupid offense, the soldiers told them that my brother only got what he deserved.
I for one was kinda thankful that they were not also punished but I just couldn't sit on my balls doing nothing about it.
When I was in high school, worse were done to us. A soldier once locked a classmate in a cupboard. We all got diffrent scars that many people saw the abuse as a norm. That all those stuffs were done to us, doesn't make it right.
That our ancestors passed througthe h slave trade, doesn't have slavely our normal way of life.
I mean the rubbish have to stop in Africa, we africans now believe that brutalizing a child is the only way to correct him. Growing up as a kid, I was flogged many times and I didn't even remember what I did wrong.
So I went on facebook to make a post about the whole scenerio. Honestly, when I was making the post, I never knew anything could be done about the incident. I just wanted to create public awareness about the kinda danger kids pass through in some schools.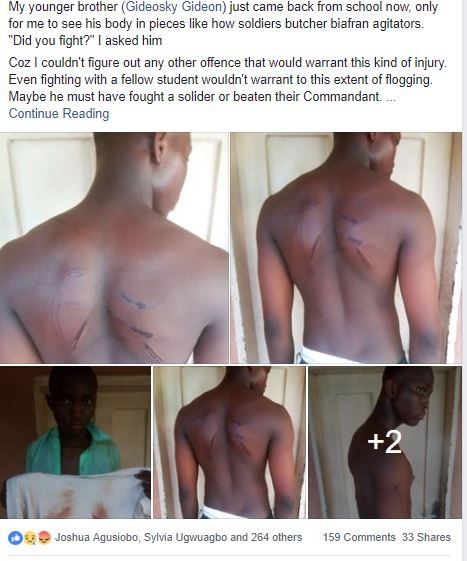 The post was being shared until it caught the attention of a popular Nigerian blog on IG (Instablog9ja) who reposted it too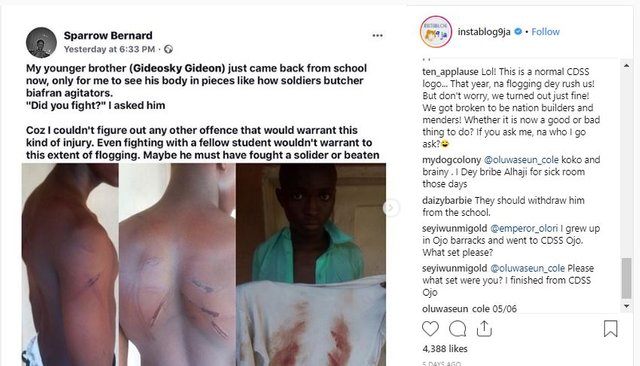 Before I could blink, A lot of newspapers flooded into my inbox and ask for my number, which i gave to them. They called us and interveiwed us on phone. They also called the school to hear their own side of the story and published the article immediately they gathered all the necessary information.
The Human Right Commision of Nigeria also invited us to their office and we all went back to the school. They gave the school some fine to pay and papers to sign, to assure such inccident wont repeat itself.
The matter about child abuse was been discussed on local TV and Radio stations.
All these are what I never expected, Finally the School payed us a visit at home to officially apologize to my parents and brother. Which we accepted and agreed not to press any charges.
In other to make things right a bit, because the image of the school was really tarnish... I made another post to explain how it all ended. Which was also reblogged for the world to see the new changes in the schooling system.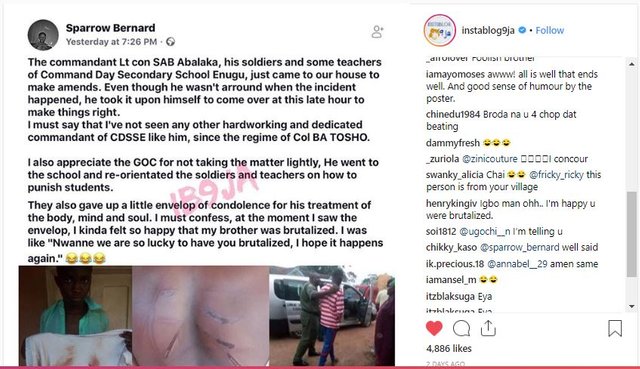 Some people still think social media is not part of their life, It plays a major role and when being misused, it can lead to your downfall.
Social media is open to everybody, if you are being oppressed and you dont have money to press charges, Voice it out on social media, there are a lot of people out there that are willing to help out till justice is served.