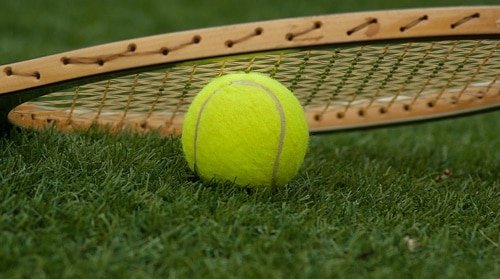 My mom use to shop at a grocery store called the IGA. As a matter of fact, when I was older, I worked there part time bagging groceries, and lugging little old ladies groceries out to their cars, or a taxi. Nothing worse than having one of those old grocery carts loaded with groceries and slugging through snow drifts in the winter...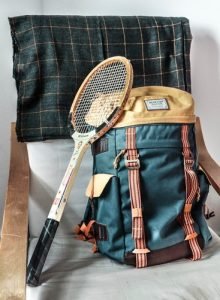 Photo By: Jonny Caspari
Okay, getting back to mom and the IGA. The grocery chain put on a promotion, where every so many dollars spent, you'd receive stamps. You'd paste these stamps in a book they gave you, and collect the books, which in turn could be traded for gifts. The first "gift" that Mom traded in her stamp books for, was a tent. It was an 8x8 outside frame, canvas tent, for ME! I had many adventures with that tent, but the best gift that Mom used those stamp books for, was a tennis racquet.
Just a very poor quality tennis racquet, nylon strings, some form of cloth grip, but when Mom presented that to me, it was like it was a million dollars. This was before the racquets were the size of snowshoes that would fit BigFoot. The old wooden type.
I'd never played tennis before, but I use to watch the people playing when I was walking to and from school. I use to have to walk past the tennis club to get there. So when I received that racquet, I headed for the tennis club right away. I wasn't sure what I was going to do once i got there, but it didn't matter, I was going.
Well I arrived at the tennis club, and sat on the steps outside. I didn't know anybody there at all. So I just sat there with my brand new racquet and watched the people on the courts. Eventually a friend of mine from school showed up, I hadn't known he played tennis till that moment. he asked if i'd like to hit a few with him, so I said sure. I did mention I hadn't played before, he said that wasn't a problem.
If you see me today, you'd probably never believe this, but I was born with a natural athletic ability. Most sports I played I was either very good at, or at the very least, played well enough not to make a complete fool out of myself. So I did manage to hit a few back to my friend on that day. He was actually surprised I was, and after we had finished mentioned i should join the club, and take some tennis lessons. I told him i really couldn't afford tennis lessons, which he replied, if you join the club, they are free! The cost for a junior to join for a summer was $7.00. I knew then, somehow I was joining this club!
Well, I did join that club, took lessons, and even ran the place for a summer. I'd be there from 8 in the morning till 11 or 12 at night. We'd play tennis all day, then when it got dark out, we'd sit around inside the clubhouse and play cards. We had a really great time.
The guy who I started hitting a few balls with that very first day, well he and I won the junior doubles championship for the province of N.S. It was one of those accomplishments I am most proud of. To qualify for that tournament, we had to win several smaller tournaments. One in particular comes to mind.
We had to play in a small town called Chester. This community is very small, but very beautiful, and also the small population was and still is made up of some very rich, and influential people. So of course they had to have the very best... nice clubhouse, nice courts.
So there we were, a beautiful Saturday morning, the sun was shining, we were ahead in games, and all of a sudden my right sneaker/tennis shoe, was no longer a tennis shoe, but a flip flop. The sole had let go of the top. I didn't have another pair with me, and there was no way I could play in bare feet. I was definitely not going to ask to borrow someone else's shoes. Well, the guy who had drove us to this tournament went to his car and came back with a roll of black electrical tape. He told me to take off my shoe, and he then wrapped tape around and around that shoe to hold the sole on. I managed to squeeze it back on my foot, finish the match, which we won, and also the tournament!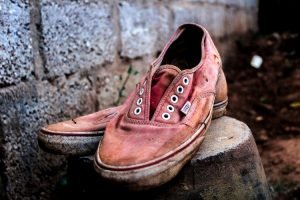 photo by: Dickens Sikazwem
I use to buy my tennis sneakers at the War Surplus store. They cost me $2.00 a pair, and I'd usually have a buy a pair every couple of weeks. It use to piss my father off, because he was the one shelling the money out for them. he'd often say he'd buy me a pair of cast iron sneakers if he knew where he could buy them.
My doubles partner went on to become a sports writer for a very respected Nova Scotian newspaper. I'm sure he had envisioned writing for Sports Illustrated, but that wasn't meant to be. At least he had a job working in a field he loved.
I went in other directions, but I'll never forget that old tennis racquet that started me on such a wonderful and fun journey...
---
Posted from my blog with SteemPress : https://skiponlinenow.com/a-gift-from-mom/
---