Faba Recieves USD 1.12M from CCT Consulting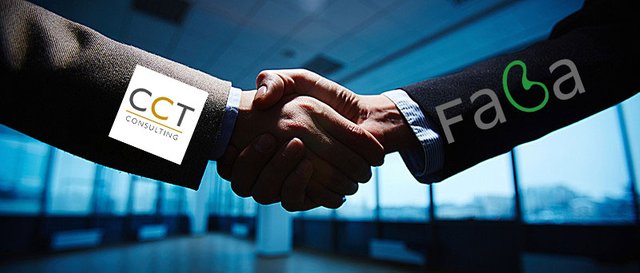 The entire Faba team is extremely delighted to receive a funding round of USD 1.12M from C.C.T Consulting FZC. As part of the funding agreement, we expect to receive additional 2M USD funding by Q2 2019 from C.C.T. Consulting.
C.C.T Consulting FZC which is based in the UAE provides consultancy services such as coaching, seminars and webinars for start-ups, presentations to investors, and the right choice of implementation tools, asset management, and investment in non-risk projects. Furthermore, the company deals with data centre projections, focus on IT solutions, innovative start-ups, asset management and investment in non-risk projects, as well as advisory activity in this area.
Our partnerships with other financial solution providers speak volume of what we are doing here at Faba Invest. Faba is currently running its first round STO priced at USD 1 per Faba token. This slaes round is scheduled to end on the 31st of January 2019. After our series of investment rounds into viable projects and teams, we will resume our second round STO sales. This second round STO price will be priced from USD 1.3 per Faba token, and will run from the 1st of March through 30th of June 2019.
Learn more about Faba Invest visit our website: https://vc.fabainvest.com. Or feel free to drop a message on the comment section we will get back to you as soon as possible.