Getting away from the Alice in Vonderland topsy turvey world of Cryptocurrencies I thought I'd write about Formula One or F1 as it is best known.
I follow and enjoy this over the top World sport, more than even Football, or Soccer, to all the USA Steemit F1 fans.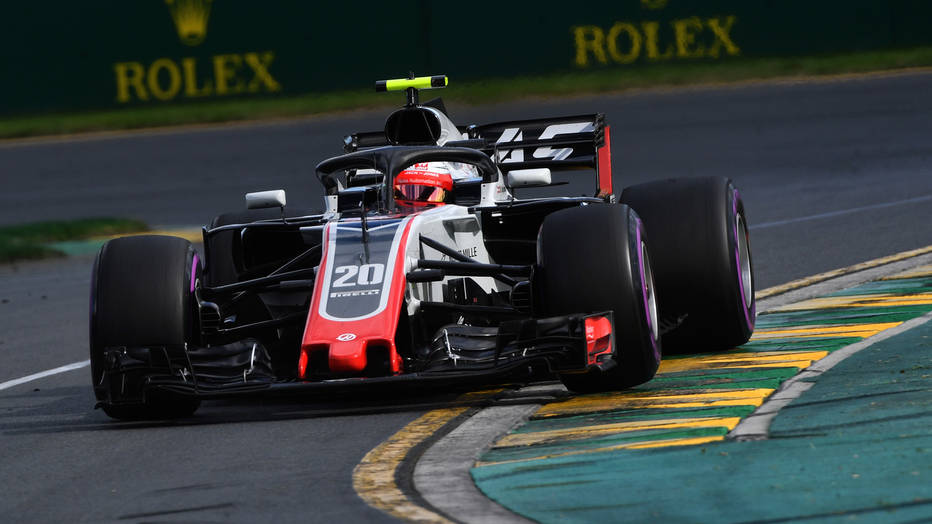 In particular I follow the US Team Haas.
I like this team. Punching above their weight on one of the biggest world stages around.
What's not to like about F1. It's a world sport.
Every race is set in a different country.
And its not all about Hamilton & Vettel - Lots of other exciting cars and drivers and stories to tell.
In my humble opinion, some of these drivers should not be in F1.
As Marc Webber (former F1 driver) says, "Its not a finishing school."
It should be the Pinnacle of driving and definitely not a Pay for a Drive.
As we can see with Daddy Warbucks Lance Stroll and his Pay for a Drive mate, Sergey Sirotkin.
The first opener was in Australia.
Here my team Haas had a blinder for 20 laps before the wheels came literally of their campaign.
Due to a major Cockup, the mechanics failed to secure a wheel on both cars. And they came off.
Not a good thing to happen when you are hurtling around at over 200 MPH.
A pressure of being at the top their undoing.
More training needed methinks.
One F1 Wag made the comment that Mercedes or Red Bull, probably had more people away on official holidays than F1 Haas had employed as a company..
Yet here was the minnow US team Haas, daring to turn the F1 rankings on their head.
A Force India spokesman said it had to be some sort of Black Magic.
More like K-BlackMag. Kevin Magnussen, better know as K-Mag, is the definitive dogs bollox.
A fantastic driver.
The son of four-time Le Mans GT class winner, GM factory driver and former Formula One driver Jan Magnussen.
He has the right pedigree for Kicking Ass in F1.
And he has paid his dues. Coming through the ranks.
Driving for McLaren and Renault.
He actually turned down a drive with Renault to go with Haas.
His fellow driver is the very quick Roman Grosjean.
Yet another reason Haas will do very well this year.
Gene Haas is the sole stockholder of Haas Automation, a CNC machine tool manufacturer.
He also founded NASCAR team Haas CNC Racing and the Formula One team, Haas F1 Team.
The first American-owned Team to compete in Formula One for over 30 years
Putting his $1 Billion where his mouth is.
With the F1 Haas team he has bought everything of the shelf from Ferrari.
To loud cries of complaint from some of the other F1 teams.
(Haas is using a chassis made by Italian manufacturer Dallara with engines, steering, transmission and cockpit instrumentation coming from Ferrari.)
As Guenther Steiner, the Team boss stated. "They are complaining to cover up their own incompetence.
If Haas was slow and a back marker they would not be complaining."
So my plan is to blogchain all the races this year.
I missed the first one but it starts her with Bahrain.
I have read Netflix is making a documentary of the 2018 season. Which is exciting. as it should catch all the drama of F1.
My point of view will be the Haas Team and its Drivers.
And particularly K-Mag, Kevin Magnussan.
I like his style and his Suck My Balls, Kick Ass Attitude. and he is an exceptional driver at speed.
After the Australian F1 race, even though he did not even finish the race he was given the Number one spot by formula1 the online magazine.

"Kevin Magnussen had his fair share of flak from fellow drivers last season, but the Dane did not make a single mistake all weekend in Melbourne.
If his qualifying lap was magnificent, his start was arguably even better. Sweeping around the outside of anyone at Turn 1 is to be applauded, but perhaps even more so when it's Max Verstappen. Most impressively, he then had no problem keeping the Red Bull at bay.
A cross-threaded wheelnut robbed him of a fourth place he and the Haas team richly deserved – but it doesn't stop him topping our ranking."
Read More:
https://www.formula1.com/en/latest/features/2018/3/f1-power-rankings-drivers-australia.html
Next up is Bahrain Grand Prix 6/8 April - I will be getting my Haas flag out and hoping we get some points.
Full F1 Race Calendar:
http://www.bbc.co.uk/sport/formula1/race-calendar



Images Courtesy of F1 online