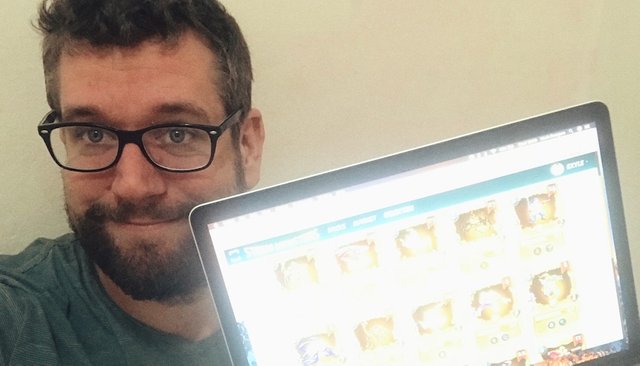 ---
By now I'm pretty heavily invested into Steem Monsters.
I think it's a great project and right up my ally because I like trading card games.
I have been burning substantial amounts of SBD not buying packs but buying cards on the market.
Buying packs is more fun but buying cards is more efficient.
If this game turns out to be a success I think most of them are undervalued at this moment.
I have several reasons for this but the fact that the Alpha version is finite at 300.000 packs or 1.5 million cards is one of them.
It might sounds like a lot of cards but considering I do expects tens of thousands of players it's not really.
Of course if this game turns out to be a dud they are severely overvalued but I do not expect this.
As usual my investment into these cards is for years.
What makes me so bullish on the success of this game is that it's not only possible to trade your cards but that they are actually yours (unlike commercial digital games where they are just a database entry).
Also the amount of work that has gone into it already and is still going on + the community effort writing the lore I think is awesome and shows growth and potential.
And that's besides the fact that they have earned $400.000 (probably gone down a bit because of lower STEEM price but still) already selling packs.
And lastly the fact that players will be able to compete over real price money! At least $1000 a week. This will attract some players for sure.
Recently they decided to have a kickstarter here to generate addiction income to make the game better.
This is in dollars. Also watch the video it's really cool.
I couldn't help myself and bought a pledge and so far they have raised $33000 out of the $50.000 they wanted and that's just in 2 days.
I was happy to see that becoming as Boss in the game cost $2900 and I managed (if you remember) to win the auction to become the first boss in the game for 'only' 650 STEEM.
That effort is going well btw. The story is done and the artwork is coming along nicely.
It won't be long before fighting will commence and I cannot wait.
I'm a fan I cannot deny it.
---

---
Please consider us for your witness vote if you think we deserve it here:
---

---

Vote for @blockbrothers via SteemConnect
Set blockbrothers as your proxy via SteemConnect

We are the creators of Steemify a notification app for your Steemit account for iOS.
Get it Here: