Exodus wallet test drive
Downloading Exodus to try it out and report on findings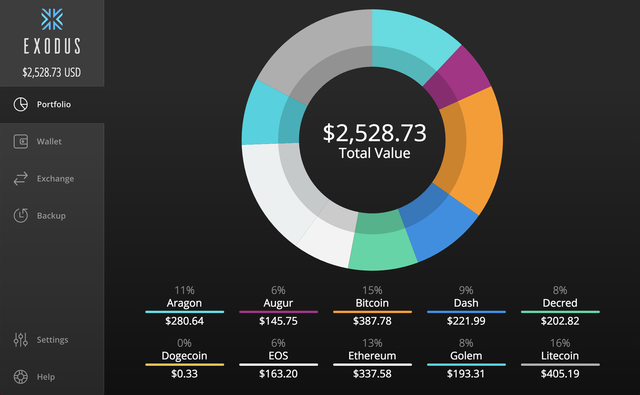 Recently downloaded the Exodus wallet to try it out and another way to exchange crypto in a decentralized manner.
Starting with about $158 in crypto value before starting out trying out Exodus with trading within the wallet. Plan to try the wallet out while examining information of some newer crypto that may be exchanged within this wallet.
Will look at trading values and other factors and choose which ones to trade for over time making updates on various days.
Starting with a mixture of crypto similar to what is possible on bitshares including Bitcoin, Dash, EOS, Ethereum, and Litecoin.
Will look at the other options of Aragon, Augur, BAT, Bitcoin Cash, Civic, Decred, District0x, ETH Classic, FunFair, Gnosis, Golem, OmiseGo, SALT
Have decided to check this wallet out and suggest others do as well as I have good things from numerous people in our community.
Thank you for your feedback and comments.
Best,