This is my workout for Tuesday. I thought I would explain a bit more about why I choose to workout daily instead of doing a 3 or 4 day routine like is very popular. The way I see it, in order to hit all the muscles in the body one needs to do many exercises.. totaling many hours of working out. It's simple math to see that you divide that total hours by the number of days you workout to get the time, per day, that is required to exercise all the different muscles. By spreading the workout to 5 days a week vs 3 or 4, I am decreasing the amount of work that I need to do during any one workout.
Another reason for working out daily (weekdays), is that there is something easier about knowing that you will be hitting the gym each day (make it a priority), instead of trying to remember some schedule of workout and rest days. For example, I have seen many workout routines that require two days of consecutive workout, followed by one day of rest, then two more days of workout, one day of rest, and so on. Sounds good, but there are 7 days in a week, so it's a constant mental discipline to keep track of on and off days.. ie. First week is easy, just monday+tuesday – work, then wednesday – rest, thursday+friday – work, saturday – rest.. but then oh! sunday+monday – work, now tuesday is rest, and on and on.. it's always different.. why complicate things any more than it needs to be?
Now for the workout:
I start with back since it's easier for me to push, so I get this pulling out of the way first while I'm still fresh and can end with the pushing chest exercises.
The first is cable row.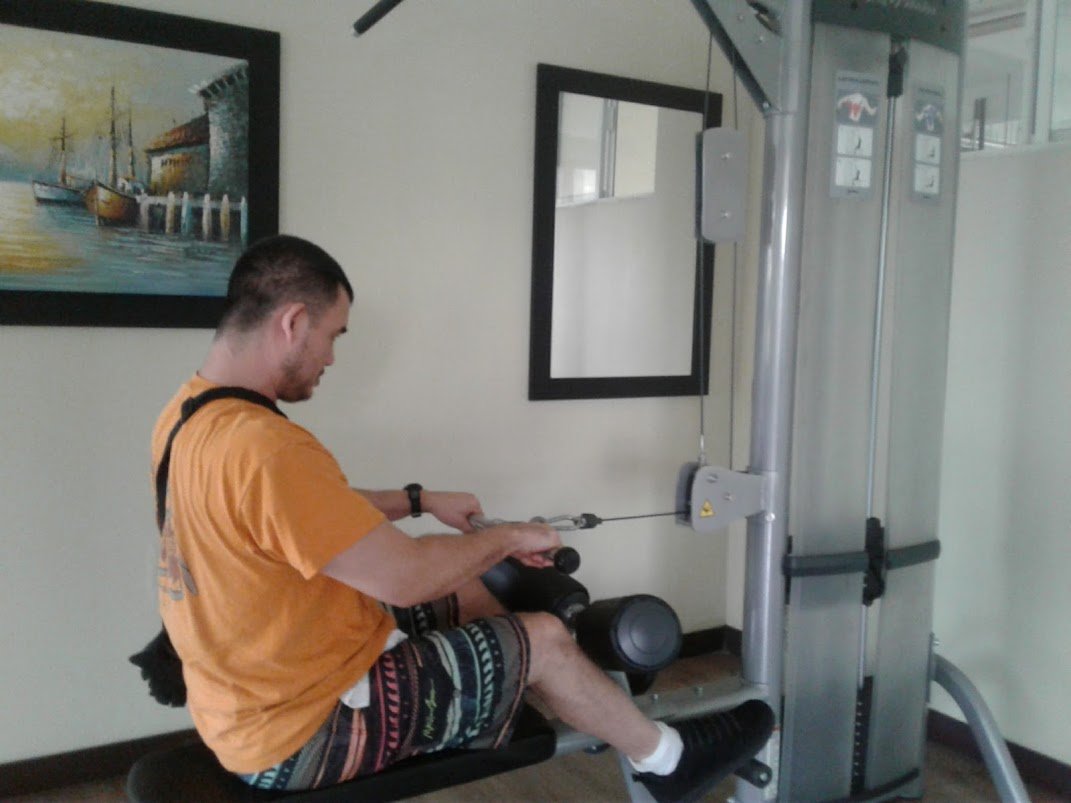 3-6 sets X 10-15 reps
*note: keep your back straight (no rounding.. sit up as if you are really trying to puff out your chest and that will be a good position) Your arms are kinda like dead hooks and you are really using your back 'wings' to pull the bar to your chest as they squeeze together, of course your arms do come into play a little to finish the movement and you pull the bar close to you. Go slow.. remember use a 1 count, think or say 'steemit', and go extra slow and control the weight back down, think or say 'I luv steemit'.. no slamming the weight by letting it drop!
Next exercise is the cable pulldown.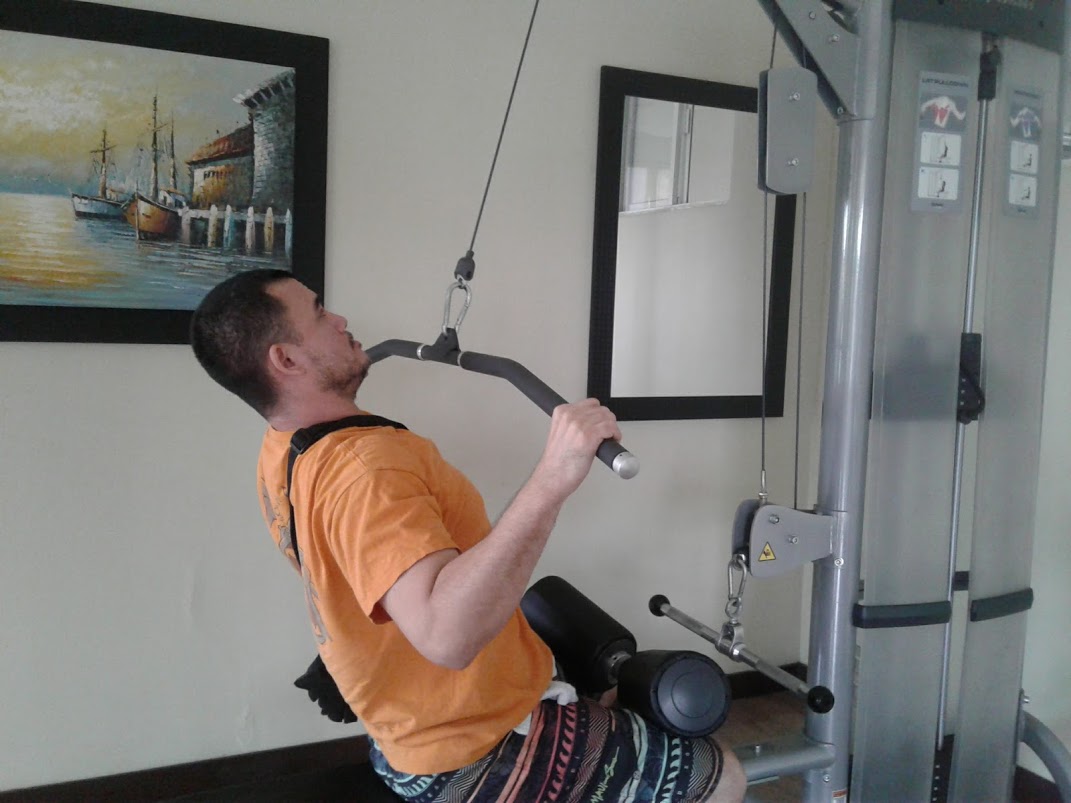 3-6 sets X 10-15 reps
*Use a nice wide grip for this because that really uses the back muscles.
*lean back a little and pull bar down to your chest.. not the behind the head one that you might see some people do in the gym.. this puts too much pressure on your shoulder socket and the arms are aready in a straining back position.. you could get injured doing pulldowns like that. plus, the back muscles you are targeting now are located opposite the chest, not down where your luv handles are.
*Since this machine I'm using has the row and the pulldown accessible from the same seated position, I can superset (perform two or more exercises in a row, without rest) these two exercises.. I do 1 superset of 10-15 rows, and then do the 10-15 pulldowns immediately after. Rest for 30-60 secs, then repeat for 2 more supersets.
On to chest. First off is the chest press. (I do seated since that is easier for me, but I would say flat bench press is one of the most popular chest exercises)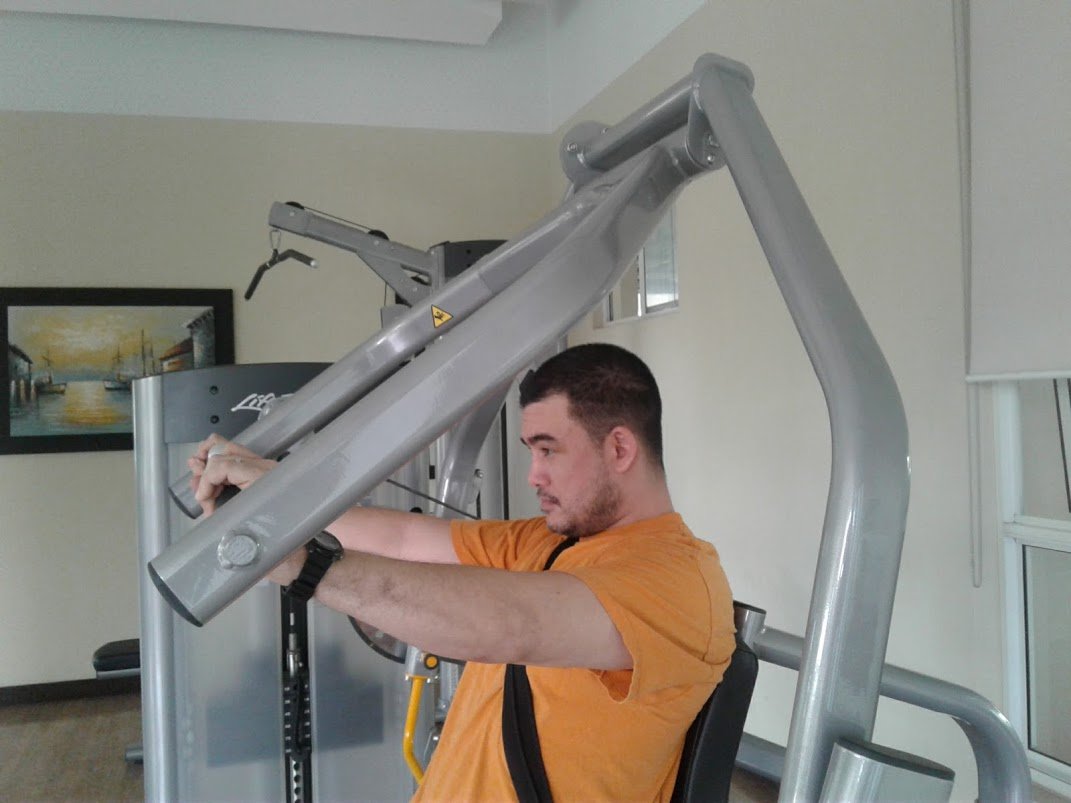 3-6 sets X 10-15 reps
*nothing really to say here, but do go slow, using the 'steemit' and 'I luv steemit' tempo. Also, try and visualize the chest muscles working.. that helps.
Second for chest is the upper chest press.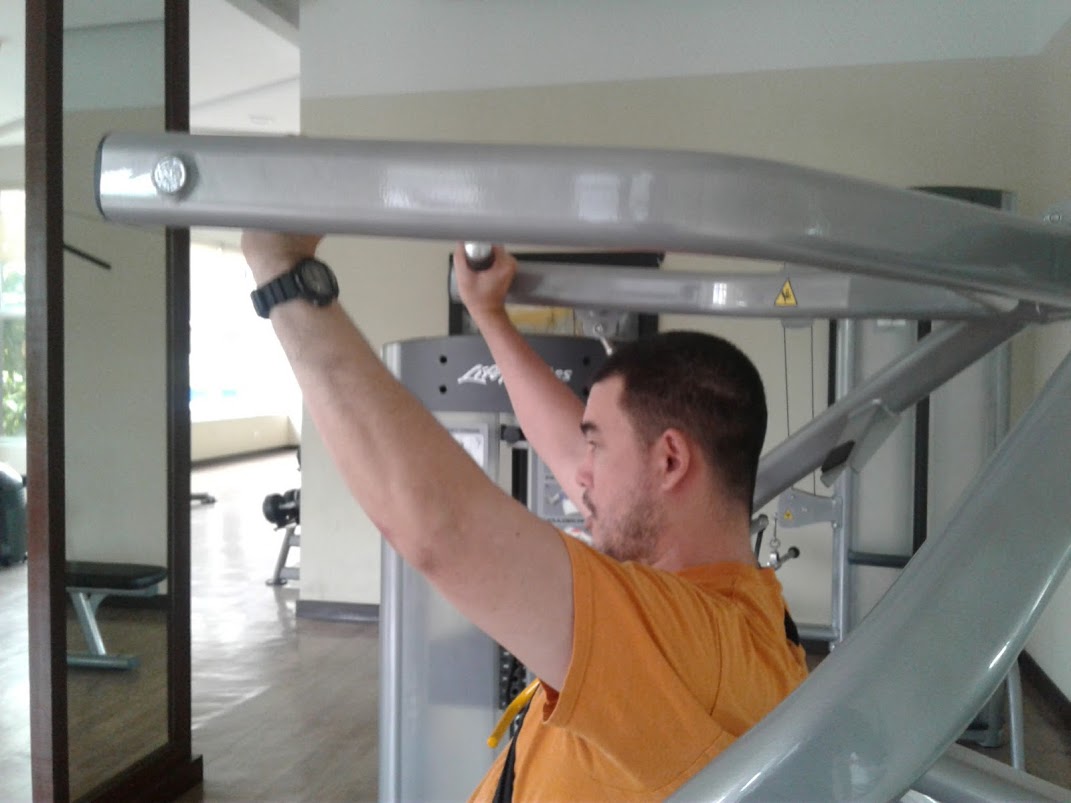 3-6 sets X 10-15 reps
*the machine I'm using simply changes the angle of the moving arms, but your could just lie on a incline bench or even a big exercise ball to get the same angle. And remember to go slow and visualize the muscles.
Alright! Another good workout. Tuesdays are the hardest days for me, I end up breathing hard and my shirt turns a darker shade of color. I see people working out and they are hardly breathing any harder that if they were dancing casually at the club.. you should NEED a good shower and some food after a workout. A cold protein shake and some easy carbs really hit the spot!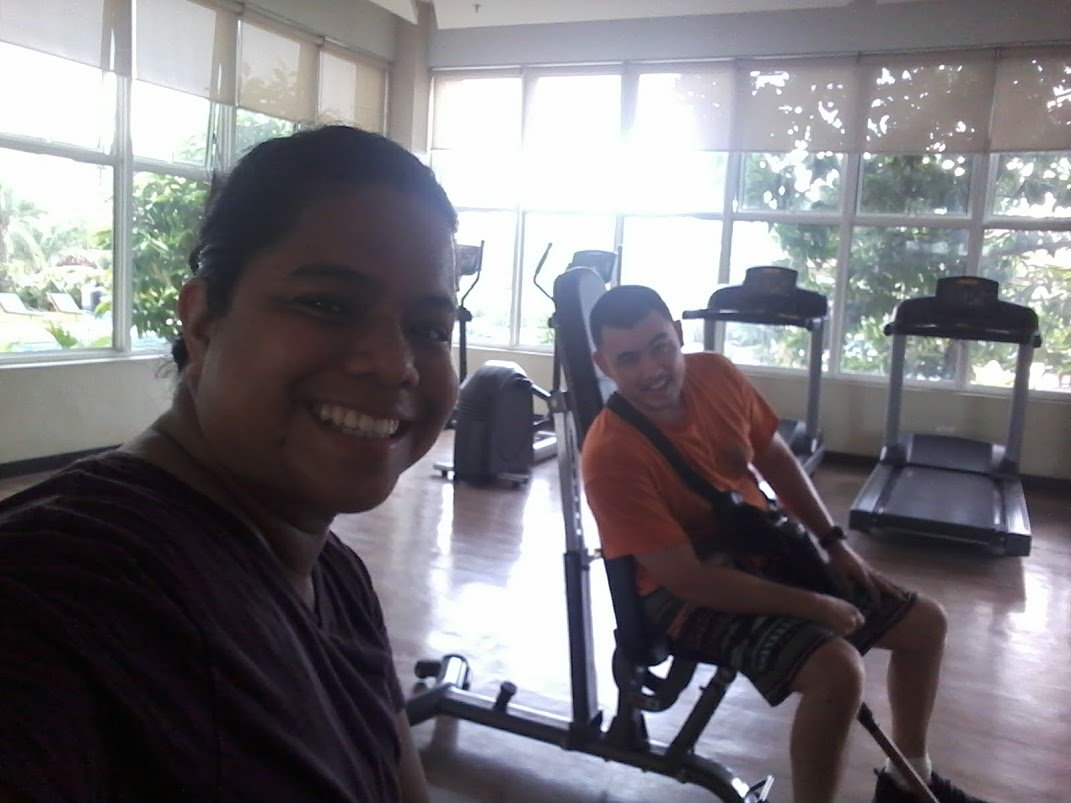 If you want to see the other posts in this series, please check out my blog for other posts.. one for each day. Thanks,
*photo credits to my wife @jazzybells