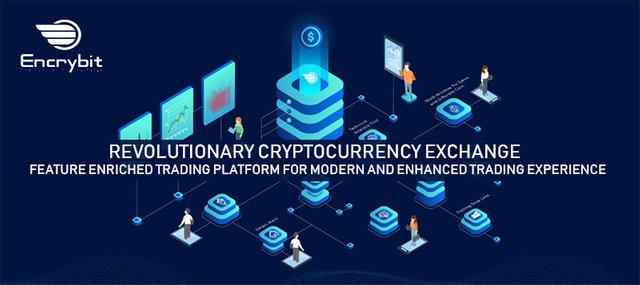 Human beings are characterized by physical or psychological ease and as such, we strive for habitats that favors us. Traders being humans also seek for conducive and comfortable atmosphere when it comes to matters regarding trading and exchanges. In reference to CoinMarketCap's 24-hour volume rankings of exchanges, the list featured over 200 cryptocurrency exchange platforms. Regardless of this huge number of exchanges, traders still have an unpleasant experience in the course of trading on these platforms.
After the emergence of Bitcoin in 2008 saw the entrance of other cryptocurrencies including the likes of Litecoin, Dogecoin, Ripple, Ethereum etc. Around that time also came centralized exchanges to harness the conversion of cryptocurrencies to the other. At certain point in time, the crypto space witnessed several tragic incidence of hacks on these exchanges and this caused chaos. Besides, centralized exchanges are also tagged with lack of transparency and auditability.
There came decentralized exchanges as an alternative and to address the security issues of centralized exchanges. Until now, most decentralize exchanges face the issues of low trading volume and liquidity. Some traders also find it difficult to use these platforms due to the complex nature of their UI and trading sometimes feels uncomfortable.
In this report, I'm going to throw more light on the Encrybit project and share with my audience what they have to offer traders and the crypto community as a whole.
Why The Need for Encrybit Exchange
Encrybit is a research-oriented project having its root in Hong Kong. As research being a core attribute, the team has demonstrated this trait by carrying out two successful online surveys. The first online survey was geared toward discovering real-time problems associated with cryptocurrency exchanges whereas the subsequent survey delved into evaluating existing exchanges. Below are links to the report of both surveys:
As a result, many issues were brought to light and the most distinct ones included the majority of traders using several exchanges synchronously and the usage of third-party software for effective analysis. Thanks to the Encrybit team and the participants of the survey.
Conceptually, Encrybit's solution model is of two dimensions. The first dimension has to do with directly addressing the problem identified during the online survey and the other dimension focused on achieving a better Human-Computer Interaction (HCI) which entails usability and user experience goals.
The majority of operations carried out on the internet are prone to security breaches, intrusion etc. and as such the technical team of security experts will make use of the SDLC methodology (an effective and efficient software developmental process that provides insight on how to develop, maintain, replace and modify or enhance specific software and also improving the overall quality of a software.) to harness extra and tight security layers to prevent the instances of attacks on API and Web Service protocols.
Other security mechanisms to ensure the CIA (Confidentiality, Integrity & Accessibility) triad is maintained and not violated will consist of two-factor authentication, Wallet Address, and IP Whitelisting, Anti-Phishing Alert at the user level. Provisions have also been made for the technical and system level security requirements.
Some of the counter measures going to be employed to fix these gabs (high trading and withdrawal fees, fewer trading pairs, poor customer services etc.) in existing exchanges will include charging marginal trading fee and withdrawal fee which will be dependent on factors like miners and mining fees. Traders can also opt to pay their fees with ENCX tokens and get 50% slashed off. This is a cost saving mechanism on the side of traders and will also increase utility of the tokens.
If you have ever traded on a typical decentralized exchange, I believe you had a rough experience on your first time and might probably be still having hard time figuring things out. As a result of bad UI of some exchanges, Encrybit's vision is to build an intuitive and user-friendly interface to make it easy for even a novice traders to get the best out of crypto exchange. Besides, Encrybit will have a team of well-trained customer representatives and a third party ticketing system to assist resolve issues encountered by users of the platform.
Furthermore, Encrybit exchange being user-centered makes it a priority to provide traders with their needs and wants such as an environment conducive for trading and tools to assist in the trading process. To eliminate the integration of third-party APIs on their platform, they have included wide range of essential TA (technical Analysis) tools and other fascinating functionalities like conveniently screenshotting charts at any time.
Encrybit goes a step further to introduce remarkable features under one roof. This ranges from improved speed of transactions as it is a crucial problem hindering most decentralized exchanges, social trading – an alternative way to make profit by simply copying trades of professionals, crypto-related news, dedicated group chats for like-minded traders of a specific coin to share ideas, demo trading that could be used a practice environment at no cost, profit and loss reports and many more.
Who Are The Competitors of Encrybit
Encrybit is a crypto currency exchange platform and as such its direct and major competitors are both centralized, decentralized crypto exchanges and forex trading platforms. The competition in the exchange market is intense due to the frequent entrance of new exchange projects. Even with popular exchanges have setbacks and yet to talk of new entrants who are mostly challenged with low trading volume, poor customer services, slow transaction processes, complex interfaces for decentralized exchanges and several others.
Let's restrict ourselves to the top 5 exchanges according to CoinMarketCap's 24 Hour Volume Rankings. Thus, Binance, OKEx. Huobi, BitForex and DOBI trade. All these exchanges are centralized and are monopolizing the markets. Regardless of their recognition and hypes, they are not providing traders with the best of services.
Comparatively, Encrybit has a far better package on the table for traders considering the numerous enticing features (P/L reporting, multilingual support, demo/paper trading, broad order book, crypto radar, TA tools, screenshot and share etc.) they seek to implement on their platform. I can boldly say none of these existing cryptocurrency exchange can come close to Encrybit exchange. Indeed Encrybit is the future of crypto exchange.
Conclusion
Encrybit haven proved their competence by achieving a whole lot including a prototype of their system within a shorter timeframe and has won the attention and interest of the crypto community. This is just the prelims and there is greater things to come. The project being backed by a solid team gives some form of credibility to the entire project. If you've had the opportunity to go through the whitepaper, you will notice it contains clear and detailed information as well as covering relevant topics for potential investors. This is a revolutionary project that is problem-solving oriented and needs the support of the crypto community!
Token Economics
Token Specifications & Private Sale
Thicker: ENCX
Name: Encrybit Token
Token Standard: ERC20
Price/token: $0.2
Accepted currencies: ETH | BTC
Minimum Contribution: 50 ETH
Period: Nov, 1st 2018 – Dec, 3rd 2018
Total Supply: 270,000,000 ENCX

Token & Funds Allocation
Pictorial depiction of how tokens and funds raised during sales are going to be utilized.

Development Roadmap
Encrybit has a detailed roadmap with some achieved milestones. The roadmap also outlines the future goals and objectives of the team.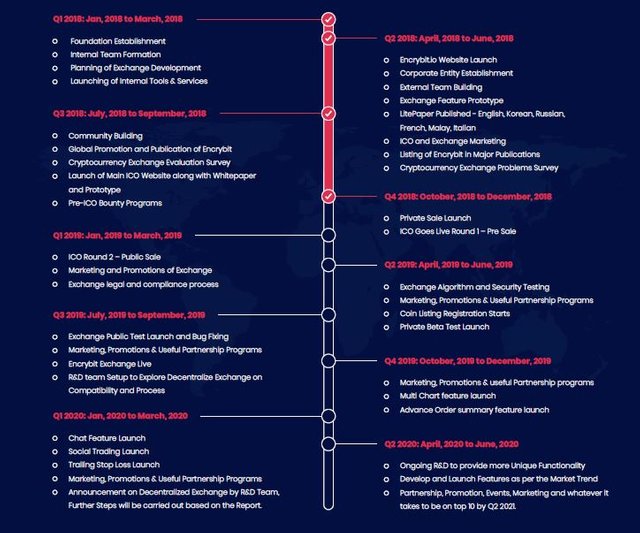 Meet The Team
For most investors, one crucial aspect of a blockchain start-up they are keen in looking out for is the team behind the project and most importantly the technical team. A project may have a unique idea but the team to make the idea a reality has a question mark. With over 30 team members who are experts in top-notch fields and with several years of experience collaborate to deploy the project.
Jiten Rajput (CEO) and Yogesh Trivedi (COO) have both been active and key players in the smooth operation of M-Connect Solutions which a reputable software development agency which has been in operation since 2009 till date and worked with other prestige organizations across the globe. Fabrizio Cane (CTO) being an experienced software developer is also recognized for leading successful projects like NYSE, Bloomberg, Citi, National Stock Exchange, Abbott etc.
In addition, with the likes of Marcus Chaer, Derrick Liu and Danny Ong as strategic advisors for Encrybit, their collective experience and reputation will contribute positively to the project's success.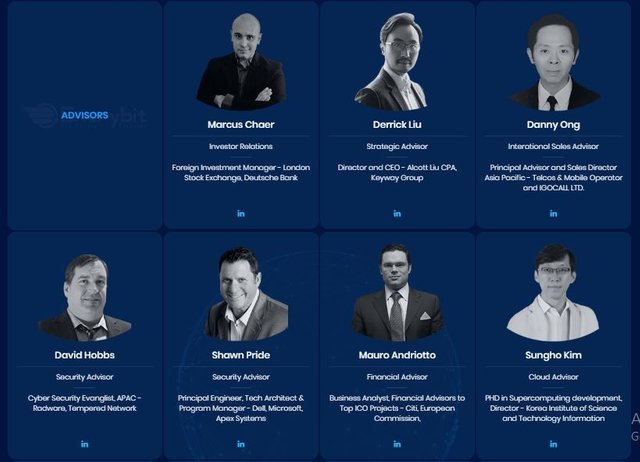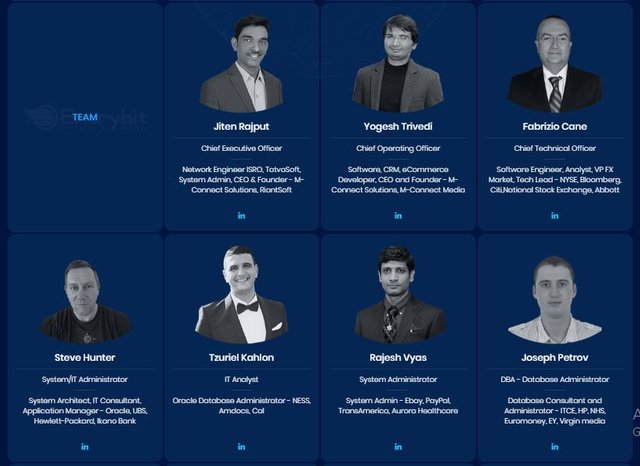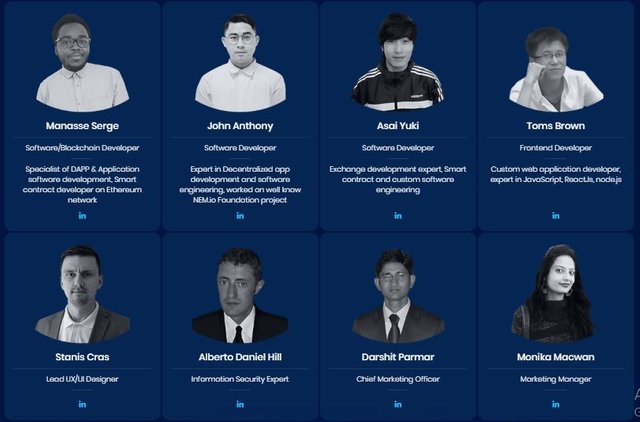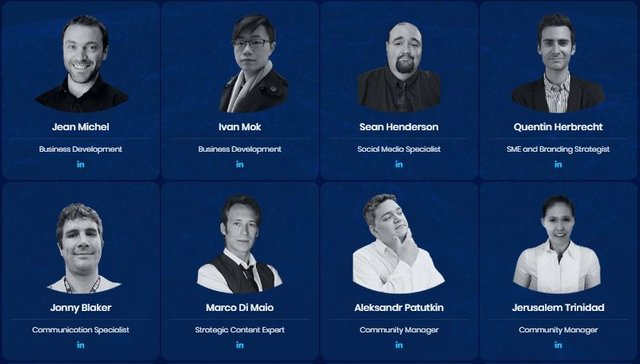 Recent Events & Activities
Useful Links
Website
Whitepaper
Litepaper
Telegram
Twitter
Content credit:
Bitcointalk Username: thinkright
Bitcointalk Profile Link: https://bitcointalk.org/index.php?action=profile;u=2328259