Acompañame a recorrer los pasillos de orinoco.io...
Hola apreciado steemian, ¿Aún no conoces sobre orinoco.io? (Si tu respuesta es no, te invito sentarte y buscar tus mejores anteojos, que este post es para ti)...
¿Eres nuevo la plataforma steemit, y estas deseoso de de ver tu trabajo convertido en ganancias (moneda local, BOLÍVARES SOBERANOS)?

¿Estas cansado de cambiar tus SBD Y STEEM en otras páginas y sus excesivas comisiones te están volviendo loco?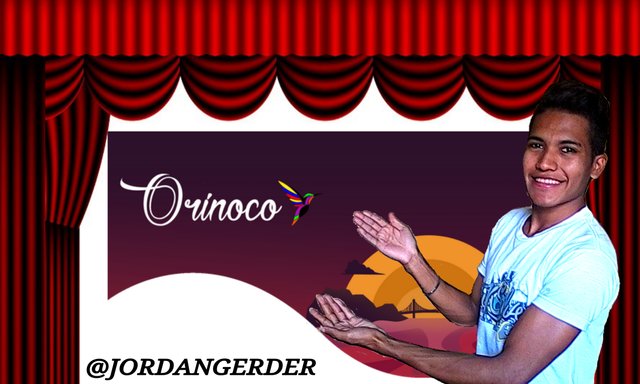 Con Orinoco.io tus problemas serán solucionados


¿Qué es Orinoco.io?
Orinoco.io es la mejor casa de cambio activa en steemit, donde se cuenta con las mejores tazas del día, una plataforma en donde puedes cambiar tus SBD y/o STEEM a bolívares soberanos, y no solo eso, también puedes hacer cambios a BTC y ETH y lo mejor de todo, sin cobrar ni una sola gota de comisión..
"¡Sii! nos hemos encontrado con lo que buscábamos desde el comienzo"
Cabe destacar que antes orinoco.io contaba con una interfaz un poco mas sencilla, pero como sabemos que los grandes proyectos deben innovar cada día, Orinoco.io sube un escalón mas hacia el éxito, creando una nueva interfaz que permite hacer mas funciones, mas métodos y formas de cambio para darle un mejor servicio a todos los usuarios que pertenecemos a ella , (seguiremos creciendo)...
Sin mas preámbulos adentremonos un poco mas hacia los pasillos de orinoco.io..


Registro: Registrarse se torna muy fácil es similar a como cuando nos registramos en cualquier otra pagina ingresa en https:orinoco.io y en la esquina superior derecha ( tu derecha) pulsa en registro y rellena los campos correspondientes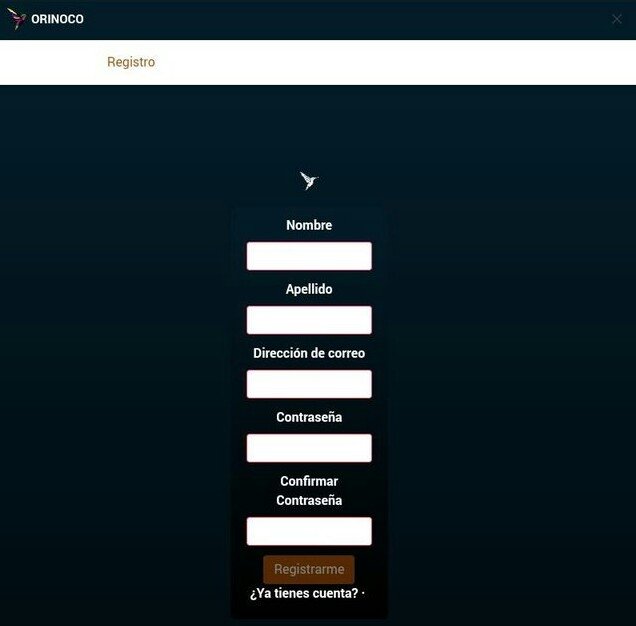 Luego de haber registrado tu cuenta, es el correo que haz intrucido en el registro te llegará una notificación para que confirmes tu cuenta


Cuentas Bancarias: Este paso es muy importante porque si no registramos las cuentas bancarias ¿a donde nos llegarán los millardos ? Jaja
Orinoco.io cuenta con varias disponibilidades bancarias para hacerle la vida mas fácil a sus usuarios registrados 😊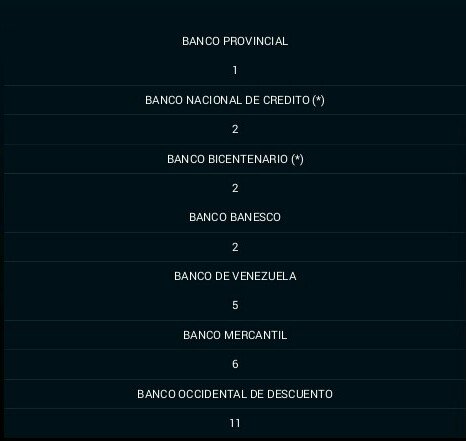 Para registrar nuestros datos bancarios nos dirigimos al perfil, y seleccionamos en bancos y rellanos los campos correspondientes..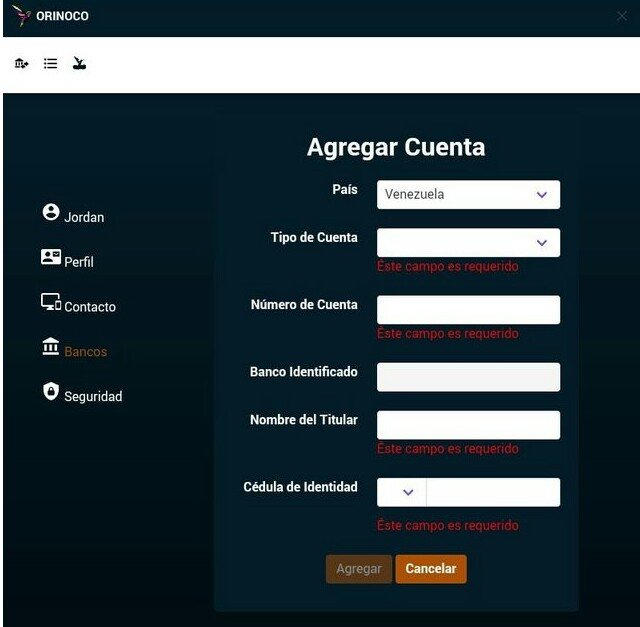 ¿ Estas listo para cambiar en orinoco.io?

Calculadora variable: Aquí es donde saltarás de felicidad y llorarás de tristeza, ( bueno a mi siempre pasa), aquí es donde conocerás el valor de las criptomonedas que deseas cambiar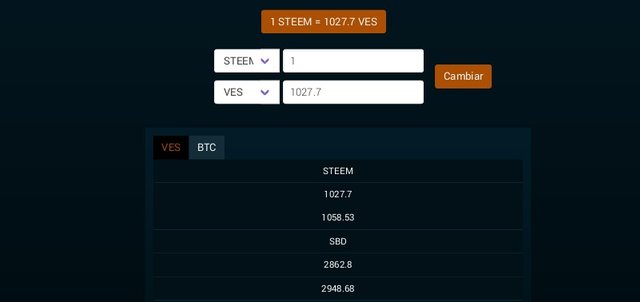 Esos números de allí abajo enrendan un poco, pero te lo aclararé enseguida, como puedes observar debajo de las cantidades iniciales hay dos cantidades mas una totalmente igual a la inicial y la otra un poco mas elevada, esto es una de las mejores partes de orinoco.io, y es porque esa cantidad mas alta es el precio que se le pagará a esos usuarios que desean cambiar altas cantidades de SBD y/o STEEM
Wao, orinoco.io es una caja de sorpresas ¿no lo crees?


Vamos a crear una nueva orden
Seleccionamos la criptomoneda que deseamos vender SBD y/o STEEM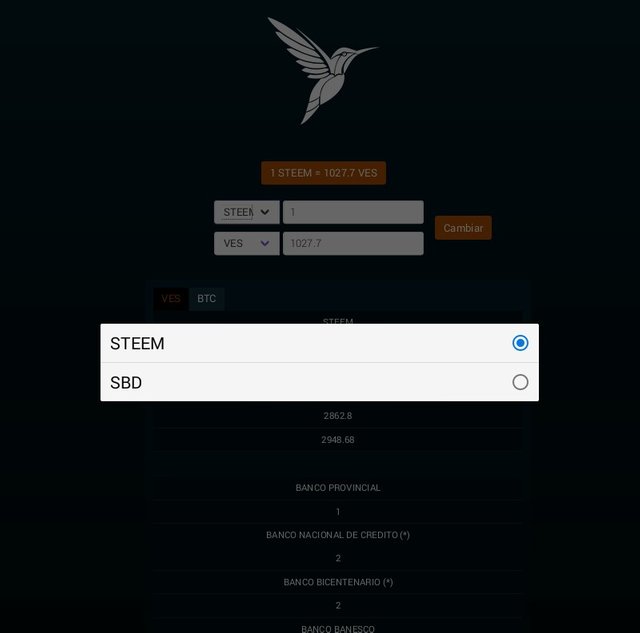 Agregamos la cantidad y procedemos a cambiar

Seleccionamos el banco ( nuestro banco)

Usamos steemconnect para facilitar el proceso si así lo deseas, si no, lo puedes hacerlo manualmente..

Ya estaría creada nuestra orden ( a la espera de que un colibrí la ejecute), no te preocupes por el tiempo, eso es veloz como un colibrí....
Memo único: ¿Puedo hacer transacciones sin entrar en orinoco.io?
Te diste cuenta que cuando haz elaborado una orden desde orinoco.io sale el mismo código o memo de transacción? Y que ese mismo código fue el que se te reflejo cuando registraste tu cuenta bancaria?
Pues.. Ese código es el que te permitirá crear ordenes sin entrar en orinoco.io si no directamente desde tu monedero de steemit
Con solo enviar la cantidad que deseas cambiar a la cuenta de @orinoco y en el memo pegas el código ese será como tu id dentro de orinoco, y su transacción sera ejecutada normalmente como si la fuéramos hecho desde la plataforma orinoco.io sin ningún problema..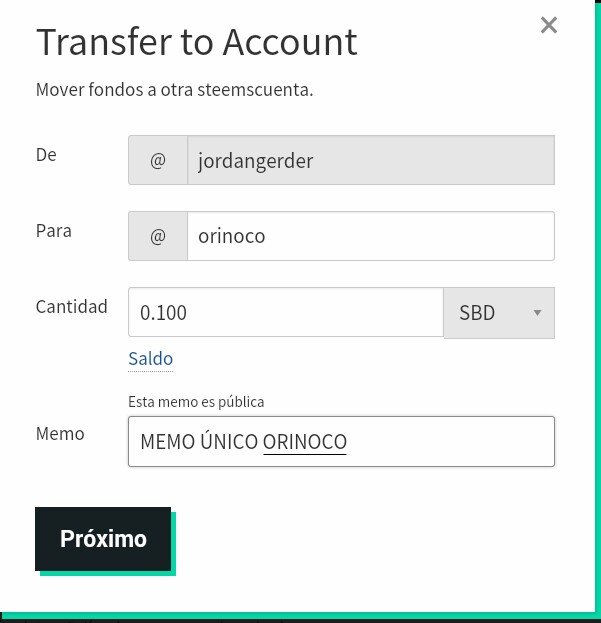 De SBD y/o STEEM a BTC : esta innovación realmente me encanta, ahora podremos convertir nuestras ganancias a BTC las 24 horas del día y si nuestro monedero es de localbitcoin se ejecutará a tan solo 1 minuto, ¿es asombroso cierto? y lo mejor de todo, sin una gota de comisión adicional, orinoco .io realmente esta potente...

¿Como los convierto?
De la misma manera como que si fuéramos a cambiar a bolívares, cambiamos de VES a BTC ya después de haber registrado previamente nuestro monedero de bitcoin así como lo hicimos con nuestra cuenta bancaria anteriomente dirigitete a perfil y cliquea en billeteras y completa los campos correspondientes y ya podrás cambiar tus SBD y/o STEEM a BTC 😍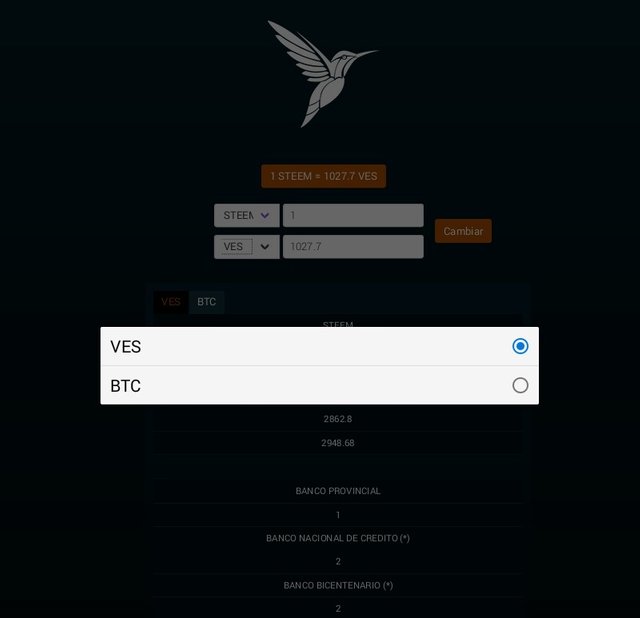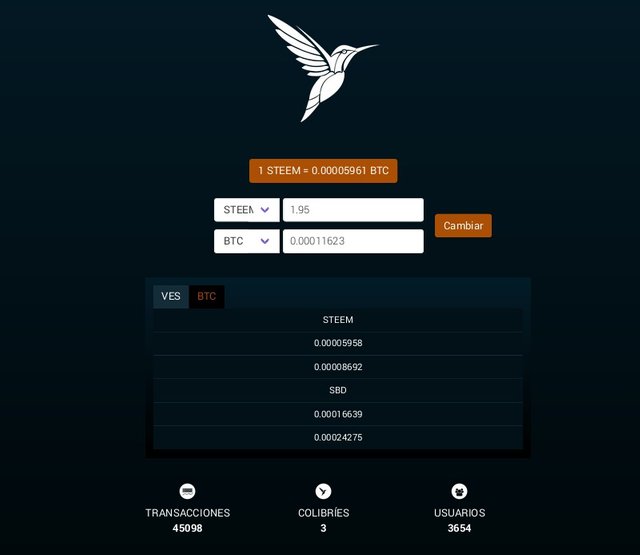 Este ha sido un post promocional y tutorial elaborado por
@jordangerder
La recomendación de esta casa de cambio viene de experiencias vividas y excelentes resultados conseguidos con ella, espero que a ti también te funcione y no consigas ningún inconveniente te dejo sus redes sociales por donde podrás contarte con el gran equipo de orinoco.io
DISCORD
TWITTER
YOUTUBE
INSTAGRAM
FACEBOOK

Nos vemos en un nuevo post promocional y tutoriales para nuevos usuarios
Comparte para llegar a mas personas y hacer que siga creciendo la gran comunidad de steemit 😊
Join me to walk the corridors of orinoco.io
Hello dear steemian, Still do not know about orinoco.io? (If your answer is no, I invite you to sit down and look for your best glasses, that this post is for you) ...
Are you new to the steemit platform, and are you eager to see your work converted into profits (local currency, BOLÍVARES SOVEREAS)?

Are you tired of changing your SBD and STEEM in other pages and their excessive commissions are driving you crazy?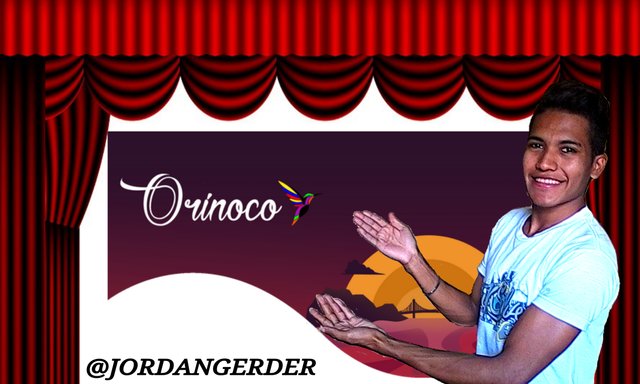 With Orinoco.io your problems will be solved


What is Orinoco.io?
Orinoco.io is the best active exchange house in steemit, where you have the best cups of the day, a platform where you can change your SBD and / or STEEM to sovereign bolivars, and not only that, you can also make changes to BTC and ETH and best of all, without charging even a single drop of commission ..
"Yes, we have found what we were looking for from the beginning"
It should be noted that before orinoco.io had a simpler interface, but as we know that large projects must innovate every day, Orinoco.io goes one step further towards success, creating a new interface that allows more functions, more methods and ways to change to give a better service to all the users that belong to it, (we will keep growing) ...
Without further ado let's go a little further into the corridors of orinoco.io ..


Registration: Registering becomes very easy is similar to when we register on any other page enter in https: orinoco.io and in the upper right corner (your right) click on record and fill in the corresponding fields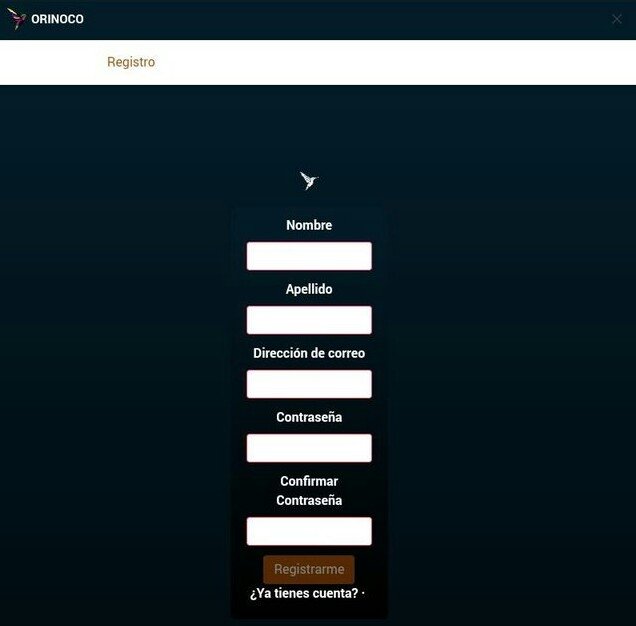 After you have registered your account, it is the email that you have sent in the registry, you will receive a notification to confirm your account


Bank accounts: This step is very important because if we do not register the bank accounts, where will the billions reach us? LOL
Orinoco.io has several banking availabilities to make life easier for its registered users 😊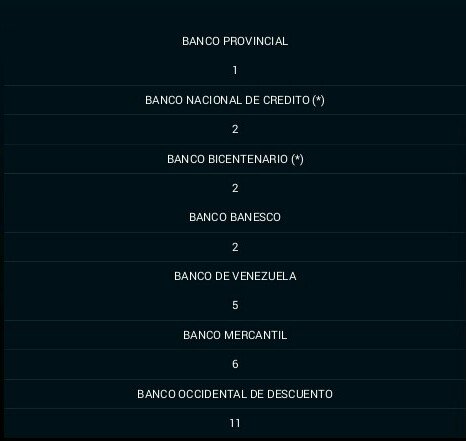 To register our bank details we go to the profile, and select the corresponding fields in banks and landings.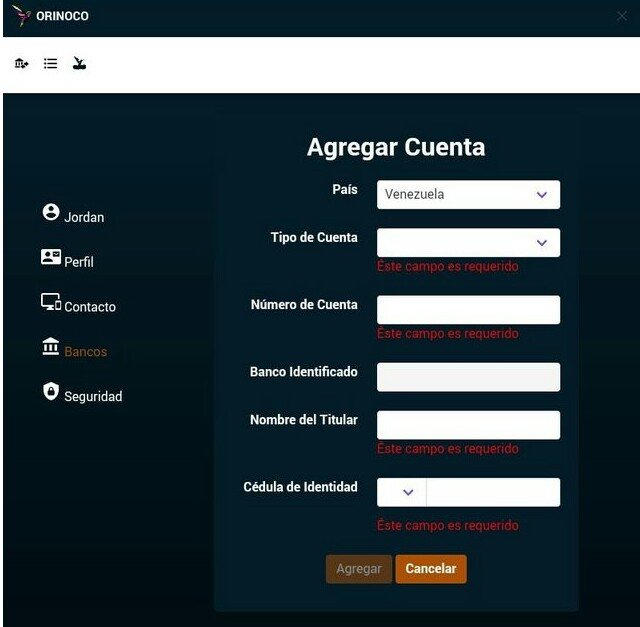 Are you ready to change in orinoco.io?

Variable calculator: This is where you will jump of happiness and cry of sadness, (well it always happens to me), this is where you will know the value of the Cryptocurrencies you want to change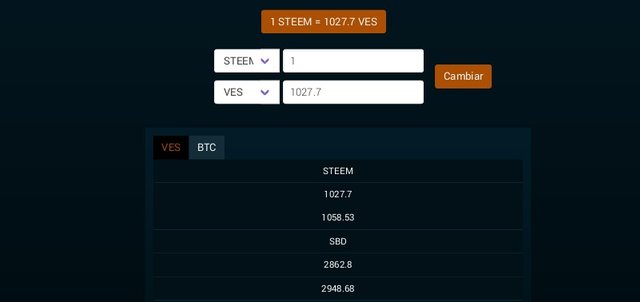 Those numbers from below down a bit, but I'll clarify it right away, as you can see below the initial quantities there are two quantities but one totally equal to the initial and the other a little higher, this is one of the best parts of Orinoco .io, and that is because that higher amount is the price that will be paid to those users who want to change high amounts of SBD and / or STEEM
Wao, orinoco.io is a box of surprises, do not you thinkthink


We are going to create a new order
We select the Cryptocurrencies that we want to sell SBD and / or STEEM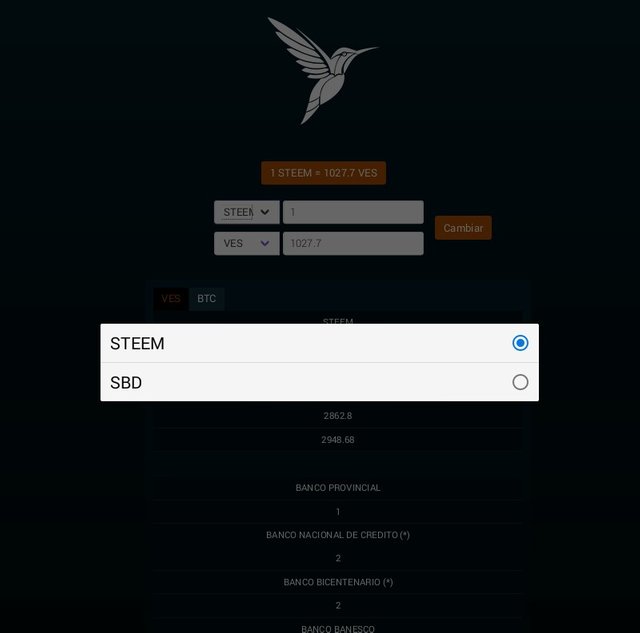 We add the amount and proceed to change

We select the bank (our bank)

We use steemconnect to facilitate the process if you wish, if not, you can do it manually.

Our order would already be created (waiting for a hummingbird to execute it), do not worry about the weather, that's fast like a hummingbird ....
Unique Memo: Can I make transactions without entering orinoco.io?
Did you notice that when you have made an order from orinoco.io the same code or transaction memo comes out? And that same code was the one that was reflected when you registered your bank account?
Well ... That code is what will allow you to create orders without entering orinoco.io if not directly from your steemit purse
Just send the amount you want to change to the account of @orinoco and in the memo the code that will be like your id inside orinoco, and your transaction will be executed normally as if we were made from the orinoco.io platform without any problem ..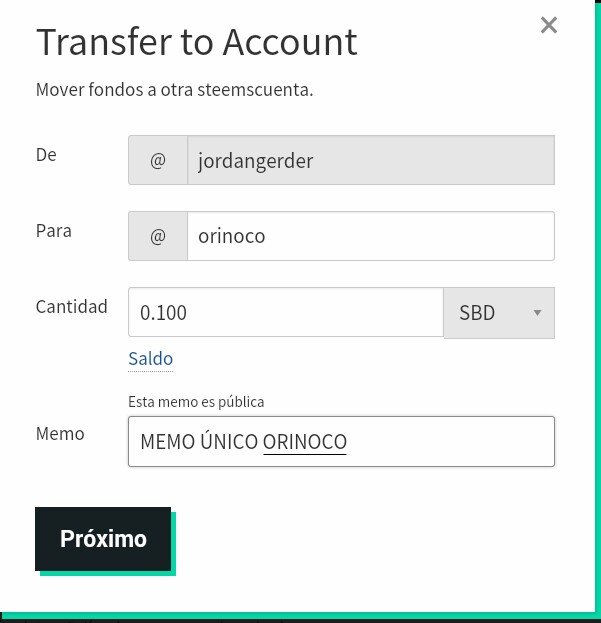 From SBD and / or STEEM to BTC: this innovation I really love, now we can convert our profits to BTC 24 hours a day and if our purse is localbitcoin it will be executed in just 1 minute, is it amazing right? and best of all, without a drop of additional commission, Orinoco .io is really powerful ...
How do I convert them?
In the same way that if we were to change to bolivars, we changed from VES to BTC and after having previously registered our bitcoin wallet as we did with our previous bank account go to profile and click on wallets and complete the corresponding fields and you can now change your SBD and / or STEEM to BTC 😍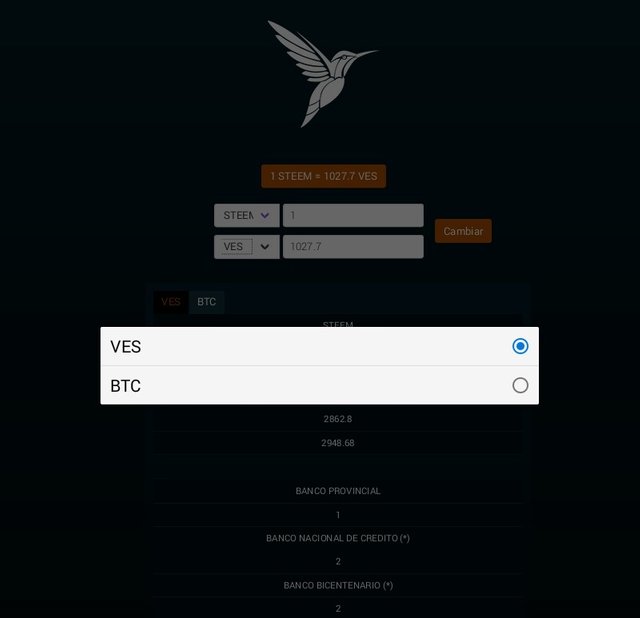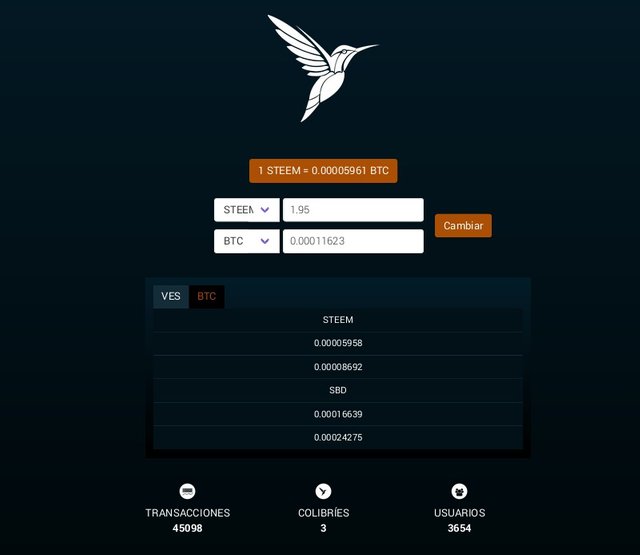 This has been a promotional post and tutorial prepared by
@jordangerder
The recommendation of this house of change comes from lived experiences and excellent results achieved with it, I hope that you also work and do not get any inconvenience I leave your social networks where you can tell the great team of orinoco.io
DISCORD
TWITTER
YOUTUBE
INSTAGRAM
FACEBOOK

See you in a new promotional post and tutorials for new users
Share to reach more people and keep the great steemit community growing 😊
---
Posted from my blog with SteemPress : https://jordangerder.timeets.com/?p=238
---