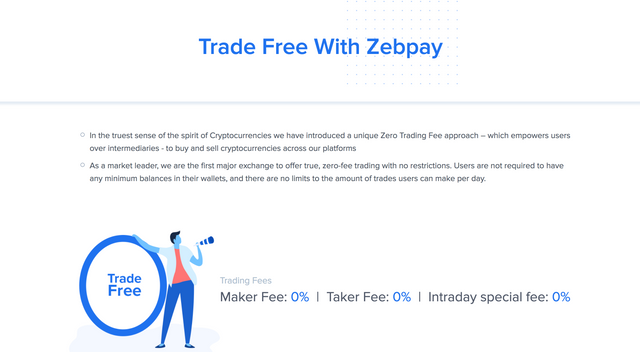 Zebpay continues scaling up their international operations and all the traders will now be able to participate in zero-fee trading in 131 countries where this exchange is available. However, as they shut down operations in India recently, it won't be available to Indian users as well United States and Japan for the time being.
"Zero-fees on trading is a major milestone for the company today," said Ajeet Khurana, CEO of Zebpay, in a press release. The exchange's mission, he added, is to "liberate crypto from the shackles of trading fees, and to reduce the friction for all those who are new to crypto. "
Zebpay launched in 2015 and was one of the earliest exchanges I've used in India and it held over 50% share of the Indian cryptocurrency trade volumes. They were quite ambitious and were looking to expand early on and with RBI's mandate being the final nail in the coffin they expanded to initially European and now global markets.
In the truest sense of the spirit of Cryptocurrencies we have introduced a unique Zero Trading Fee approach – which empowers users over intermediaries - to buy and sell cryptocurrencies across our platforms
As a market leader, we are the first major exchange to offer true, zero-fee trading with no restrictions. Users are not required to have any minimum balances in their wallets, and there are no limits to the amount of trades users can make per day.
Since their move to Malta, EUR seems to be their base FIAT currency pair. However, they are currently supports six of the leading cryptocurrencies with 11 trading pairs and doesn't require you to hold any minimum balance in their wallets or limits on the number of trades investors are allowed to make in a day.
With any cryptocurrency exchange consumers pay around 0.25% commission per trade. While this may not seem like a hefty fee, for active traders who enter and exit positions on a frequent basis, exchange trading fees certainly add up and can eat into their trading profits. As for traders who aren't super active on a daily basis, fees may dissuade them for becoming more participatory in the market.
If you are from Europe you can use this exchange today and if you have already please leave some feedback as I'm curious to know how its performing after it's exit from India.
Zebpay Trading Fees:
Maker Fee: 0%
Taker Fee: 0%
Intraday special fee: 0%
You can visit Zebpay for more information and download their apps for Android and iOS devices.
---
If you like my work kindly resteem it to your friends. You may also continue reading my recent posts which might interest you:
---