Many cryptocurrency exchanges display fake volumes and if you felt otherwise then Blockchain Transparency Institute is here with some data to change your mind. If you didn't know this before you are probably surprised by this fact, but don't be.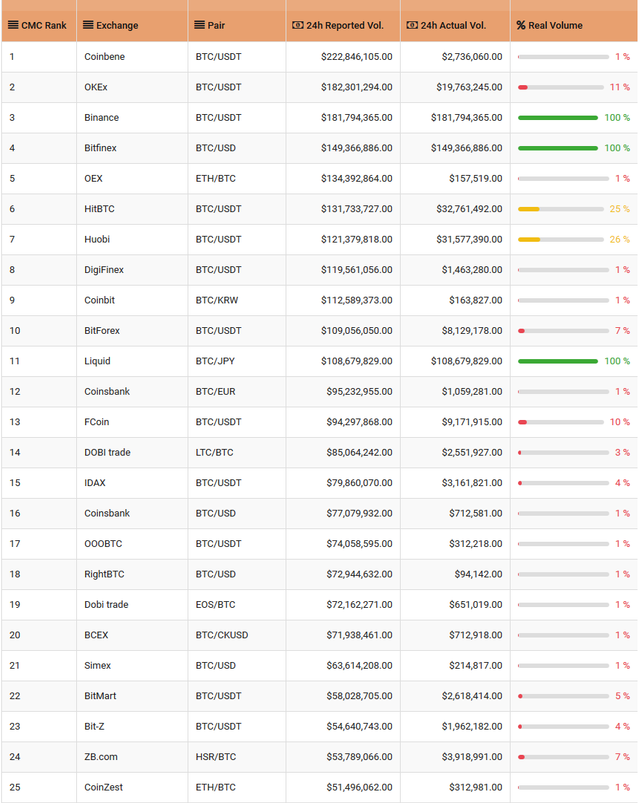 There's a whole lot of information on their website here and I won't repeat much of it in my post. But the basic nature of this post is to highlight the importance of trading on proper exchanges.
Many times in the past you may have faced problems when trading on exchanges that displays a high trading volume but when you trade manually you face issues with order matching etc.
Exchanges and whales use various methods to inflate the numbers and bot usage is very common in these cases.
Included in this report we have calculated the true volume of the CMC top 25 BTC trading pairs. Most of these pairs actual volume is under 1% of their reported volume on CMC. We noted only 3 out of the top 25 pairs not to be grossly wash trading their volume, Binance, Bitfinex and Liquid.
Please read the full report on their website and be wary of scammy exchanges. Personally I generally stick with Binance for day to day trading and haven't ever faced any issues with them.
---
If you like my work kindly resteem it to your friends. You may also continue reading my recent posts which might interest you:
---