YOU are a FOREIGNER (and so am I)
I was walking to the supermarket on Friday, as the sun set on Britain's last day in the European Union, mulling the nature of xenophobia and the stupidity of labelling people 'foreigners'.
"Go back to your own Country!" is an appalling thing to say to anyone; worse if they are a refugee. I found myself wondering just how big the UK is in relation to the rest of the world.
After a bit of research and a quiet afternoon, I ended up with this...!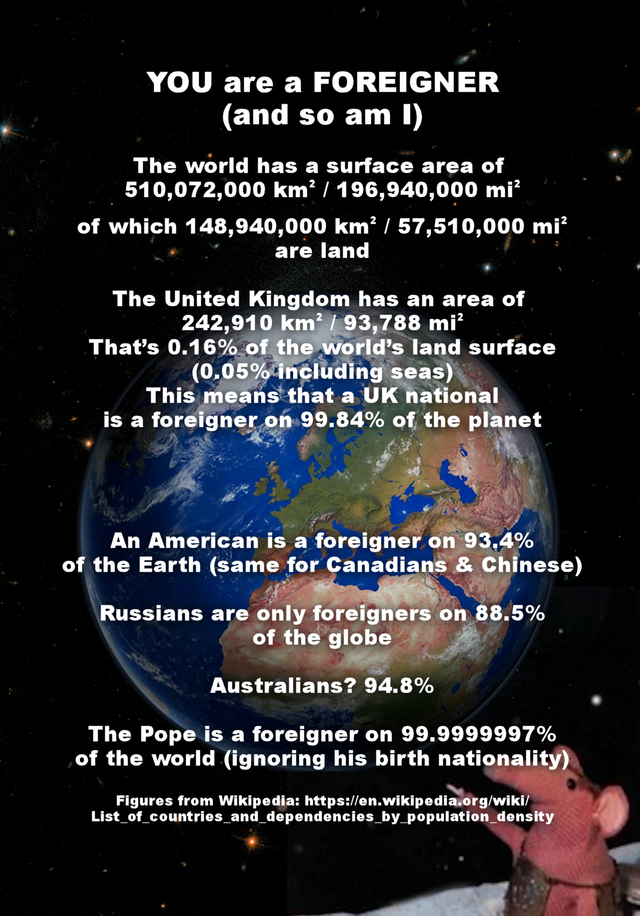 YOU are a FOREIGNER (and so am I)
The world has a surface area of 510,072,000 sq. km / 196,940,000 mi2 of which 148,940,000 km2 / 57,510,000 sq. mi is land.
The United Kingdom has an area of 242,910 sq. km / 93,788 sq. mi. That's 0.16% of the world's land surface (0.05% including seas).
This means that a UK national is a foreigner on 99.84% of the planet.
An American is a foreigner on 93.4% of the Earth (same for Canadians & Chinese).
Russians are only foreigners on 88.5% of the globe.
Australians? 94.8%
The Pope is a foreigner on 99.9999997% of the world (ignoring his birth nationality).
Nothing against the Pope, it's just that the Vatican is world's smallest state/country, while Russia is the biggest.
If we're all Foreigners, then we're all Jukebox Heroes who Want to Know What Love Is. And that's Urgent.
Thanks [email protected] for spotting the mistake - now corrected.