The Problem with Ethereum. ETH 2.0 & The Istanbul Hard Fork. Bullish or Bearish?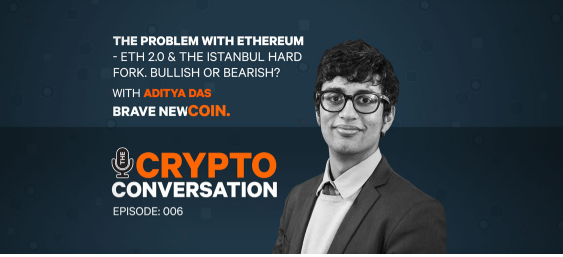 Apple Podcasts
Spotify
YouTube
Stitcher
Guest: Aditya Das
Brave New Coin analyst Aditya Das joins Andy to discuss his new report - Ethereum at the Crossroads: The Istanbul hardfork and its implications.
Heading into the latter part of 2019, Ethereum finds itself at a crossroads. In its current state, it has failed to provide working solutions for enterprise customers. Despite an easy to understand 'world computer that powers the decentralized internet' narrative, real-world applications are few and far between.
On the Crypto Conversation Andy and Aditya discuss Bitcoin's dominance in 2019 and why Ethereum hasn't been able to match Bitcoin's price performance.
According to Das, Bitcoin is benefiting from the fact that it is the crypto market's hardest asset. "Bitcoin is the oldest, most tried and tested digital asset. Ethereum can't compete with it when it comes to acting as a hedge in a volatile geopolitical market," he said.
Due to the twin threats of a multitude of competitors and the growing impatience of a developer/client base that expects Ethereum to enable real-world solutions, the project is scheduled to make two major network updates in the next six months. The first of these, Istanbul, is a hard fork set to occur in October. This will complete the Metropolis stage of Ethereum development.
"The second and more ambitious update, Ethereum Serenity (Ethereum 2.0) is scheduled to begin in January 2020," says Das. "The Serenity update will launch a new blockchain with new features like database sharding and a proof-of-stake consensus."
However, Ethereum's vision of a shiny new future is based on multiple moving parts. Some of the proposed updates within Istanbul and Serenity overlap and conflict with each other, and Ethereum developers and stakeholders continue to aggressively debate the effectiveness of individual proposals within each update.
"I am nervous about Ethereum's short to medium term future and particularly the community action to all the drama that appears to be bubbling underneath the surface," said Das. "I think at some stage that will come to a head. But I do believe in the long term future of Ethereum. I think just like Bitcoin had its big bear market in 2014-2015 when people lost hope, now Ethereum needs to go through that process too. When we come out of it, the Ethereum community will be stronger and ready to take on the world and be its world computer."
Supporting Links
Ethereum at the Crossroads: The Istanbul hardfork and its implications
Social