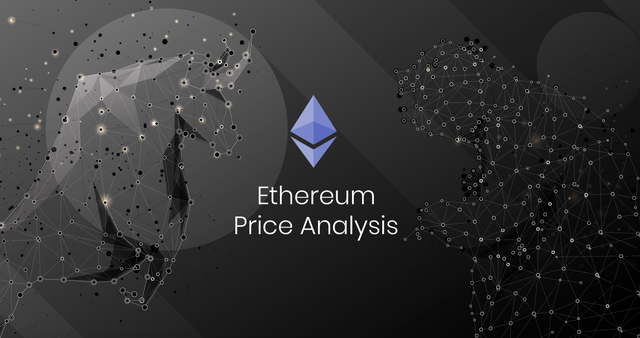 Fundamentals
Ethereum is planning to roll out its new hard fork Istanbul on mainnet on Dec. 4. This was decided during an Ethereum developer call on Oct. 25 and later that day, a blockchain protocol engineer at Ethereum venture studio ConsenSys, Danno Ferrin, made a suggestion about launching Istanbul at block number 9,056,000 in line with the target date of Dec. 4.
"From when I calculated … at 14-second block times its 245,544.5 blocks, which puts noon UTC at block 9,055,928.5. So I would propose 9,056,000 as the Istanbul mainnet block target. Please check my math," said Ferrin.
During their conversation, developers also made the decision regarding the postponement of Istanbul's mainnet launch to Jan. 8 in case of any unwanted problems between now and Dec.4
"There's nothing here that says [we can't launch] the first week of December. We're just setting some easy backstop dates now and we can always change our minds later if needed."
It is expected that the upgrade will bring to light six backwards-incompatible code modifications to the second-largest blockchain platform in the world.
The most disputable code change is the Ethereum Improvement Proposal (EIP) 1884 which will raise the computational expenses of recalling data about the state of the platform. Simultaneously, the greater costs will better protect the $18 billion network from potential DDoS and similar attacks.
Other 5 code modifications will bring pricing changes and new code operations that devs can take advantage of to validate blockchain data more rapidly.
The upcoming hard fork and the expected Ethereum 2.0 upgrade bring up the question, how will it change the economics of Ethereum?
According to the reports, Ethereum 2.0 will be based on a proof-of-stake (PoS) consensus protocol which means that operations on the platform will be processed and authenticated by consumers who stake assets instead of miners who spend energy.
Users that stake on the platform will be known as validators and their reward will be gaining year-on-year interest on their locked-in ether. Currently, 32 ETH is the minimum requirement for users to become validators, which converts to almost $5,200.
Validators should expect to gain 4.6 -10.3 per cent year-over-year at the time of Ethereum 2.0 rollout, said Collin Myers, head of global product strategy at ConsenSys.
Myers added that he was working on a user application that would allow validators to calculate annual income and net returns considering different expenses of hardware and electricity. The application will come to light together with the rollout of Ethereum 2.0, which is expected to come out at the first quarter of 2020.
"The ETH 2.0 Calculator is being developed for protocol researchers, validators and enthusiasts to increase transparency and education of the Ethereum 2.0 network economics," he said in a Devcon presentation.
The 2.0 upgrade will also bring new monetary policies that will keep a constant level of inflation under 1%, hence a long-term stable Ether. Surely, these metrics could easily change as the platform rolls out the hard forks.
"In the early days of this system, we're going to hard-fork a bunch. This is healthy because it means we're squashing old ideas and innovating new ideas. The more we hard fork, the healthier it means we are," said Myers.
Technicals
On the technical side, Ethereum has performed a similar move to Bitcoin after bullish comments from China's President XI, who publicly embraced blockchain technology. As soon as his remarks hit the wires, the entire cryptocurrency market burst higher.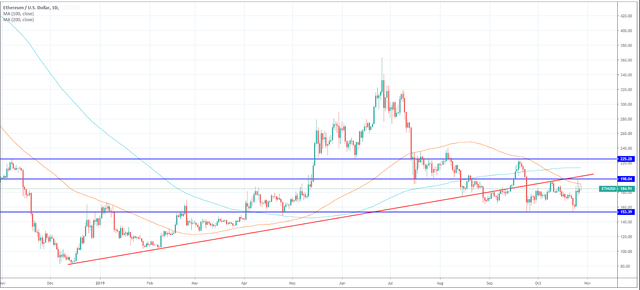 ETH/USD daily chart (TradingView)
‍
During the following day, Ethereum hit the new 1-month high of $199.08. However, the bulls were not able to make the price action close at the highs, which led to a close below the key 100 DMA resistance, located currently at $191.35. The price action returned both yesterday and this morning to retest the 100 DMA, although without much success so far.
Furthermore, the zone around the $200 mark is where two additional resistance levels meet. The ascending trend line (the red line) comes at $202, while the horizontal resistance is located just $4 lower. On the downside, the horizontal support ($154) that managed to stop the bears from winning more ground in the last few weeks will continue to act as an important support.
Download the Official Bitspark app:
iOS: http://ow.ly/KNuF50wAfpT
Android: http://ow.ly/83pe50wAfpU