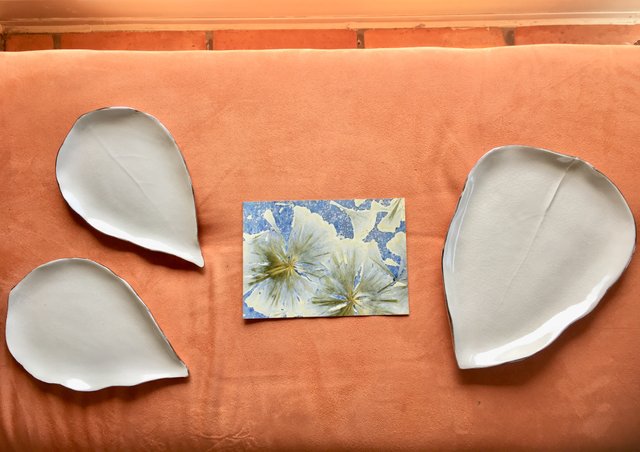 ---
I'm delighted to return home, after a short vacation, and find these beauties awaiting me :) Around one month ago, I took part, on Steemit, in the second of @natureofbeing's ceramics giveaways! I was excited when a few weeks ago, I saw my name tossed out of the bowl, as one of 2 lucky winners of a set of Porcelain Leaf plates she crated that were lined with white gold trim and made from a Catalpa tree.
---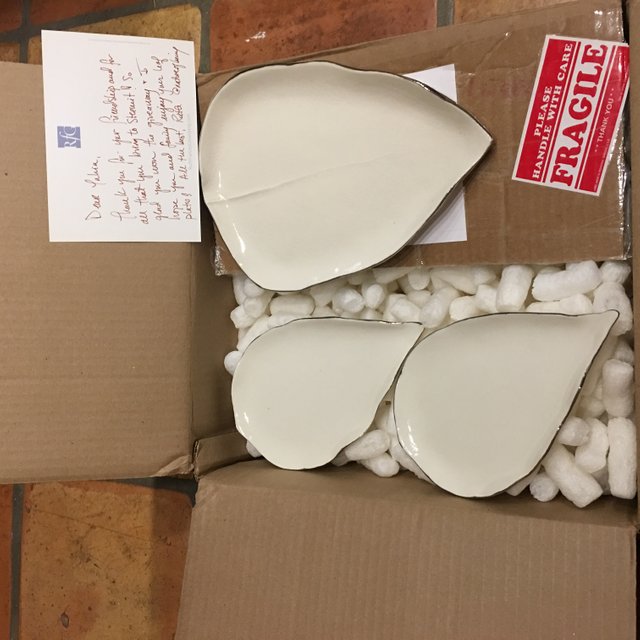 ---
@natureofbeing, aka as Ruth Frances Greenberg is an exemplary Steemian and fine artist, specializing in clay and tiles-- please, visit her website to familiarize yourself with her creative world and/or follow her, here, on Steemit to learn more about her artistic process.
Not only do I admire Ruth's distinctive and sensitive art, but her generosity, gratitude and grace are also an inspiration. Below, is a closer look at the kind note that she included with her tasteful art gift that she sent me, which I look forward to showing off, next time I have people over :)
---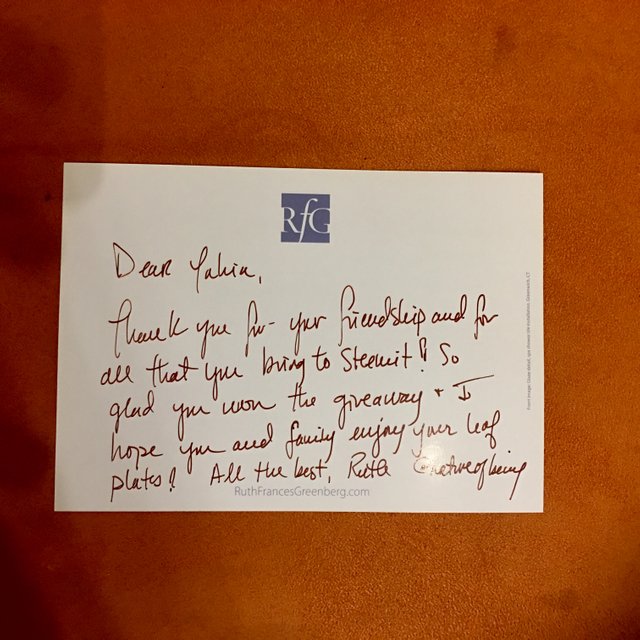 ---
Allow me to offer, one further example of the class act that Ruth is. Inspired by her giving back to our community, I came up with my own giveaway, to celebrate reaching a 1,000 followers on Steemit where I offered to send copies of my poetry book, as well as SBD, to three winners who gave me the best answers as to why they would like my book.
This was Ruth's grand winning response:
If I win, I'd love the book and will donate my winning SBD towards shipping a physical book to a winner outside the US if there is one. If that's not enough to fund it, lmk and I'll chip in a few more $.
Thanks, to @natureofbeing, I was able to send two additional copies of my books outside the US, including one to @motivationmob, in Botswana, whose moving answer I could not say no to:
I would really love a copy of your book, not for myself, but for my grandfather. His 82nd birthday is coming up in a couple of months, and I would love to give it to him as a birthday present. My grandfather has so many stories and decades of wisdom within him, and I have been pestering him to write a book. He wants to do it, but for some
reason he keeps putting it off. My hope is that by gifting him your book, a book from a real writer and artist, it will give him the little push he needs to start writing.
That's the beauty of Steemit and, once again, for Ruth's example, I am grateful. _/|\_

Let the beauty of what you love be what you do.
—Rumi