Pinang Climbing Competition/ Lomba Panjat Pinang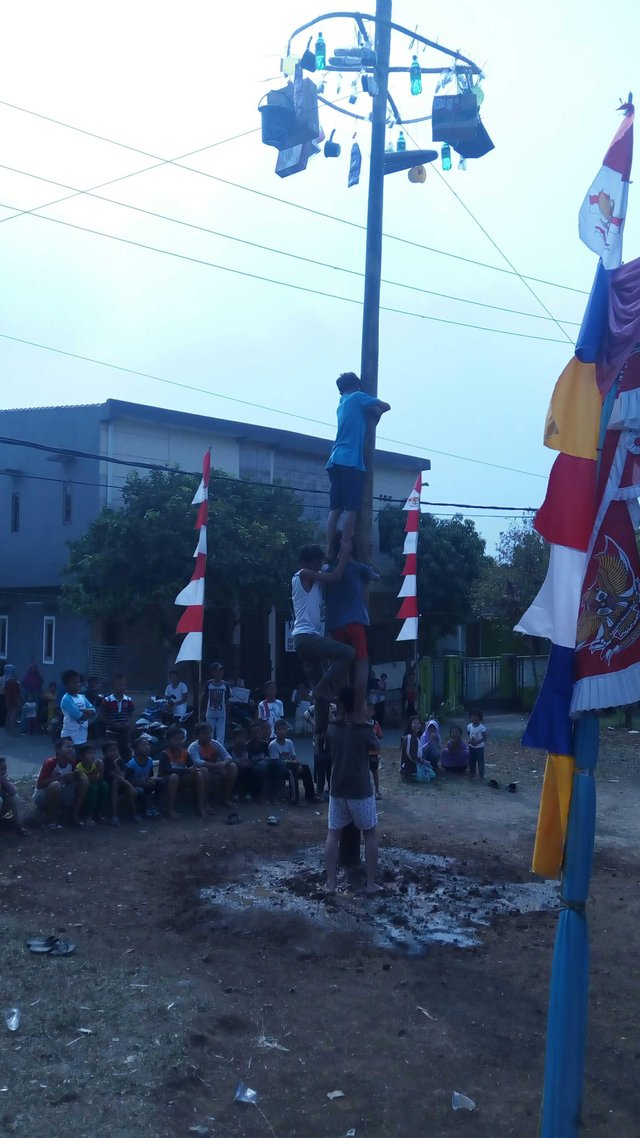 On a sunny Sunday afternoon my child and I watched the areca climbing contest in the public square near the house, this pinang climbing competition was an August 17 race in the housing complex, this event was the closing of the various competitions included.
Minggu sore yang cerah saya dan anak menonton lomba panjat pinang yang ada di lapangan umum dekat rumah, lomba panjat pinang ini merupakan acara perlombaan 17 Agustus di kompleks perumahan, acara ini merupakan penutup dari berbagai perlombaan yang disertakan.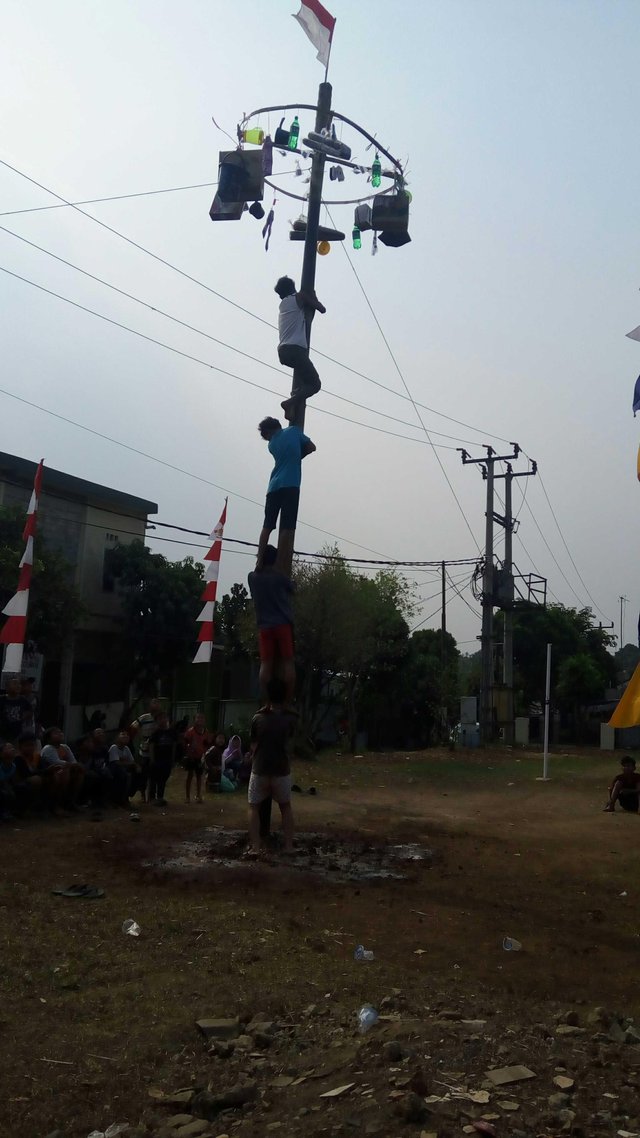 In this competition, it is divided into 4 groups with a duration of 15 minutes to climb areca nut that has been smeared with oil and fat. For the prize itself already above, with the method hanging ean there is a direct gift of cash of 500 thousand rupiahs, wow a very large amount.
Pada perlombaan ini bagi menjadi 4 group dengan durasi waktu 15 menit untuk memanjat pinang yang sudah dilumuri dengan oli dan gemuk. Untuk hadiahnya sendiri sudah ada di atas d ngan cara yang di gantung ean ada hadiah langsung berupa uang tunai sebesar 500 ribu rupiah, wow jumlah yang sangat besar sekali.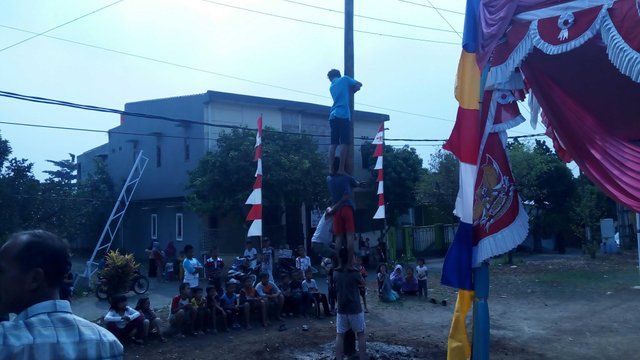 In this betel climbing competition, a solid teamwork is needed in achieving the goals, because if not the cooperation will not get to the top because the areca tree trunks are slippery because of the grease and grease, for the strong participants are in the lowest row and for the light must be able go up through the shoulders of the team participants
Dalam lomba panjat pinang ini diperlukan kerjasama tim yang solid dalam mencapai tujuan, karena kalau tidak kerjasama tidak akan sampai keatas karena batang pohon pinang sudah licin karena di lumuri oli dan gemuk, untuk peserta yang kuat berada di barisan paling bawah dan untuk yabg ringan harus bisa naik keatas melalui pundak para peserta team.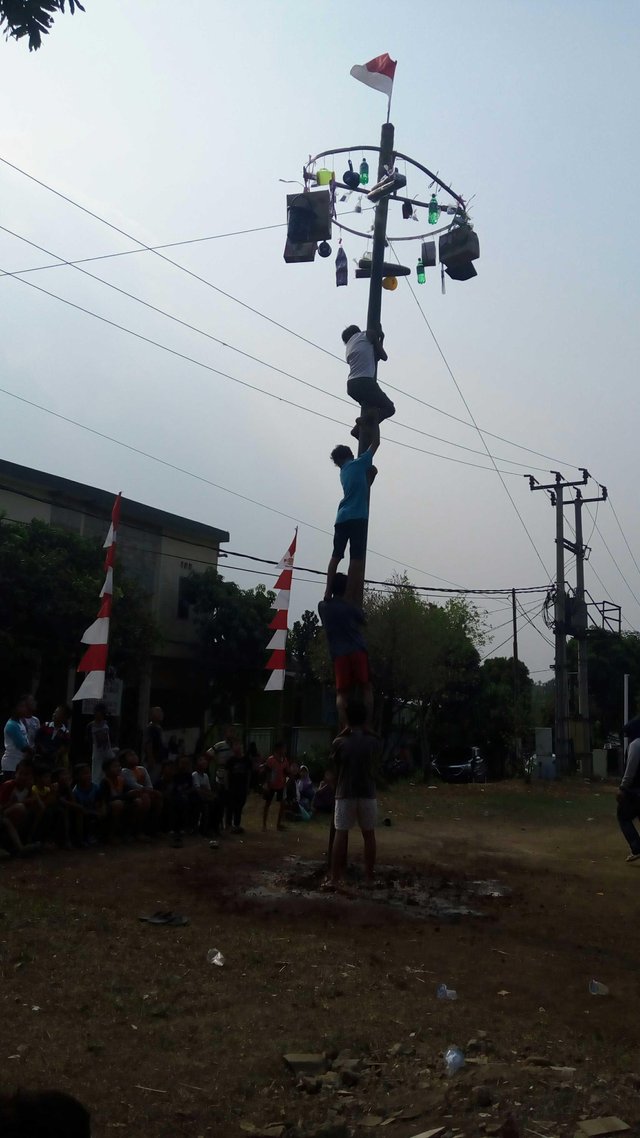 In this competition that needs to be considered is the safety of the participants because the vulnerable position is above and it is very easy to fall when they want to take the prize above, sometimes the player likes to forget if there is already above. The prizes taken by the winners are usually divided equally by first selling gifts that have been obtained or divided according to the agreement.
Dalam lomba ini yang perlu di perhatikan adalah keselamatan para peserta karena posisi yang rawan berada di atas dan sangat mudah jatuh ketika hendak mengambil hadiah yang ada di atas, kadang pemain suka lupa kalau sudah ada di atas. Untuk hadiah yang diambil oleh para pemenang biasanya dibagi rata dengan terlebih dahulu menjual hadiah yang telah di dapat atau dibagi-bagi sesuai dengan kesepakatan.