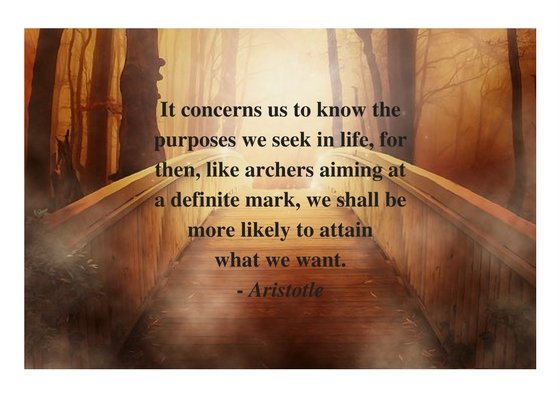 I have spoken about the meaning of life, or rather the non meaning of life, and about how it is us giving meaning to our lives. Now, what is the purpose of your life then? Do you know?
Some of us will be wondering about the purpose of our lives. Why are we here? What is expected of us? And apparently, there are also people who will live their lives without considering the matter at all. They go about their lives, allowing everything to happen to them instead of making things happen for themselves.
Well, if it is us who give meaning to our lives, it is also us who give purpose to our lives. What do you want to do, who do you want to be, or become? Only you can answer that. And therein lies your purpose of Life – to fulfill your dreams and accomplish your goals. That is where you should concentrate your efforts and strive to find the answers, to achieve your aims and goals – to make the most of what you have, and to make a difference while you are here.
Each individual's purpose in life is different from another's – just like one's meaning of life is different from another's. There is no need to compare. There is no one purpose that is more holy than another. We are all different. We have our parts to play. We answer to our calling. Like pieces of puzzle, each of us has a role, a place in the picture. The picture is only complete when we come together, when all the pieces of puzzles are in place.
The purpose of life could be as straightforward as...
... to grow, to progress from ignorance to enlightenment and from unhappiness to happiness. - K. Sri Dhammananda
or
… to serve, and to show compassion and the will to help others. - Albert Schweitzer
or
… to be useful, to be honourable, to be compassionate, to have it make some difference that you have lived and lived well. - Ralph Waldo Emerson
or as Anne Rice put it...
There is one purpose to life and one only: to bear witness to, and understand as much as possible of the complexity of the world – its beauty, its mysteries, its riddles. - Anne Rice
… and that is enough.
A sense of purpose and meaning is,
What allows us, as human beings, to psychologically survive life on earth, with all of its pain, drama, and challenges. - Barbara de Angelis
You come into the world with nothing, and the purpose of your life is to make something out of nothing. - Henry Louis Mencken
Simply, and in conclusion…
The purpose of life, after all, is to live it, to taste experience to the utmost, to reach out eagerly and without fear for newer and richer experience. - Eleanor Roosevelt
Your purpose in life is to find your purpose and give your whole heart and soul to it. - Gautama Buddha
The purpose of life is a life of purpose. - Robert Byrne

Thank you for stopping by. If you like the post, please give it a vote. Resteem it if you think it worthy. Follow me if you like to read about Life, humour and quotes.
Cheers!
Previous post: