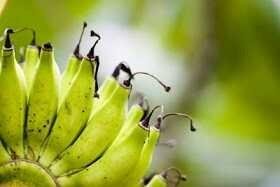 9 Benefits of Banana Fruit For Health Fruit bananas are yellow when it is ripe, this fruit delicious and more delicious if consumed after a meal, but this time I will share about 9 Benefits of Banana Fruit For Health ?
Bananas are beneficial for anemia.
Bananas because they contain a relatively high iron zabt automatically bananas can help the hemoglobin function with the body. For anemia sufferers regularly consume bananas very well to restore blood pressure and stimulate to stabilize hemoglobin.

Bananas are useful to help improve concentration.
If you experience a drop concentrate should consume bananas is more than enough because bananas contain calcium which serves one of them to help improve concentration.

Bananas Very good for high blood pressure.
Solutions that can be used as an alternative for natural treatment of high blood is a banana fruit one of them. Because bananas have a potassium content of about 4673 mg, but very low sodium 1 mg, so thus the banana has a perfect ratio in preventing high blood pressure.

Benefits of bananas for nervous sufferers.
Bananas contain vitamin B. Vitamins one of its functions to restore and restore the function of damaged nerves.

Benefits of bananas for diarrhea and constipation.
One of the ingredients contained in bananasincluding fiber. The benefits of fiber can help restore normal bowel function. In the content of bananas there is also potassium is very good for people with diarrhea in addition to bananas contained pectin is a type of water-soluble fiber is useful to help normalize movement through the digestive tract.

Benefits of Bananas for Beauty.
How to make it, banana porridge mixed with a little milk and honey, then apply on face every day regularly for approximately 30 to 40 minutes. Then wash with warm water then rinse with cold water or ice, this step you can do for approximately 15 days, see the results of your skin will look more smooth and clean.

Benefits of bananas for burns.
In this case not the fruit but from the leaf side . Banana leaves can be used for the treatment of burned skin by way of dioles. How, mix banana leaf ashplus coconut oil has a cooling effect on the burning skin.

Benefits of bananas for pregnant women.
Folic acid in bananas is very good for pregnant women, folic acid easily absorbed by the fetus through the mother's womb, but you need to know to consume bananas do not overdo it because in the content of bananas are also high calorie.

Benefits of bananas for enargi and relieve fatigue.
The soft banana fruit is easily digested in the body, while the sugar contained in the banana can serve as a good source of energy for those who are tired after working or doing sports.