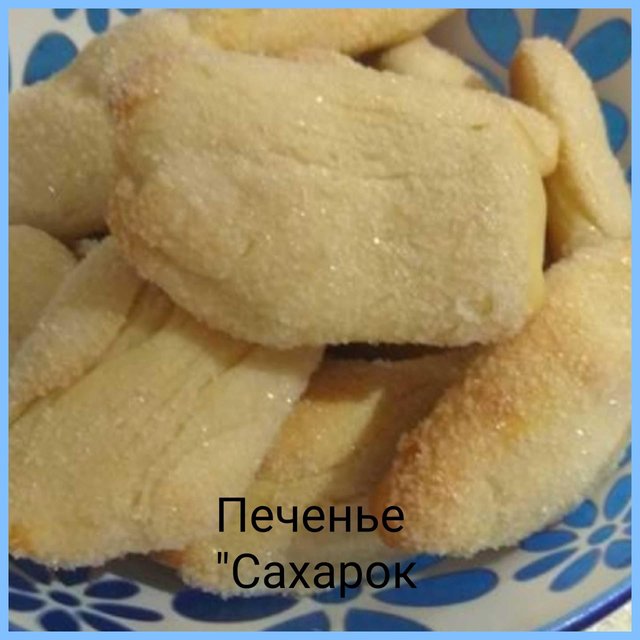 Good evening friends! Today I baked tea cookies. Something so wanted homemade pastries. Cookies called Sugar, because it is poured abundantly with sugar. The taste is amazing!
So, let's proceed to the recipe:
150 ml of kefir,
1 egg,
3 spoons of vegetable oil,
2 spoons of sugar
vanilla,
salt pinch
1 teaspoon soda with vinegar,
300 grams of flour.
Flour must be sifted, add salt, vegetable oil, egg, sugar, vanilla and mix well. The dough should be smooth. Then, roll out the layer, cut out the figures, sprinkle liberally with sugar and place in the oven until golden brown.
Sugar is ready, enjoy your tea!
---
Добрый вечер друзья! Сегодня я испекла печенье к чаю. Что-то так захотелось домашней выпечки. Печенье называется Сахарок, потому, что оно обильно посыпается сахаром. На вкус получается изумительное!
Итак, приступим к рецепту:
150 мл кефира,
1 яйцо,
3 ложки растительного масла,
2 ложки сахара,
ваниль,
соль щепотка,
1 чайная ложка соды с уксусом,
300 грамм муки.
Муку нужно просеять, добавить в нее соль, растительное масло, яйцо, сахар, ваниль и хорошо перемешать. Тесто должно быть гладким. Затем, раскатать пласт, вырезать фигурки, посыпать обильно сахаром и поместить в духовку до золотистого цвета.
Сахарок готов, приятного вам чаепития!!!
🍥🍩🍪 🍥🍩🍪 🍥🍩🍪 🍥🍩🍪