Did you know that while you work and hope for greatness there is still something you should or must do:
After you have worked for it, you must also wait for it! ~ProfLee
I know that this topic is not a very popular one. Because most people don't know how much they might have to wait after they must have done all to stand. It's very important that you understand that you need the ability to wait, because as someone once put it:
All good things come with time. ~Anonymous
I hope you haven't forgotten that the patient dog is still entitled to nothing but the fattest bone. Well, let this serve as a form of remainder that the patient dog really still deserves the fattest bone.
Somehow, patience gives us the legal right to having a particular thing. When you are patient, what you are waiting for is sure to come if you wait with the right attitude.
Learn to be more patient. It really pays to be patient...
Now something just reminded me of a lady who met a woman on her husband bed. That's their matrimonial bed. She was so shocked. She thought that the husband has cheated on her. She believed he did but never gave him the opportunity to explain what really happened. Actually, what happened was the lady she found on her husband bed just laid on the bed to give her the wrong idea in other to cause havoc in their marriage. *But because she was NOT patient enough to hear from her husband side she ended up cheating on her husband. To her, she thought: "If he is not faithful to me, why should I be faithful to him?" Well, that was it!
Link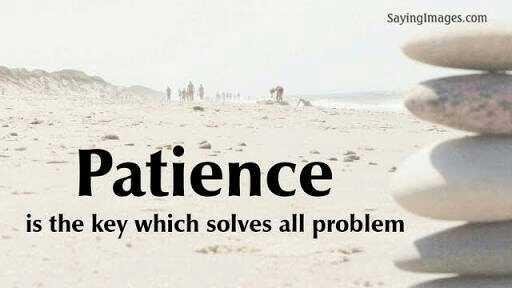 Sadly, and quite unfortunate for her, she found our the whole truth after she had cheated on him in revenge; which finally led to the man divorcing her.
Let me ask you, and end this post with this question: What if she had been patient before acting in a hurry?!
Thanks for reading this patiently,..... Stay patient!