Hello workers, hello fellow steemians all the world.
How are you today? Good?
In this time I would share to all of you my friend and my followers about my photo I was took last weeks ago, and this photo I dedicate to join contest by @juliank with theme #goldenhourphotography
As I have said in some of my previous posts, that the reservoir in our city has a beautiful place and the right moment to enjoy the natural beauty of the sunset.
So this photo below I took in our city reservoir fellas, check it up :
---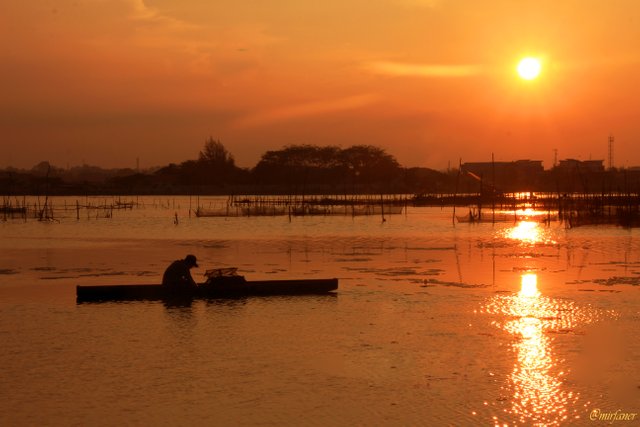 cam set = F. Stop : f/22 - Exposure Time : 1/80 sec - ISO : 100 - Focal Length : 50 mm
---
This photo is a sight of a fisherman who boarded a small boat to catch fish and shrimp in the reservoir.
Water in this reservoir is inserted from the river located on the west side of this reservoir, the river that directly empties into the sea of ​​course has a salty water content is good enough for the fish and shrimp that live in these waters conditions.
Usually we call these waters by the name of brackish water, and the residents living around these reservoirs who work as fishermen take advantage of these natural conditions to establish shelters and breeding fish and shrimp, which in turn when the harvest comes, the results will be sold at traditional markets in our city.
Many species of fish are bred in this reservoir, such as snapper, grouper and shrimp, and all of these fresh seafood are rich in animal protein.
---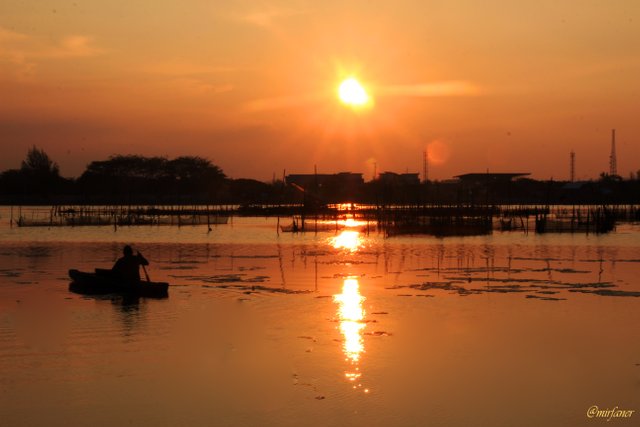 cam set = F. Stop : f/32 - Exposure Time : 1/30 sec - ISO : 100 - Focal Length : 50 mm
---
Photo Details :
| Taken by | : @mirfaner |
| --- | --- |
| Camera Model | : Canon EOS 600D |
| Lens Canon | : EF-S 18-135 mm |
| Location | : Lhokseumawe City Reservoir |
---
But since the government established that this reservoir as the last means of disposal of residents' water waste, there are pros and cons to this policy, because it will lead to the positive and negative side of each policy.
I personally feel less agree with the government program, which makes this reservoir as a means of disposal of waste water waste in urban housing, and this makes the water condition in the dam very dirty and smelly.
Due to the livelihoods of people who throw garbage at random, and put plastic waste in the ditch or sewer, which is then carried by the water in the gut up into the reservoir, so gather all the wet and dry garbage in the reservoir, my personal self is disgusted with this dirty society.
In this photo I shared, you will see some black patches on the surface of the water, and some dry wood around it, that is the garbage I told you before.
Really very pity, this reservoir should be a good means for jogging in the afternoon, or cycling while enjoying the beautiful scenery there.
But as we discussed earlier, everything is destroyed by human activities that have a pattern of life that is dirty and unfriendly to nature.
Let's take care of this nature, and pass on the good for our future grandchildren, so they can enjoy the moment of the beautiful moments that occur in nature as we enjoy today.
And I still remember with the advice of my teacher, who said that "Take care of nature, and nature will take care of you".
---
Please upvote this post if you like my content,
resteem it to share with your friends,
and comment below if you have somethings to say or to ask about my photo or my content.
My Best Regards, @mirfaner