Have your goals
You must have goals to have any satisfaction in life. Since birth,
and perhaps before, your consciousness has been busily creating
your reality based on the thoughts that you think.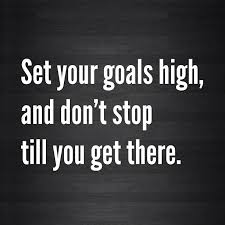 source
Your best past thinking has brought you to your current circumstances. There is no reason to expect your mind to stop doing this any time soon.
Your mind already has an agenda or goals defining what it will create for you, assuming you continue thinking what you have been
thinking. Unfortunately, these goals are most likely unconsciously
chosen, and they may not be things you would most prefer or even
like. Everyone has goals. For some people they are unconsciously
chosen from personal history; for others they are based on their
true purpose and a sense of those values they wish to express.