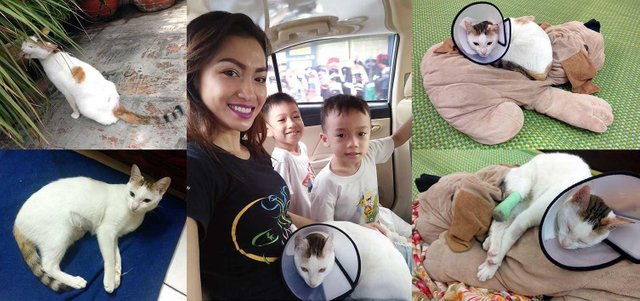 Last month was full of my regular activities, mostly working on my art projects and trying to make sure the creative process was aligned to commercial deadlines. But then I had an unexpected turn of events that has lead to me living with a cat!
How Miu Miu came into my life
Over the last few month my neighbours' cat found a way to come to my rooftop. She really enjoys this space full of sunlight and the shade from the many trees there. One of her favourite things to do is eat the lemongrass trees leaves every morning, so I let her enjoy it.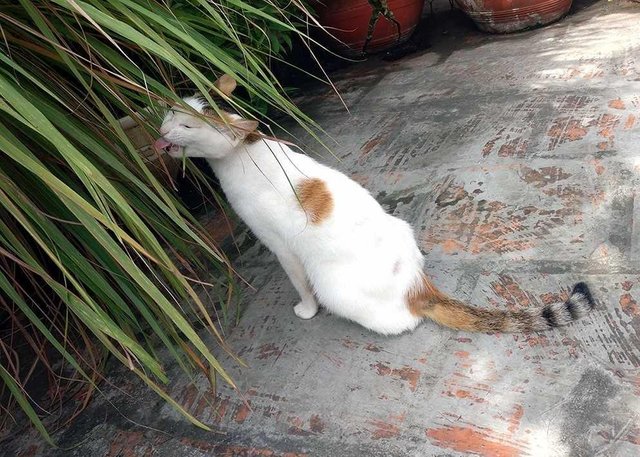 Then I notice that she is usually hungry as her owners don't give her that much attention, and sometime they travel and leave her to fend for herself. So I started to share food with her, clean her fur, and play with her sometimes. She started to follow me more and more. First she got to know the sound of me walking up the stairs and would jump out from the trees everytime I came to the rooftop. Then she would follow me down from the rooftop and stay in font of my room on the staircase. Then she was brave and came inside my room and explored every corner of my room. Step by step she tried hard to climb onto my bed but I didn't give her permission, that was my final boundary for her. Everytime I said "No" to her she would hide her face away until I moved her down off my bed. I could not get angry at her because she's so cute!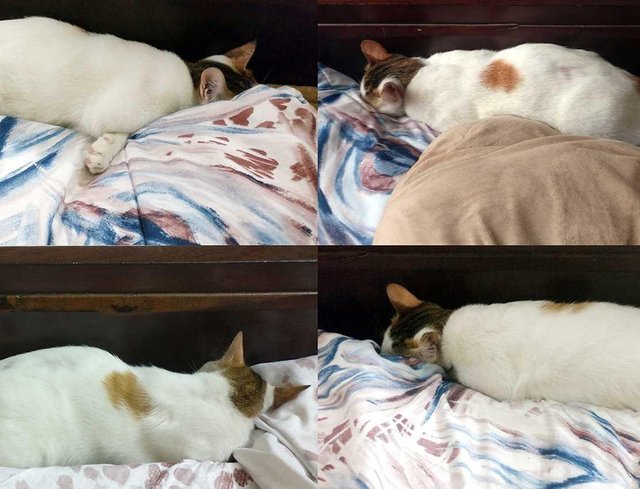 Finally I managed to train her to stay on a cloth on the floor. She would go out to play and come back to my room every time she wanted to sleep. She would call me from outside of my door to let her come in. It was a comfortable time for our relationship. She's a lovely and playful cat, I called her Miu Miu.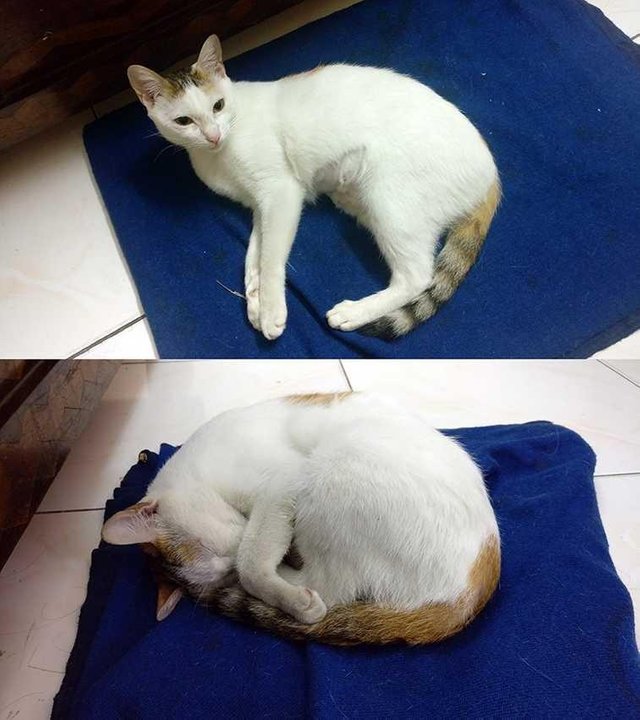 How The Drama Started!
Before I got to know her well she already had a car accident that broke her hind leg. That leg become gammy, and caused a deep wound exposing the bone. That wound became worse even after I applied medicine and bandaged her leg everyday. The owners seem to not care about her and they didn't want to pay any cost for her so I decided to take her to the vet. We needed to partially amputate her broken leg to the tarsus to stop her dragging it along the floor.
After some trips to two different vets and speaking to some doctors there, she was so scared and stopped eating all day. So I gave her a few days for her to relax and recover.
When she woke up after her surgery, she had a crisis and become so furious. All the doctors and nurses stayed away from her. She bit the wound and ripped open the stitched, there was so much blood. I had to try hard to calm her down, but she bit me deeply. The next day I had to go and get injections for tetanus incase I ended up catching something! First 3 days after her surgery was like a nightmare for me. She hated me so much, she behaved like I was the one who harmed her, she tried to run away from me even though she was so weak and would fall down as she tried to run away. She refused to keep the cone on her neck and took it off with great fury.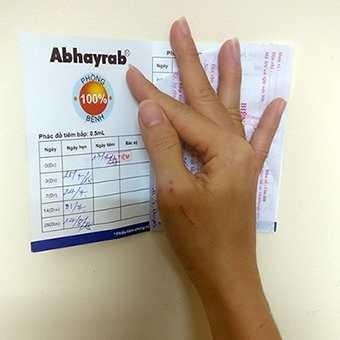 After few days she become more calm, she accepted the cone and didn't try to take it off. I carried her to the vet everyday to get her injections. The vet sewed her wound again but after one week she stretch her cut leg and reached over enough to bite it again. So the wound was open again and this time there was no skin to cover the wound. So that meant I had to clean her wound, put some antibiotic and cover her wound everyday with bandages.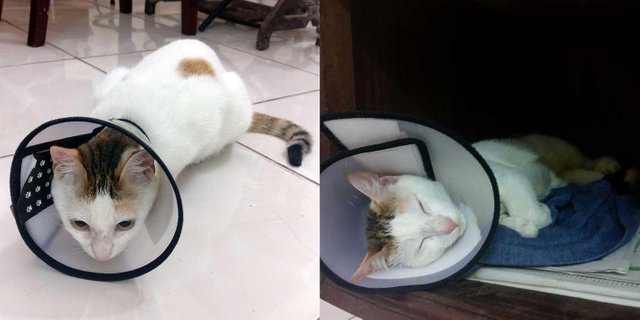 I have a fear of blood but I had to see it everyday, I felt I would faint each time I saw the blood and bone from the open wound. Sometime I would feel scared of her furious reaction and also feel so powerless as I saw how much pain and trauma she has to endure.
Luckily some friends encouraged me a lot and even asked for an opinion from a good vet in the UK for me and sent medicine to Vietnam for her . Her owners seem not to care of her much but she receives love from many nice people. Some of the people I met at the vet showed a lot of compassion and worry about her pain and trauma, so they kept contact with me to provide support to look after the cat if I needed it. My nephews also showed her a lot of love and joined me take her to the vet.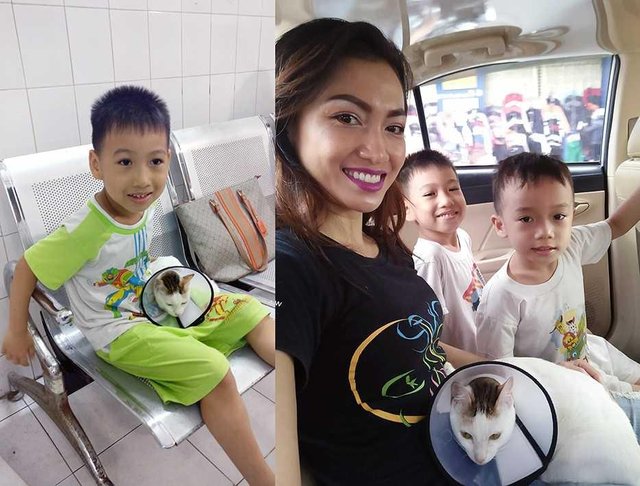 After 2 weeks, I don't need to take her to the vet anymore. Her wound has become better, and the flesh now covers the bone, but the skin hasn't healed yet. It felt like a miracle ! I continue attending to her everyday like a nurse.
She feels more relaxed now and became nice and calm like before. She really loves the stuffed dog I have and enjoys sleeping on him. She even gives massages to her best friend everyday.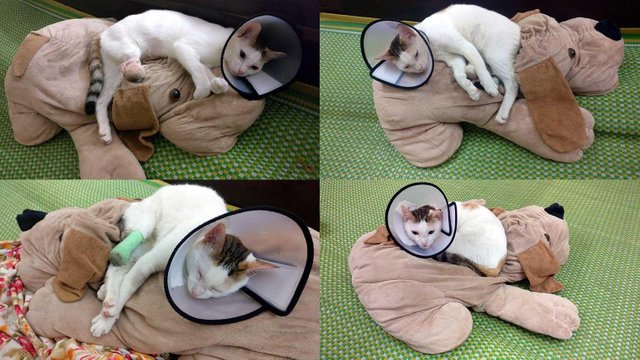 Hopefully she will be fully recovered soon and will go back to being the happy playful cat she used to be.
Thank you for taking time to read this post, I hope you enjoyed it. It gives me great joy to be able to share my experiences with you all. If you enjoyed reading this, please share it with others.
@livvu