SUMMER GARDEN BISQUE 💚🌿💚
Hello my Dearest Foodies,
Although, I don't have my own vegetable garden and neither my landlord, I am lucky enough to get some veggies from my friendly neighbors. Right now is still early for most of other goodies, but herbs are already growing wild, so I was given bouquet of an Italian parsley, little bit of sage, chives and peppermint.
I had cauliflower in the refrigerator and I have almost always spinach, so an idea for yummy bisque recipe was born, lol. Well I did not use the peppermint, but otherwise I have include it all. It turned out absolutely delicious and refreshing for this time of year, because it can be eaten cool. It is also highly nutritious and almost saturated fat free!!! Yet, the texture and flavor is very creamy!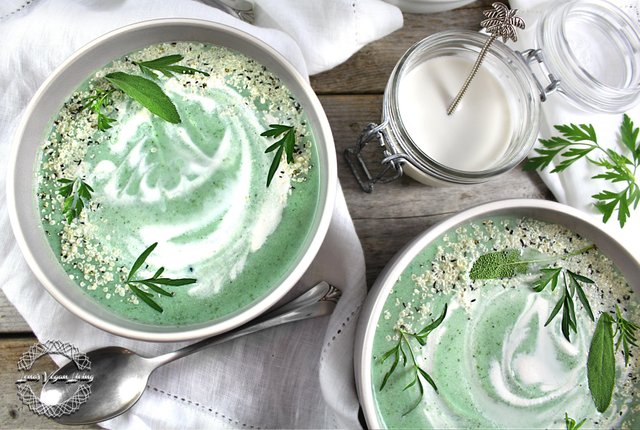 SUMMER GARDEN BISQUE
Cauliflower Bisque with Spinach, fresh Herbs & Cashew Cream
Vegan – Gluten Free
Author: Lena's Vegan Living
INGREDIENTS
• Cauliflower 1
• Baby spinach 2 cups
• Fresh Italian parsley 1 cup
• Fresh sage 1 tbs
• Chives ¼ cup diced
• Garlic cloves 4 to 5 (minced)
• Cashew cream 1/2 cup
• Water 2 cups
• Grape seed oil 1tbs
• Himalayan pink salt to taste
• Black pepper to taste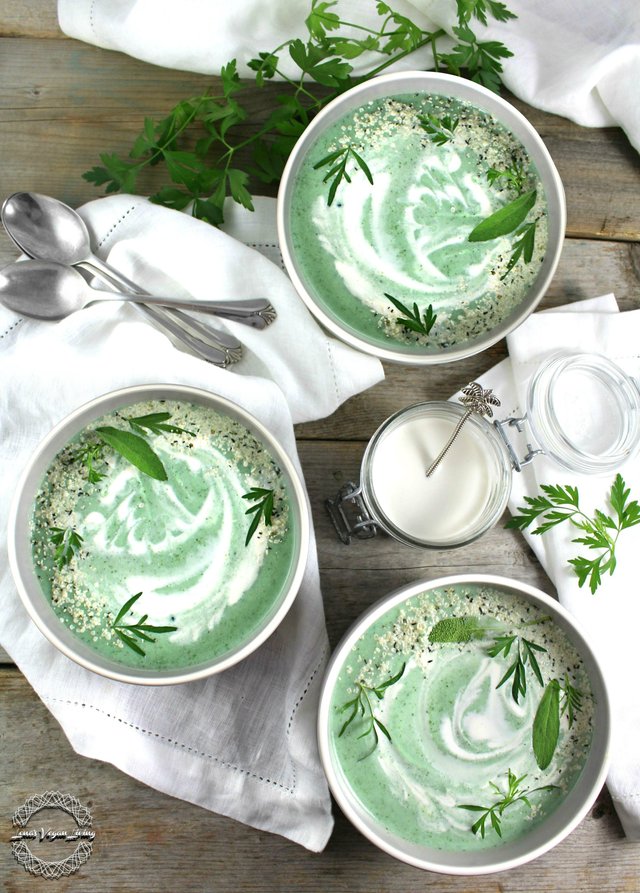 PROCESS
• Wash and cut the cauliflower into smaller pieces.
• Bring one cup of water into boil in a medium size pot and add the cauliflower.
• Wait until the water boils again, reduce the heat and let it simmer for about 20 minutes. Check with the fork to make sure it's completely soft.
• In the meantime, sauté the garlic until golden brown.
• When ready, add the garlic, spinach and herbs except chives and simmer 5 more minutes.
• Take it off the heat and let it cool down.
• Try to mix it little bit and transfer the mixture to a blender and add salt, pepper and chives.
• Blend all until smooth and add cashew cream and 1 cup of boiled water.
• Blend again and transfer to a bowl or a pot.
• See how do you like the thickness and if you find it too thick, you may add more boiled water. It depends about the size of your cauliflower.
• It can be served hot or room temperature, toped with hemp seeds or VEGAN PARMESAN.
CASHEW CREAM
• Cashews ½ cup (soaked for 4hours and rinsed)
• Water ¼ cup
Blend in a blender.
If you wish to apply light cashew cream on your bisque, mix remaining ¼ cup of thick cream with ½ cup of water, add pinch of salt and mix thoroughly. But if you like to save some for your coffee, then skip the salt.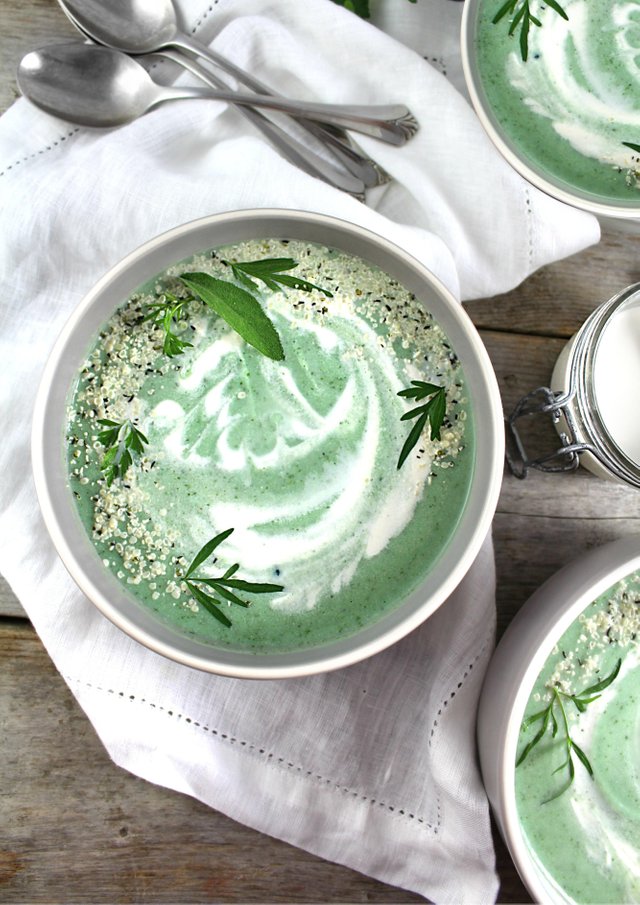 THANK YOU FOR VISITING & BON APPETIT
FOR RECIPES PLEASE VISIT MY Lena's Vegan Living Blog


|