Last week while I was doing my walking meditation in front of the house. The fuse box at the electricity pole caught fire.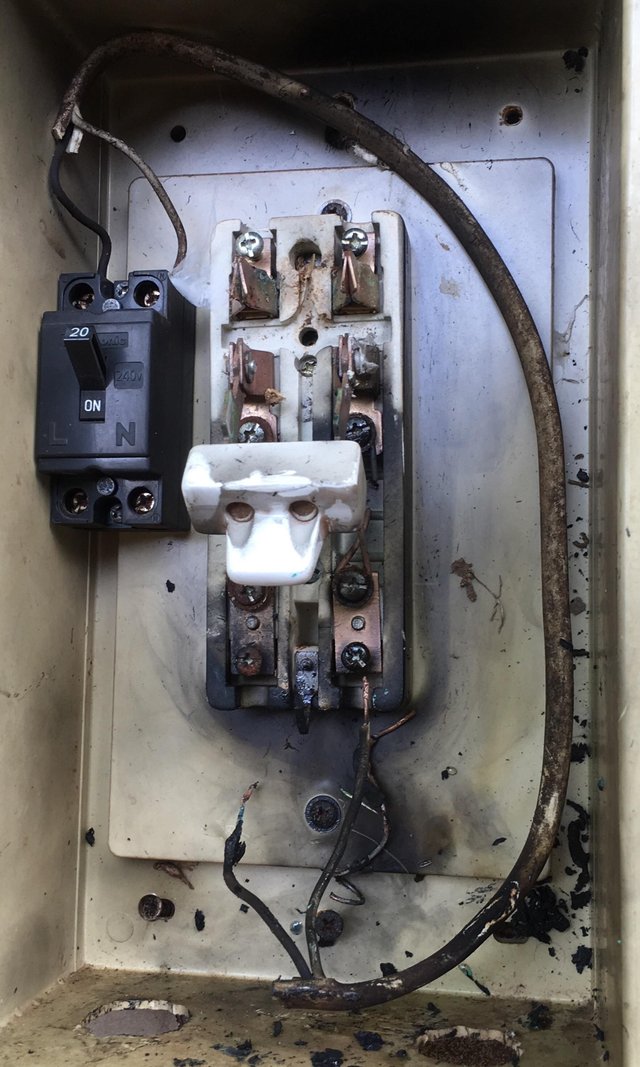 At first I didn't feel like late night walking meditation, something told me to get on with it. After five minutes, the light inside the house started to flicker and went dark for a few seconds. Then, suddenly the fuse box in the garden became on fire. I ran to have a look knowing that I could not use water to put out the fire. I quickly opened the cover trying to avoid the flame thinking I should have a wooden pole somewhere. The flame was getting worse inside the box. I took my chance to turn off the electricity cut-out lever and blew the flame off like blowing a big candle. To my surprise, the fire died down and the light in the house came back. Luckily the fire only damaged the lighting source for the lawn and the gate.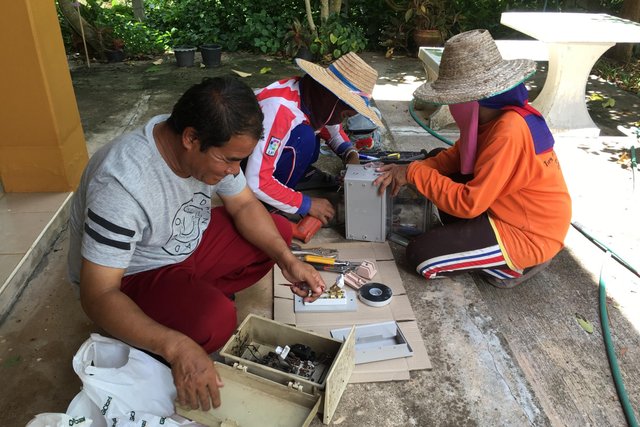 Fortunately,the following morning, my local electricians were able to spare some time from their building project to drop by my house. They found the culprits who caused the fire and short circuit. Two small lizards lodged themselves inside the cut-out lever and they were both fried in the fire. So, we had a new box with new light switch and lever installed in just over an hour.
The electricians are all local villagers who are very nimble and good at this intricate work.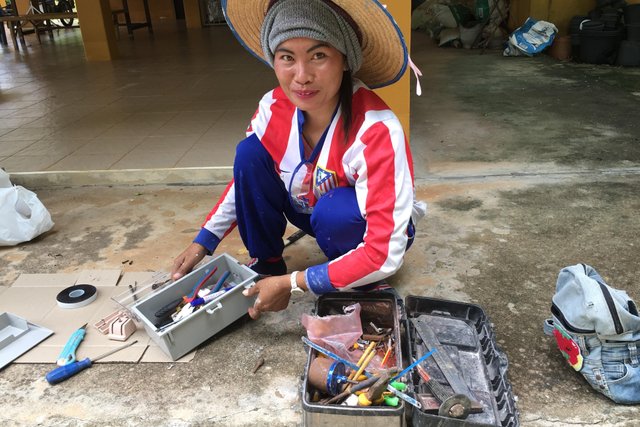 สัปดาห์ที่แล้วเรามีเรื่องตื่นเต้นที่บ้านสวน กล่องไฟฟ้าที่ด้านล่างเกิดไฟไหม้ และเราเกือบเจอเหตุการณ์ไฟฟ้าดับทั้งบ้าน แต่โชคดีที่เราบังเอิญอยู่ในที่นั้นจึงแก้ปัญหาได้ทันท่วงที ตอนแรกเราไม่อยากจะลงไปเดินทำสมาธิที่หน้าบ้านเพราะเหนื่อยแล้ว แต่มีความรู้สึกว่าต้องลงไปเดินข้างล่าง จึงลงไปเดินให้เป็นกิจวัตร พอเดินได้ไมถึงห้านาที ไฟฟ้่าในบ้านเริ่มกระพริบและดับไปสองวินาที ต่อมาเปลวไฟก็ไหม้ที่กล่องใส่สวิตซ์ไฟที่เสาไฟฟ้าในสวน เราก็ตกใจมากเพราะไม่เข้าใจว่าจู่ๆเปลวไฟลุกไหม้ได้อย่างไร เราก็รีบวิ่งไปดูแต่ก็รู้ว่าใช้นํ้าดับไฟตรงนี้ไม่ได้ คิดในใจว่าจะต้องหากิ่งไม้สักอัน แต่ก็โชคดีที่เราสามารถเปิดฝากล่องได้ เปลวไฟก็โหมมา เราก็เป่าไฟด้วยลมหายใจออก เพื่อดับเปลวไฟดู และโชคเข้าข้างเปลวไฟดับลง เราก็รับเอาที่สับไฟฟ้าลงทันที ในกล่องมีแต่กลิ่นไหม้ และเขม่าดำ เราดีใจที่ไฟฟ้าในบ้านยังคงใช้ได้ เราก็เสียไฟฟ้าของไฟส่องสว่างที่ตรงสนามและประตูหน้าบ้าน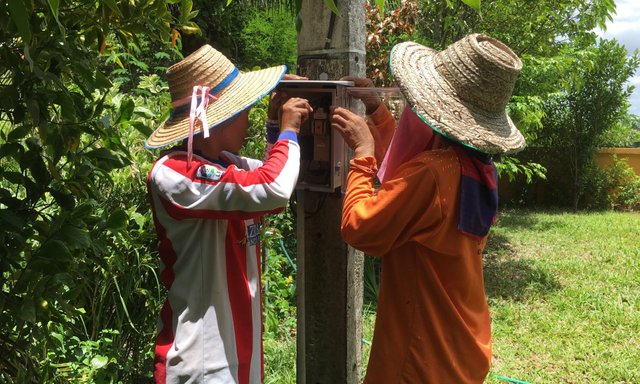 วันรุ่งขึ้นช่างไฟของเราอุตส่าห์มาช่วยแก้ปัญหาให้เราแต่เช้า เขาต้องแบ่งเวลามาจากการสร้างบ้านหลังใหม่ให้ฝรั่งที่แต่งงานกับคนท้องถิ่น ปีนี้เขาสร้างบ้านให้ฝรั่งมาสามหลังแล้ว ช่างก็พบตัวการที่ทำให้ไฟฟ้าซ็อตและไฟไหม้กล่องไฟ เขาเจอจิ้งจกสองตัวมุดอยู่ในที่สับไฟฟ้า สองตัวไหม้เกรียมและทำให้ไฟเกิดการลัดวงจร และทำให้ไฟลุกไหม้ ตกลงเขาต้องเปลี่ยนกล่องไฟให้ใหม่และเปลี่ยนสวิตซ์ไฟหน้าบ้านด้วย พวกช่างสาวแสนน่ารักทำงานเสร็จในเวลาชั่วโมงกว่าๆเท่านั้น เราก็ดีใจมากที่มีใครผลักดันให้ลงไปเดินทำสมาธิทุกคืน ทำให้ได้เห็นเหตุการณ์และสามารถแก้ไขปัญหาได้ทันที เราก็คิดว่าคงจะต้องเดินทำสมาธิหน้าบ้านต่อไป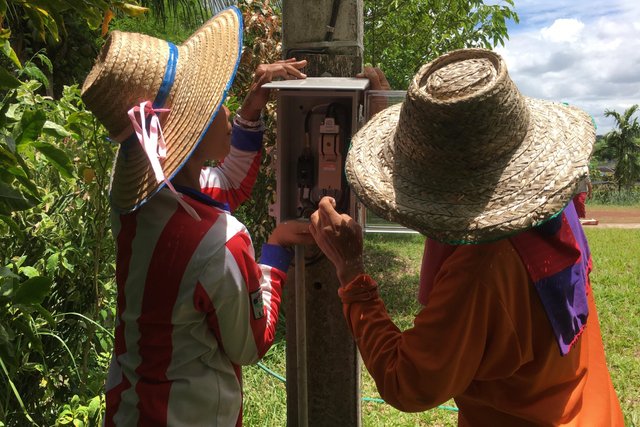 Wishing you a very nice day!
Cheers.