The dry season is finally here in north eastern part of Thailand. The fields and dry grasses started to change to orange and brown colours, giving a touch of autumn colours.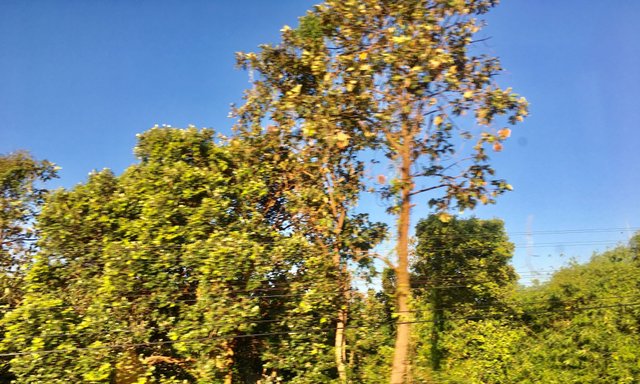 During my train journey to Nongkhai, all the deep green colour of rice fields has almost disappeared completely. Now it's the colour of dried rice stumps and dying grasses which spread slowly over the scenery. The air is still humid and hot during the day while the evenings are getting cooler and much more pleasant.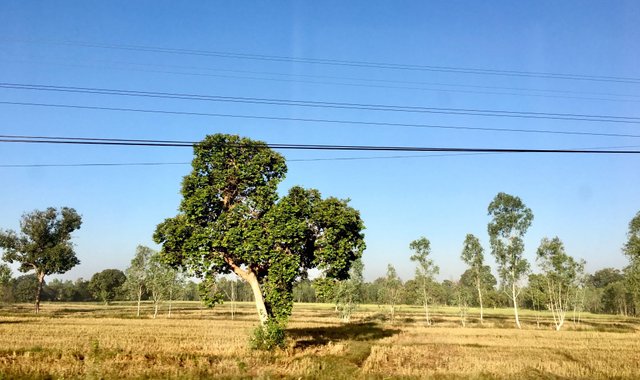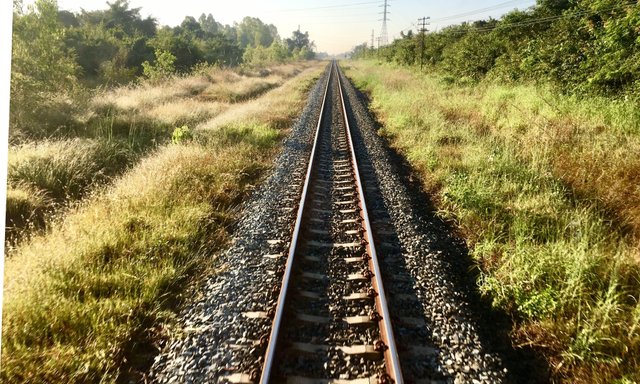 The dirt road around the village are now very hard and dry which is quite a contrast to the soggy and muddy condition during the rainy season two months ago. Changes in the surrounding nature such as the colour the sky, the quality of sunlight and shapes of those clouds remind me of passing time which could never be turned back. I could not help feeling a bit sad and hopeful at the same time. Drying fields and browning grasses are just like my old memories for this whole year which are in the process of dying and to be forgotten through time.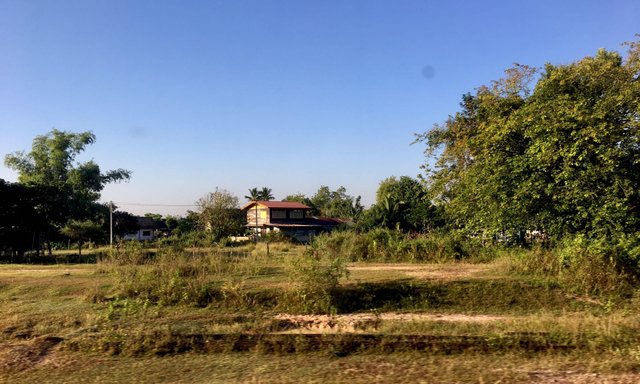 Seasons come and go in cycles so I am certain next season I could expect new green grasses, new spring leaves on those big trees and more new space for other experiences. I have hopes and dreams for the new year which I know is going to be full of uncertainty and challenges. I hope that at least I would be in a better position to handle unexpected surprises and global financial troubles in 2019. Living life according to the Middle Way and self-sufficiency has trained me to accept difficulties with equanimity.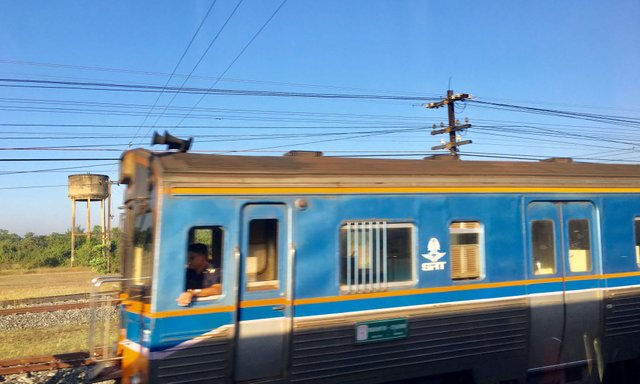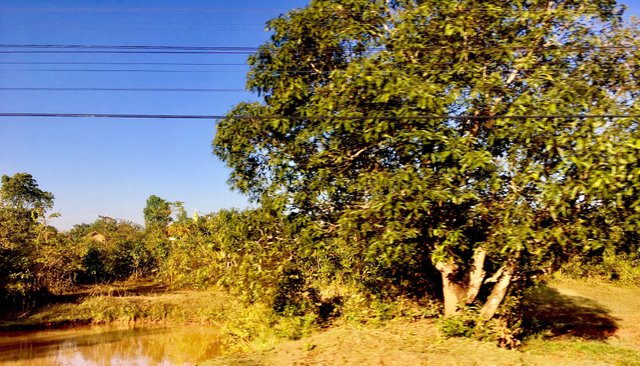 ตอนนึ้ที่อีสานเหนือเริ่มเข้าสู่หน้าแล้ง นาข้าวเริ่มเปลี่ยนสีจากเขียวเข้มเป็นสีนํ้าตาล หญ้าก็เริ่มแห้งเป็นสีส้มและน้ำตาล ต้นไม้ป่าเริ่มสลัดใบเพื่อจำศีลในหน้าหนาวซึ่งจะไม่มีฝนตกเลย เรานั่งรถไฟดูวิวที่เปลี่ยนไปตามฤดูกาล จากเขียวขจีเป็นแห้งจนเป็นสีนํ้าตาลและสีส้ม แม้แต่ท้องฟ้าก็เปลี่ยนสีไปด้วย แสงจะมีความสว่างต่างจากฤดูร้อน สีฟ้าจะมีความเข้มและอากาศมีความใส ทำให้มองเห็นวิวภูเขาไกลๆในฝั่งลาว อากาศตอนกลางวันยังร้อนมาก และท้องฟ้าไม่มีเมฆมาช่วยบังแสงอาทิตย์ พระอาทิตย์ตกเร็วมาก อากาศตอนกลางคืนเริ่มเย็นสบาย ในคืนเดือนมืดเราจะเดินดูดาวบนท้องฟ้าในสวน จะเห็นดาวระยิบระยับช่วงดึก ทำให้นึกถึงตอนเป็นเด็กที่เราสามารถเห็นดาวเต็มท้องฟ้า เวลาไปเที่ยวชายทะเล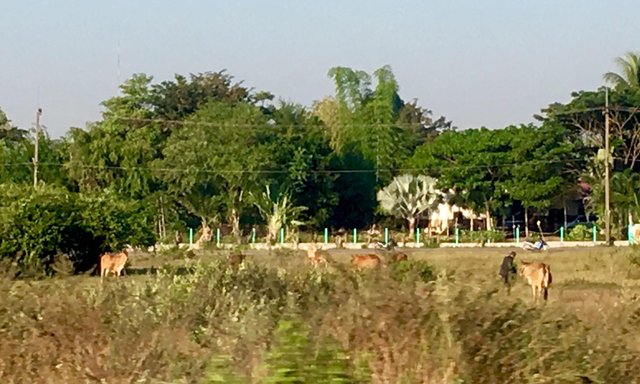 ใบไม้เปลี่ยนสีและร่วงสู่ดิน สะท้อนให้เห็นว่าเวลาเดินหน้าไปเรื่อยโดยไม่หยุดหรือหวนกลับ ชีวิตของเราก็เปลี่ยนไปตามกาลเวลา สิ่งที่เกิดขึ้นในปีนี้กำลังกลายเป็นเพียงแค่ความทรงจำที่เก็บไว้ และค่อยๆเลือนหายไปกับเวลา ทำให้เศร้าใจว่าเราไม่อาจเอาชนะเวลาหรือหยุดเวลาได้เลย เราต้องเคลื่อนที่ไปกับเวลา แต่เราก็มีความหวังว่าหลังฤดูแล้ง หญ้าก็จะกลับมาเขียวและต้นไม้ป่าก็จะผลิใบใหม่ เรามีความหวังและความฝันเกี่ยวกับปีใหม่ เราหวังว่าเราจะมีความสงบสุขและมีสติในการปรับตัวให้ทันกับความเปลี่ยนแปลงที่ไม่คาดคิด ตลอดจนความไม่แน่นอนของอนาคต และเราคงต้องฝึกการวางตัวให้มีอุเบกขามากขี้นด้วย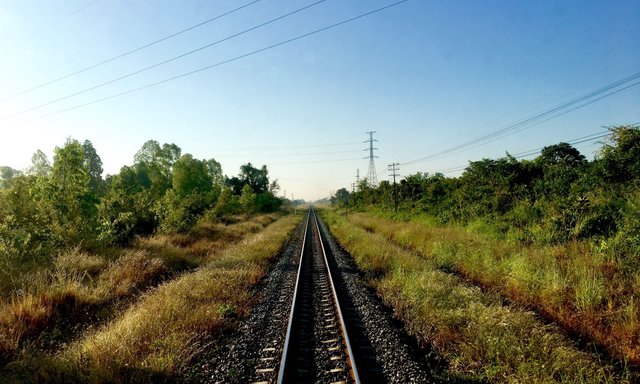 Wishing you peace, good health and prosperity.
Cheers.