eSteem Surfer 2.0.2 brings activities & more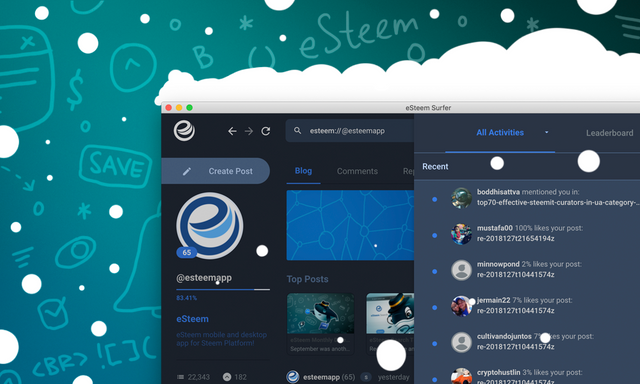 Happy to deliver our fresh weekly build of Steem Desktop client for you. Application became handier to use and more precise in small details. We are polishing user interface, catching bugs and adding new features.
Activities
This week brings such a long awaited Activities page. That notification bell icon which you could have seen in our Surfer 2.0 preview sketches asking where is it in release. Now it's there. You can track all your account activities there such as who upvoted your posts, who commented, followed, sent you something etc.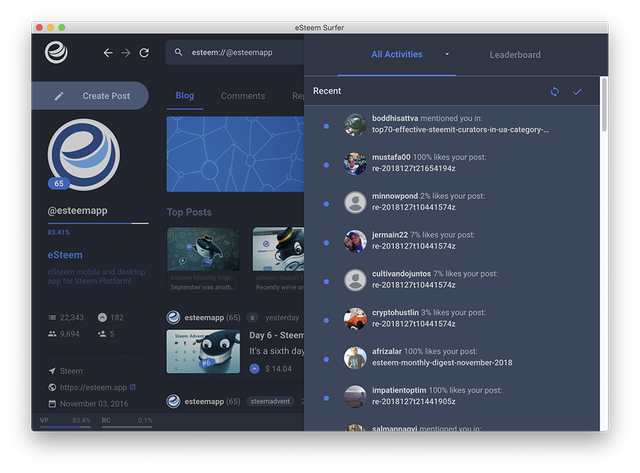 Leaderboard
Plus we've added simple Leaderboard page as a separate tab there. For now it is showing Daily Top eSteem users - those who are doing a lot of activities via eSteem Mobile and/or eSteem Surfer apps. According to that leaderboard most active are getting rewards from eSteem. So you can track your records there and stay tuned we will add more features and bonuses there for you soon.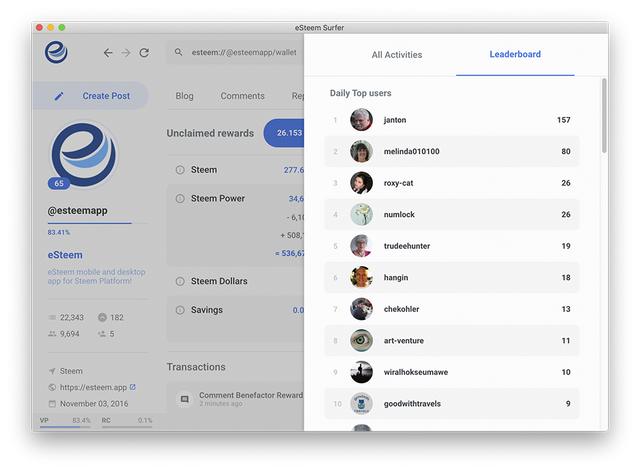 What is eSteem Surfer 2
It's a desktop client you can use on Windows, Mac or Linux to surf your steem friends feed/trending/hot/etc pages, upvote, comment, read replies, do all the other major Steem functionality in your daily social surfing as well as wallet actions and of course few extras: search, discover different tags, bookmarks, drafts, favorite authors, scheduling posts, etc.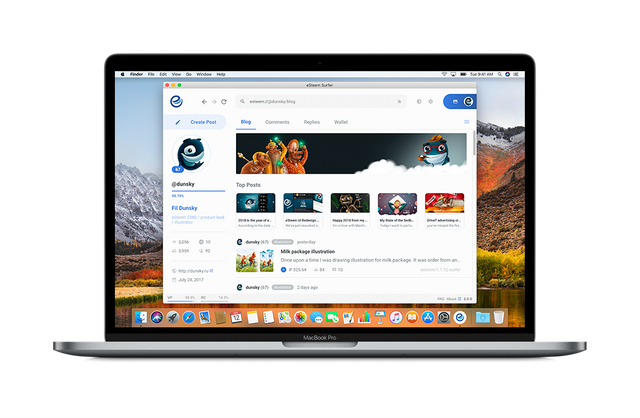 What's New in Surfer 2.0.2
New Activities page
New Leaderboard page
New right click menu for copy & paste text
New tooltips for posts & comments showing full date
Improved Quick profile design
Improved App global top padding size
Improved Wallet page currency icons
Improved SVG rendering
Improved Style for links inside tables
Improved Edit button disabled for comments on post details page
Improved Addressbar & Navbar logo redirects
Improved text color for inputboxes nightmode
Improved Post comment number icon redirects to comments now
Improved Usermenu header alignment
Fixed Post scheduling
Fixed Search page
Fixed Post details date update issue
Fixed more bugs
exe file for Windows users
dmg file for Mac users
deb and rpm files for Linux users
Source code: https://github.com/eSteemApp/esteem-surfer
Report bugs: https://github.com/eSteemApp/esteem-surfer/issues

Looking for mobile experience?
Check eSteem Mobile for iOS and Android with push notifications, bookmarks, favorites and other handy functions synced with desktop version.

| iOS | Android |
| --- | --- |
| | |

[email protected]
🌐eSteem.app | 👨‍💻GitHub | 📺YouTube
✍🏻 Telegram | 💬Discord | Patreon