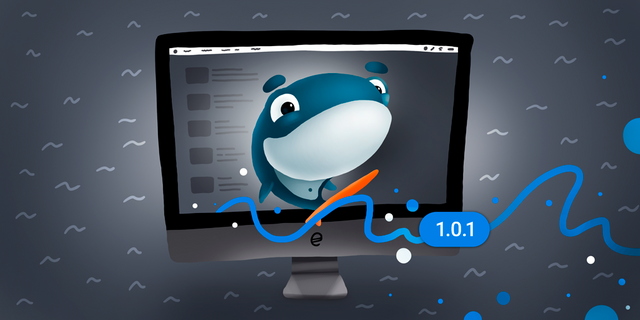 Here you go, guys! We've just released new version of Surfer with some quick bug fixes, UI tweaks and new functions with the main thing users were asking us most fequently: Night Mode!
Present for Night Surfers

To switch theme to the dark one you can just press Moon icon on the top bar near your userhead avatar. To get back to default white theme just press same button which is showing the sun in dark mode. Pretty simple. Same switch is availabe in the app settings for your convenience.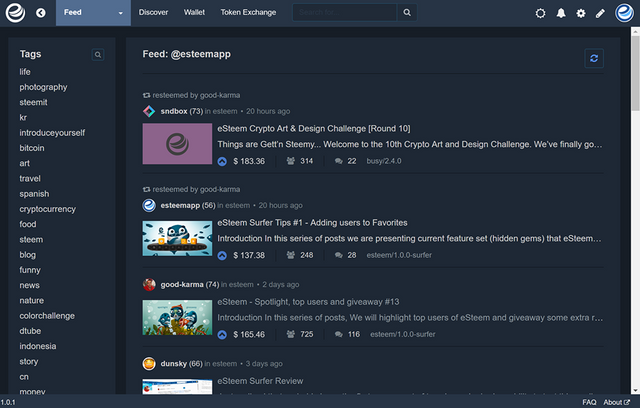 What is eSteem Surfer
It's a desktop client you can use on Windows, Mac or Linux to surf your steem friends feed/trending/hot/etc pages, upvote, comment, read replies, do all the other major Steem related stuff in your daily social surfing as well as wallet actions and of course few extras: search, discover different tags etc.
What's New in eSteem Surfer 1.0.1
New Night Mode dark theme
New Post floating menu (Sidebar) for sharing the post on social networks, resteem, open on steemit/busy, copy link or flag
New Zooming, you can now zoom in within app to read content closer
New Hotkeys for markdown in editor Bold, Italic etc
New Post refresh button at the bottom of post
New Followers list user search implemented
New Flagging post/comment implemented
Improved Login required actions
Improved Witness screen
Improved Editor screen tweaks
Improved Discover Page
Improved Discover page avatar linked to profile page
Improved Markdown improvements for copied links
Improved Follower & following modal window sizes enlarged
Fixed Post refresh bug
Fixed Author popover was hiding some buttons
Fixed Username disappeared after commenting
Fixed Voters list author link bug
Fixed catch-post-image directive
Fixed flagging for post menu
Sidebar Preview

Download
Download from Github: https://github.com/eSteemApp/esteem-surfer/releases/tag/1.0.1
exe.zip file is for Windows users
dmg file is for Mac users
deb, rpm and tar.gz files are for Linux users
Source code: https://github.com/eSteemApp/esteem-surfer
Report bugs: https://github.com/eSteemApp/esteem-surfer/issues

Looking for mobile experience?
Check eSteem Mobile for iOS and Android with push notifications, bookmarks, favorites and other handy functions synced with desktop version.
---
| AppStore - iOS (iPhone, iPad) - v1.6.0 | Google Play - Android - v1.6.0 |
| --- | --- |
| | |
---
---