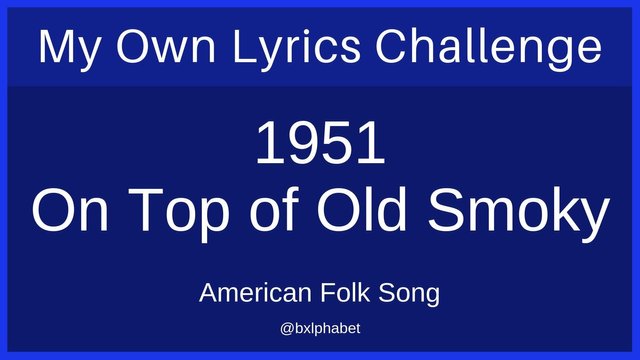 The lyrics of "On Top of Old Smokey" tell of the difficulties in finding true love. While the time of first romance is exciting, it is difficult to make it last.
The song was found by researchers who went to Appalachia in the early 1900's to find the music there. It is not know when the song was first written or by who.
My Own Lyrics Challenge is going through the years to spotlight cool songs and this post is for 1951. "On Top of Old Smokey" was recorded many times during a folk song resurgence in the 1950's The version by The Weavers went to number one upon release and was number 6 on the year-end chart.
The Weaver's version is here and cannot be found in a live performance.
The "On Top of Spaghetti" parody version is much better known today.
On Top of Old Smokey lyrics – American Folk Song
On top of old Smokey
All covered with snow
I lost my true lover
For courtin' so slow
For courting's a pleasure (for courting's a pleasure)
But parting is grief (but parting is grief)
And the false hearted lover (and the false hearted lover)
Is worse than a thief (is worse than a thief)
A thief will just rob you (a thief will just rob you)
And take what you have (and take what you have)
But a false hearted lover (but a false hearted lover)
Will lead you to the grave (will lead you to the grave)
And the grave will decay you (and the grave will decay you)
Turn you to dust (and turn you to dust)
Not one boy in a hundred (not one boy in a hundred)
A poor girl can trust (a poor girl can trust)
How do!
They'll hug you and kiss you (they'll hug you and kiss you)
Tell you more lies (and tell you more lies)
Than cross ties on a railroad (than cross ties on a railroad)
Or the stars in the sky (or stars in the sky)
So come all you young maidens (come all you young maidens)
And listen to me (and listen to me)
Never place your affection (never place your affection)
On a green willow tree (on a green willow tree)
For the leaves they will wither (the leaves they will wither)
And roots they will die (the roots they will die)
You'll all be forsaken (you'll all be forsaken)
And never know why (and never know why)
---
Join me on Steem Monsters using my affiliate link!
https://steemmonsters.com?ref=bxlphabet
Join me in drug wars using my referral link!
https://staging.drugwars.io/#!/ref/@bxlphabet