I started my managerial career taking over Barnet in the lower National League in 2019. Half a season, I was offered to manage Milton Keynes Dons in League Two after a string of good performance from then my current team. I accepted the offer and had a really good season winning the League Two in 2019.
---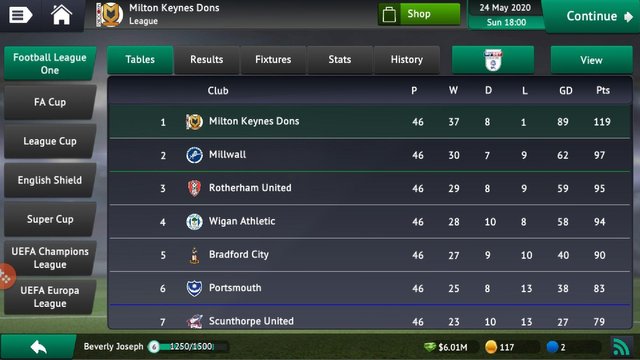 ---
My team was promoted to League One, and boy what a season it was. I tinkered with the formation and tactics and get the best out of each individuals to form a formidable team. My best player is the 30 year old Kieran Agard, who scored an amazing 51 goals that season.
The Dons became the Champion of League One in the year 2020, winning 37 matches, drew 8, and lost only once. The season ended with MKDons at 1st place with 119 points. That is absolutely amazing for an average level team.
I've just started in the Championship League, and it's a whole different level this time. After 3 matches, the team had a decent run of drawing 2 games at home and winning 1 game away. Not bad for an average team. I do need to spend some coins to get a couple of players, but they seem to have not found their feet yet in the league.
Agard as always is still the main man for me to get the goals, eventhough he is already 31 years old. His level and skills are deteriorating, but he is still my Mr. Dependable. I think I will keep him in my team until he calls it quits one day. It's time to recruit new bloods as an understudy to Agard, and maybe loan a few higher level players to create balance in the team.
Till then, lets see how the Dons will fair during the 2020 - 2021 season. I hope to win the Championship League and a decent run in the Cups Tournament, but it will be hard to win against the more fancy teams. To get promoted to the Premier League will be awesome, but I don't think that the team is formidable enough to survive in the strongest league. Maybe a couple of season in the Championship to toughen up the lad will do the trick.
They will grew and level up someday, and will strengthen up the team to the core. The times will come when they will give the more fancy teams like Man City a run for their money.